Whether you sell a simple mug or an expensive camera, visitors always love beautiful websites. But how to create an attractive and unique store if you don't have any experience in web design?
Don't worry! We got you covered.
Here is a 6-step instruction to help you quickly set up a single product store using EcomSolid.
Step 1. Sign up for Shopify
Go to Shopify, and click the Start free trial button at the top right corner of the homepage. Then, follow the instruction to sign up for an account.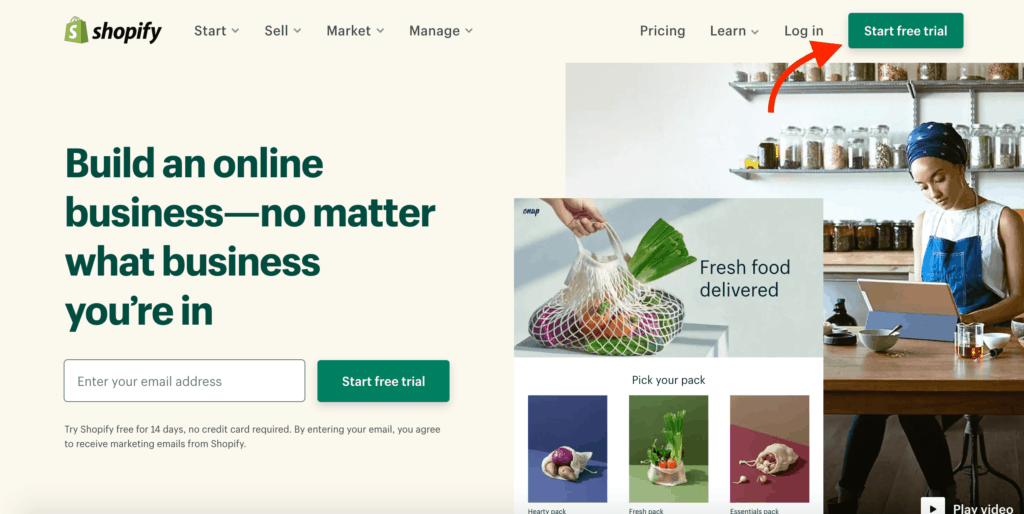 Step 2. Install EcomSolid theme
Go to the EcomSolid website and click the Get It Free button at the top right corner.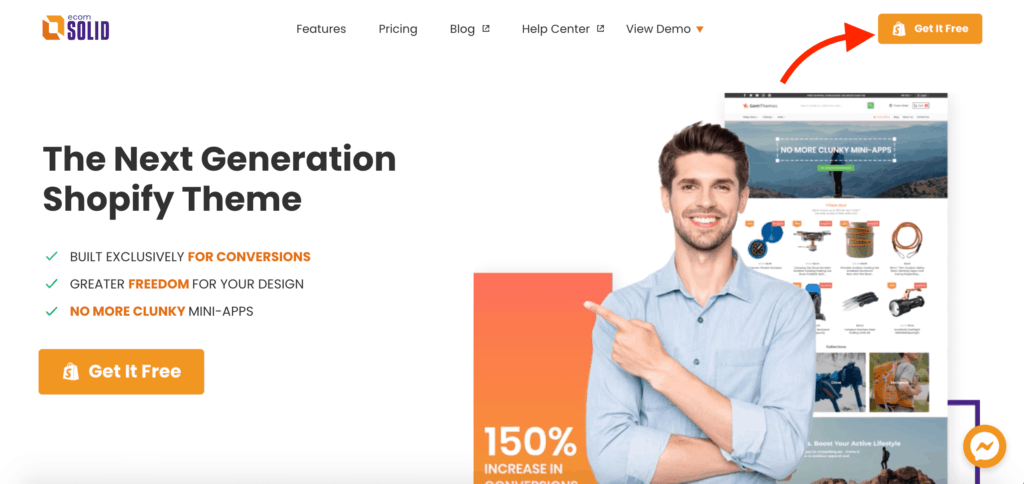 Enter your Shopify store URL and then click the Download Now button.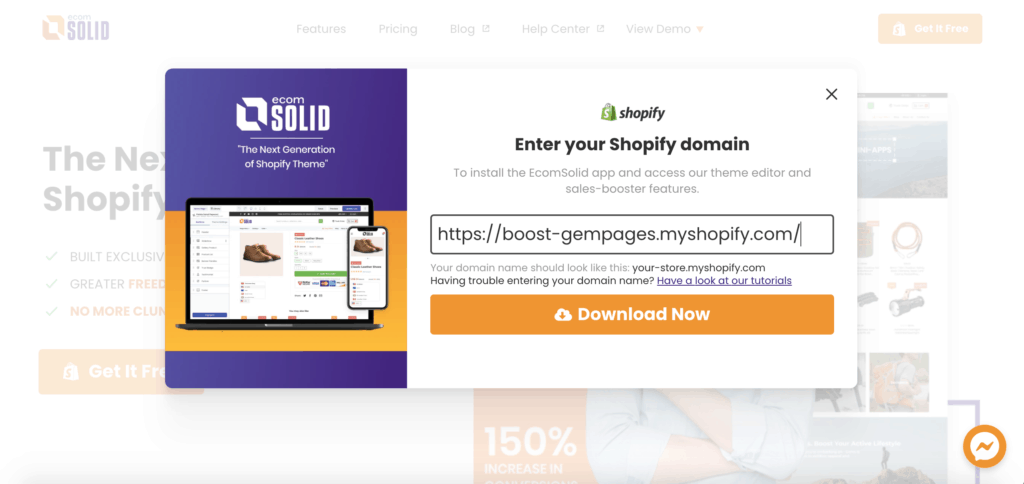 You'll be directed to your Shopify dashboard. Then click the Install unlisted app button to integrate EcomSolid into your store.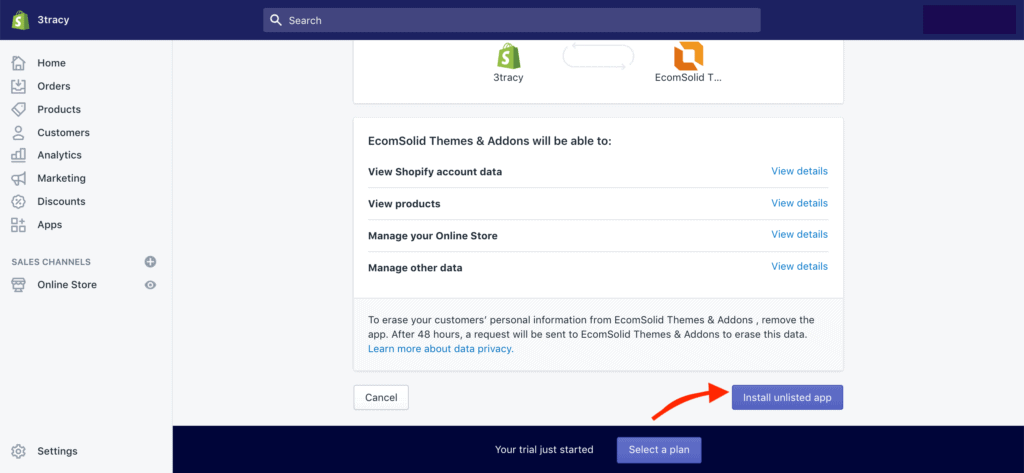 Step 3. Import a template
To access templates, click Templates on the left menu of your EcomSolid dashboard.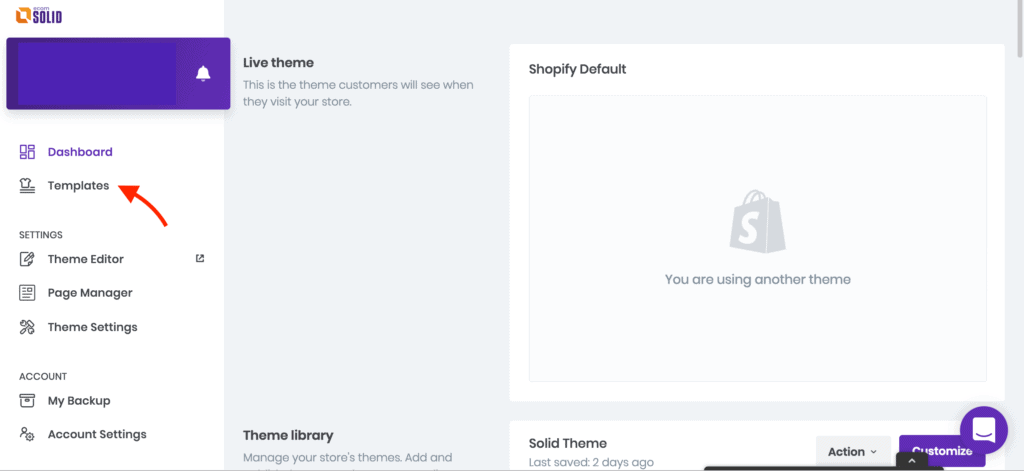 There are four templates for you to choose from. Pick any template you want, and then click Insert to use it for your store.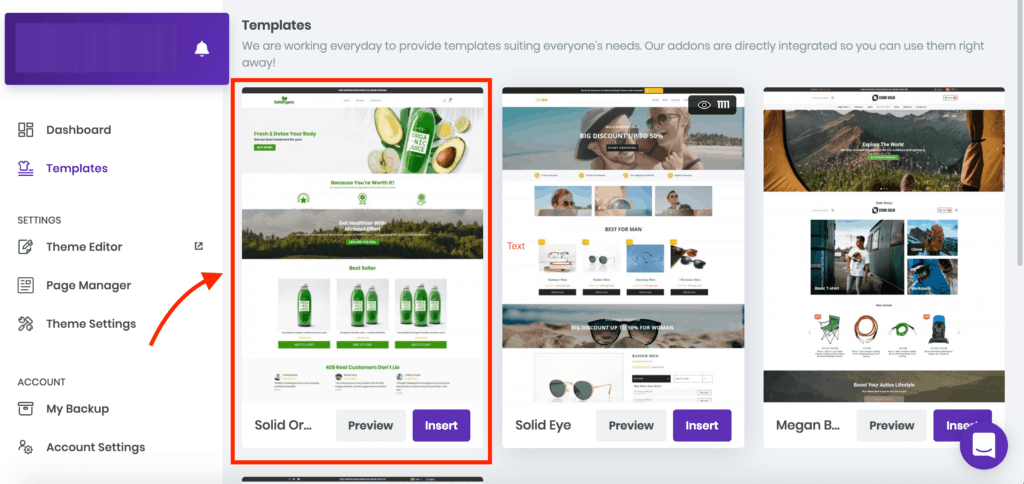 If you're not sure which template suits your store, choose Solid Organic because this template is well-designed specifically for a single product store.

Skyrocket your sales to higher levels with Ecomsolid
Step 4. Customize pages for your store
Each template comes with pre-designed pages: Home Page, Product Pages, Collection Pages, Blog Pages, Article Pages, Cart Page, Search Page, Password Page, and 404 Page. But you can also customize each page the way you want. For example, you can change the default design style, add new sections, install add-ons, and more.
Follow these instructions:
Change the section presets
A section present is a configuration of settings, designed to achieve a certain look or style of a particular section. For each section, we provide lots of different presets. Click Explore on the left sidebar to see all the presets.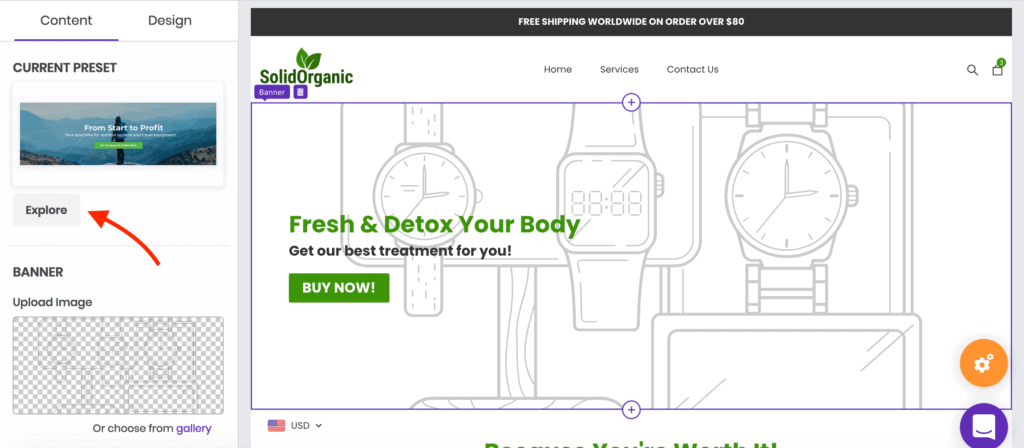 Choose a preset you like, then click the Try this present button.
Add sections
If the default layout doesn't meet your needs, click Library on the top of your page to find more sections.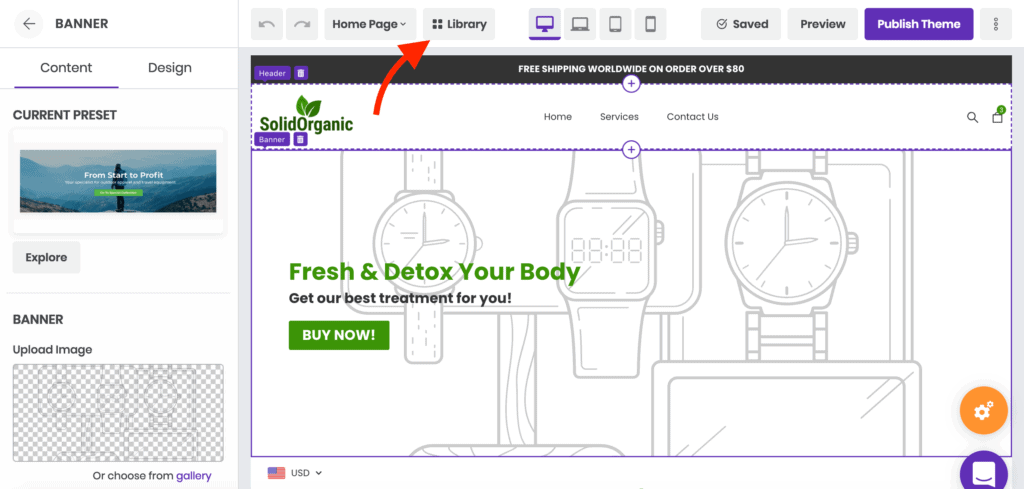 Here you'll see every section to add to your page.
Delete sections
To delete any section, click on it, and then click on the trash icon on the left top of that section: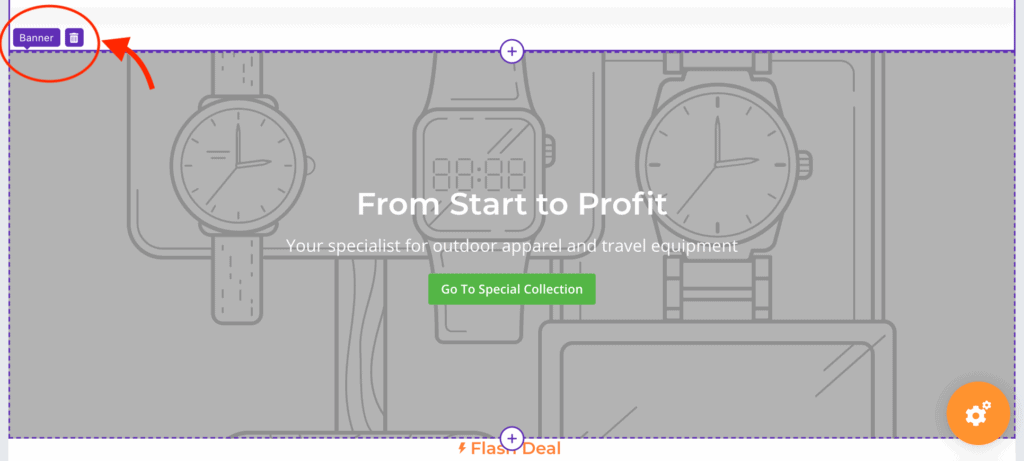 Add add-ons
EcomSolid provides a lot of add-ons to add more functionalities to your store, such as Countdown Timer, Frequently Bought Together, Shipping Time, etc. To add them, go to the Library, choose the one you want, and click on Add.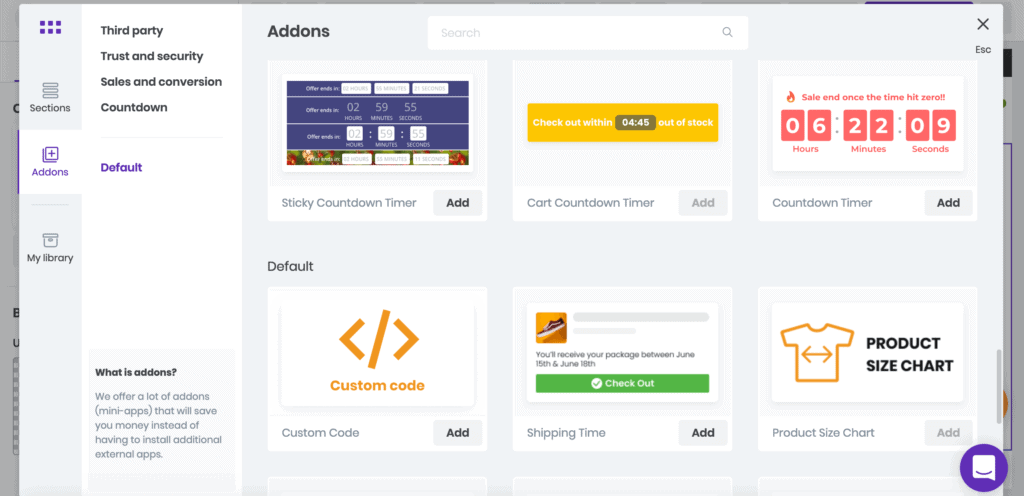 Recommended reading: 15 Best Shopify Apps to Boost Sales for Your One-Product Store.
Step 5. Complete the general settings
Before launching your store, you need to complete some general setting, for example:
Choose your shipping method
Complete your tax settings
Set up your payment gateway
Buy and add a custom domain
You can get these done by working with the Settings section in your Shopify dashboard.
Step 6. Launch your store
To publish your store, come back to the EcomSolid dashboard, then click Publish Theme at the top right.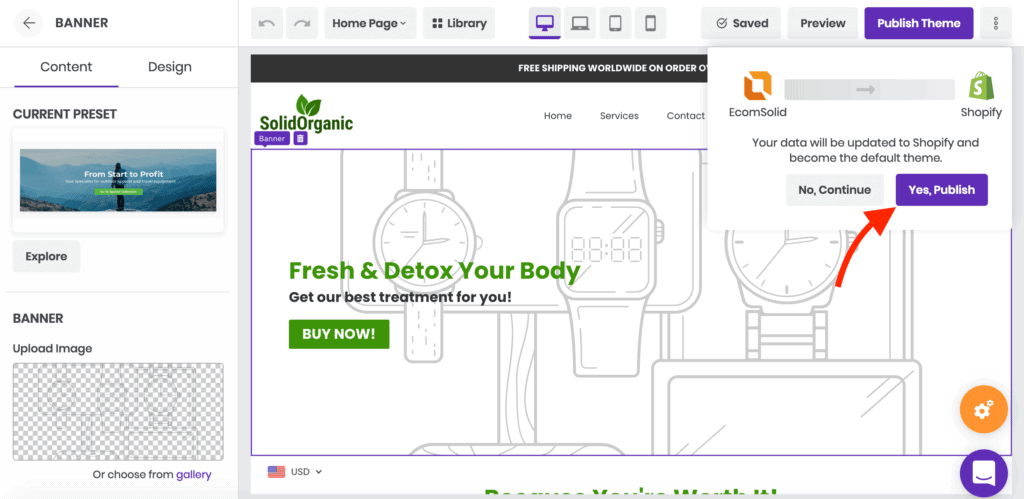 Now it's your turn
Now that you've known how to create a single product store with EcomSolid. Let's kickstart your online business right now.
The best Shopify theme editor
for dazzling storefronts and maximum conversions
The best Shopify theme editor
for dazzling storefronts and maximum conversions