"What are the differences between EcomSolid theme and other Shopify themes?"
This is the most common question we receive every day. We understand claiming to be 'the future' of an industry is a bold move, but we are highly confident in EcomSolid's features and that we are on the verge of something great.
In this article, we'll highlight these most outstanding features that make EcomSolid theme the best choice for your store.
What is EcomSolid theme?
EcomSolid is a new Shopify theme aiming to skyrocket your sales. All of our features and templates are designed for dropshipping businesses, PODs, or your own branded online store.
The most special thing about EcomSolid is that it gives you greater freedom when building your store with outstanding features and sales booster add-ons.
EcomSolid theme is built by the development team of GemPages—one of the most popular Shopify page builders with more than 10,000 stores using it.
While working on GemPages, we realize that there are some missing parts in many current Shopify themes.
The possibilities to customize the header and footer are limited.
Sales booster add-ons aren't available. You usually need to pay for third-party add-ons.
Some themes aren't fully responsive to mobile devices.
It's difficult to make your store unique unless you have a skillful development team.
You may end up using too many apps and custom codes that will affect your page loading speed.
By solving these problems, we believe that EcomSolid theme is a new game-changer in the Shopify theme market.
What makes EcomSolid different from other Shopify themes?
Here are the 5 main features that make EcomSolid different:
#1. The most code-friendly theme
If you've ever tried to use the code editor of a Shopify theme, you would find it very difficult to handle.
Shopify puts all the Javascript, SCSS/CSS files in a folder called "Assets". To customize a section's code, you need to find the correct file in hundreds of different coding files in this folder. Doing that is like finding a needle in a haystack.
If you don't have experience in Shopify's templating languages like HTML, CSS, and Liquid, you shouldn't touch your code folder structure.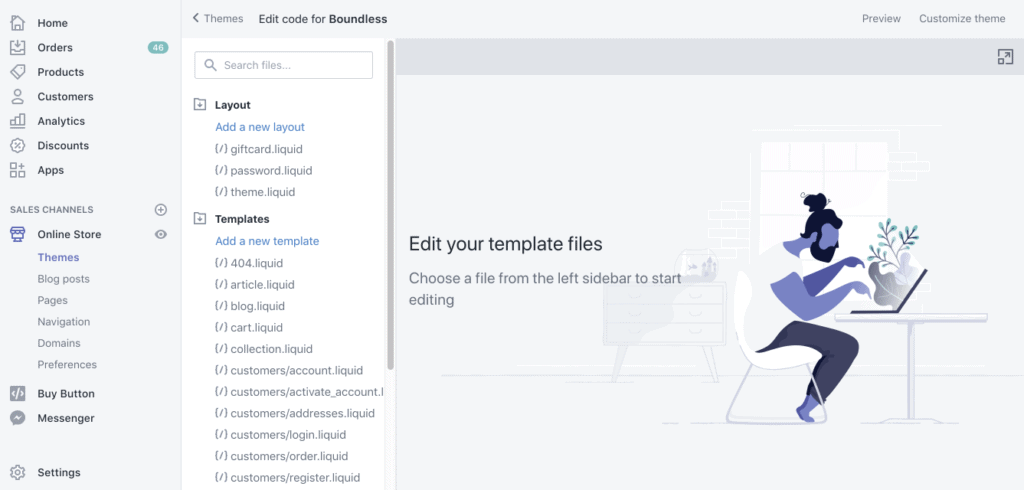 EcomSolid gives you an intuitive code editor. You don't need to go to the back-end folder to customize your theme's code. You just need to click on the section you want to customize, and you'll see the option to insert your code.
Here are 2 tutorials to help you do that:
With this feature, we make it easy for you to modify your online store site without hiring a professional development team, which is really expensive.
#2. The most customizable theme
Many Shopify themes introduce that they give you options to customize your page like adding blocks of images, text, color picker, etc. But actually, you can only do that with your home page. Your product page layout, on the other hand, is fixed. You don't have options to change the design and structure; you can just customize the content within it.
Therefore, if you want to customize your product page with dynamic sections of images, text, or reviews, you need to install an advanced page builder which will definitely cost you more.
With EcomSolid theme, you have full control over your product pages by:
Adding new sections
Deleting default sections
Changing the section preset
Adding add-ons
Here is a product page example of a store using the EcomSolid theme.
Teepee Joy made their product pages very informative by adding a product video section, a three-column product introduction section, and a customer review section.
Recommended Reading: Teepee Joy – Building A Successful High-End Product Store
#3. Have your store ready in 1-click
For busy eCommerce entrepreneurs, you can set up your store in just 1 click with our pre-made templates. So far, we provide 3 templates for different types of Shopify store: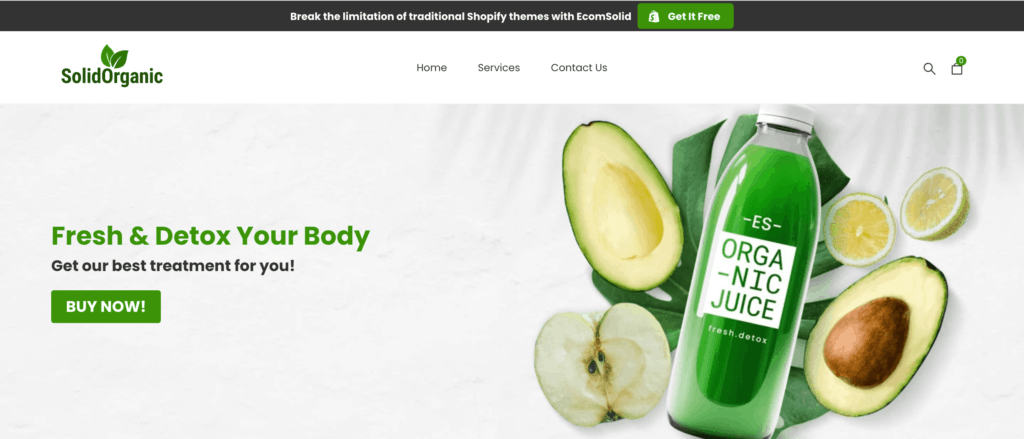 Each template comes with pre-designed pages, including Home Page, Product Pages, Collection Pages, Blog Pages, Article Pages, Cart Page, Search Page, Password Page, and 404 Page. You just need to fill in your own content, and your store will be ready within a few minutes.
#4. Integrating with 3rd-party apps is easier than ever
EcomSolid themes are designed with a bundle of sales-booster add-ons that help to optimize your conversion rate. Instead of installing additional external apps, you can easily integrate with our add-ons.
There are 3 categories of add-ons, including:
Sales and conversion: Upsell Quantity Discount, Frequently Bought Together, Browser Tab Notification, Auto Currency Converter.
Countdown: Stickly Countdown Timer, Cart Countdown Timer, Countdown Timer
Trust and security: EU Cookie Bar, Ali Reviews, Opinew Reviews, and more.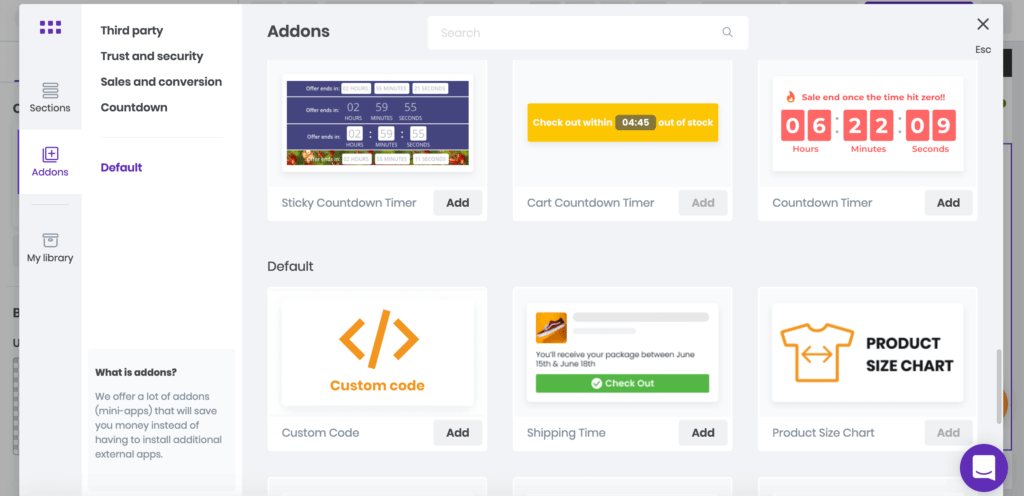 With these add-ons, you can drive your sales quickly without slowing down your store speed.
#5. Build any type of pages with page manager
With Shopify themes, you can customize only some fundamental pages of an online store such as the home page, product pages, collection pages, cart page, checkout pages.
With EcomSolid's page manager, you can create any pages you may need and add them to your online store. Custom pages can be anything from an About Us page to your store policies, giving you the freedom to create a website that perfectly fits your needs.
For example, to prepare for Halloween this year, you can use our page manager to build a landing page for your new promotion campaign.
Check out this tutorial to learn how to use Page Manager to create custom pages.
Take action!
Right now, you can install EcomSolid and start experiencing all of our special features for free in 20 days.
Get EcomSolid today and see how it can make your store better.
The best Shopify theme editor
for dazzling storefronts and maximum conversions