EcomSolid free Community plan allows you to experience our high-converting theme and visual editor free of charge.
However, there are also a lot of limitations to it, and any sellers would benefit greatly from simply upgrading to the Professional plan.
In this article, we will examine the key benefits of EcomSolid Professional plan and help you decide whether it makes sense for your business.
Features of EcomSolid Professional Plan
1. Freedom to customize any sections to your liking
While the free plan lets you change elements such as texts or images, the EcomSolid Professional plan is where the theme's power is truly revealed.
With the paid-only Section Designs feature, you can tweak even the most intricate details.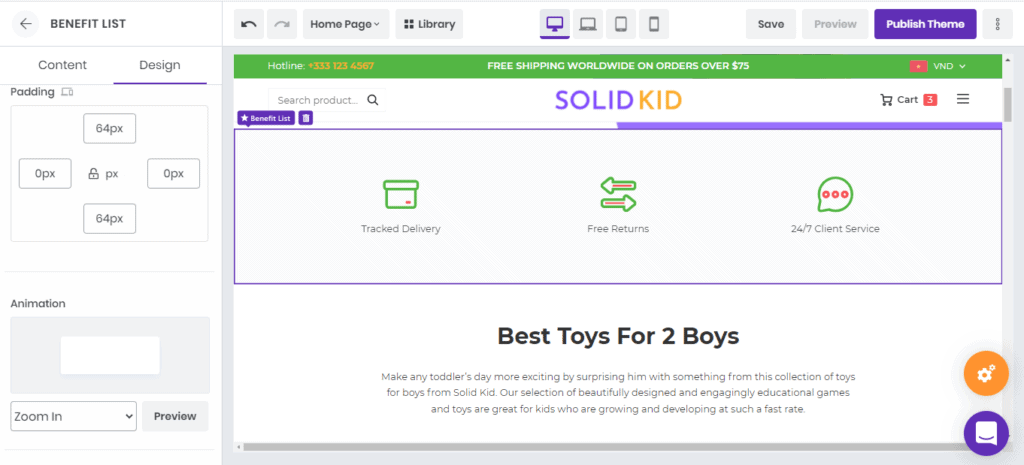 Don't want a floating header? You can turn that off.
Want a benefit list with animation? You can turn that on.
Not satisfied with a banner's height, background, spacing, etc.? It is possible to change all of them and have your page look exactly like how you imagine.
2. Premium templates optimized for conversions
Customization is all well and good, but there are still certain must-have elements that make or break a Shopify stores. Using our premium templates is one way for you to make sure those elements are present in your website.
These templates are professionally made with conversions in mind, which we achieve through a deep understanding of web designs and customer behaviours.
Applying the templates then tweaking them with the Designs feature will give you a website that is both professional and personalized. On top of all that, we are continuously introducing newer, better templates every month so you can keep your store up to date with the latest trends.
3. Add-ons specialized for boosting sales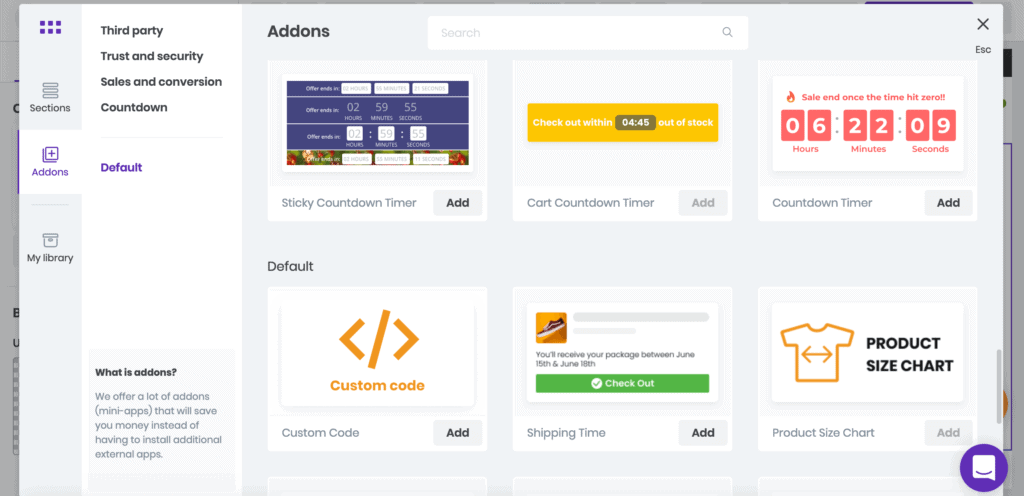 We understand how costly it is to attract paying customers. The good news is paying customers tend to spend money on more than one product.
But that is only if you make it convenient for them.
Imagine how much money you're losing on each customer simply because you're not giving them the right encouragements.
That's why we've recently introduced two highly converting addons that solve this exact issue. The Upsell Quantity Discount and Frequently Bought Together addons are there to encourage each customer to purchase more, thereby increase your revenue without you having to spend extra money on new customers.
What's more? It's scientifically proven to work. A study by Harvard Business School shows bundling helps in creating urgency to buy products earlier.
And these addons are only available for users on the Professional and Premium plans.
4. Page Builder for up to 20 pages
Sometimes a pre-made template might not exist for your goal, or you just prefer to build a highly customized landing page for a special campaign. That is where EcomSolid's Page Builder comes in.
With the Professional plan, you can build up to 20 pages with the Page Builder.
Previously, such a tool will need to be purchased separately from your theme, but with EcomSolid's Professional plan, you're getting two for the price of one.
When you should consider the Professional plan?
With these features, it is quite clear that EcomSolid's Professional plan isn't simply giving you more tools to work with. It is giving you more flexibility to build the website you want and achieve the revenue goal you're striving for.
Consider going with our Professional plan if:
You want to give your store a unique look serving both aesthetics and conversion goals.
The current free templates simply don't fit your needs without modifications.
You want access to our highly optimized premium templates and addons to help boost sales.
If that sounds like you, go here to check out the pricing plan and get your website the professional treatment from us.
Or if you're looking for an even better, more exclusive experience, learn more about our Premium plan.
The best Shopify theme editor
for dazzling storefronts and maximum conversions