Visual contents are undeniably a must-have for online stores, and those who make great use of them are getting the best results.
That begs the question though: how to find out the best Shopify images among so many different shapes and sizes?
Here we have gathered up for you official recommended Shopify image sizes for all purposes. This is your one-stop guide to ensure images perfectly fit.
Beyond that, you might also be interested in our guide to improve speed with image optimization.
1. Official Shopify image sizes
Shopify product image size
2048 x 2048 px or 800 x 800px
Keep in mind that the maximum Shopify product image size you can upload on Shopify is 4472 x 4472 pixels with a file size of 20 MB.
However, most of the time, this is an overkill. You won't need such big images for your store, and they can slow down your loading speed.
Instead, Shopify recommends using 2048 x 2048 pixels for square product photos. You can use the JPG or PNG format to have a great balance between high quality and fast site loading speed.
All and all, product images shouldn't be smaller than 800 x 800 pixels. If not, functions like zooming in might not work very well.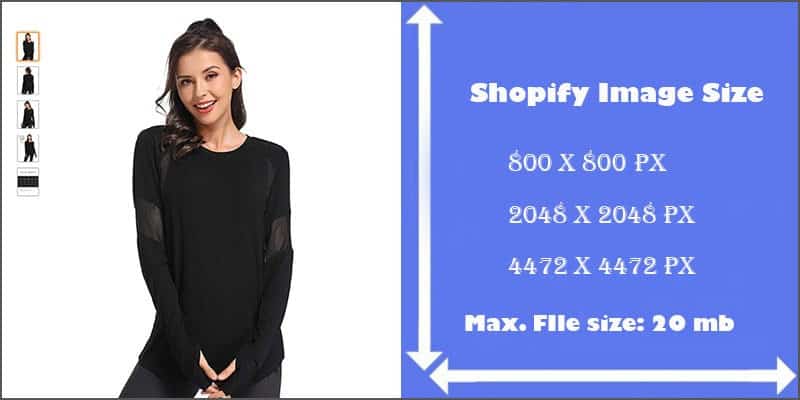 Shopify collection image size
2048 x 2048 px
When it comes to Shopify collection images, they can be any size up to 4472 x 4472 px, or 20 megapixels, but there isn't a specific size that you must use.
Shopify typically suggests keeping your images around 2048 x 2048 px for high-resolution square images.
What's more important for collection images beyond the size is that their dimensions should be consistent with each other. In other words, their height-to-width ratios must be always the same. Otherwise, they would mess up the interface of your collection page.
If you would like more information about image best practices, you should follow this help guide here.
Shopify slideshow image size
1200 to 2000px width, 400 to 600px height
The recommended Shopify slideshow image size is 1200px to 2000px width, and 400px to 600px height.
When switching to a mobile/small screen view, there is some resizing and cropping done. So if you are setting up Shopify slideshow images, make them middle aligned!
This makes things look better, as it will be the top/bottom and left/right that will get cropped out instead of the part in the middle.
Shopify header image size
Height no more than 120 px
In some cases, you might want to add images into the header block. It could be a secondary logo or promotion for upcoming event.
The maximum height of the header block in Shopify themes is 250 pixels. But we recommend using images with height of no more than 120 pixels.
Shopify banner size
1200 x 400 to 600 pixels
When choosing a Shopify banner size, you will need to take your specific theme's guidelines into account.
For example, with the Brooklyn theme, you can use 1200×800 px images.
With EcomSolid Theme, we automatically make sure that your images will fit into our banner section, but for the best visual effects, we recommend your banner images be around 1200 px for width and 400 to 600 for height.
Shopify logo size
450 x 250px
The max Shopify logo size is 450 x 250px. The reason is because the sidebar has a width of 250px.
Your logo does not need to be exactly 450 pixels wide by 205 pixels high but it is important to not exceed that.
2. Tools to resize & optimize Shopify images
Nobody likes visiting an online store that takes a lot of time to load and has blurry photos attached.
A 100-millisecond delay in site loading times could cause a drop in conversion rates by 7%.
Thankfully, there are plenty of tips and tools that we collected can help you overcome these issues.
To crop or change an image's dimensions to fit the recommended sizes, you can use the Shopify image resizer tool, which allows you to resize and compress your Shopify images. Shopify's tool allows you to upload six photos at one time.
In general, Shopify compresses any large images uploaded to its stores. But this doesn't offer users control over the specifics and is an unsuitable option for multichannel sellers.
You can use a compressor tool instead and choose a quality setting from 65 to 85 – around about 72 is probably best.
Once you've done with the image compression, you should test things out using a pagespeed checking tool. We have listed out some methods to do that here. Most tools will also point out for you which images should be compressed further.
There are other online image compressors such as Compress JPEG which can do the job for you, and they do it pretty well too. Alternatively, for auto compressing, install Crush Pics and set to automatically compress.
For manually compressing your image, TinyPNG is the most convenient to manually compress any images (JPG or PNG).
3. Summary
Choosing images is not so easy as it seems to be, because visuals are always integral and vital. So here are some quick tips to make sure your Shopify images work well.
Compress all of the images before publishing and make it load faster: Don't use the original image sizes, what you need is to choose the careful compressing images to make your customer's shopping experience more pleasant.
Check the guideline of your theme. See the guidelines on which Shopify image sizes and formats work best for your theme to make sure you are on the right way.
Remember the ideal Shopify image sizes. Then if you bring in professional photographers for your products you can let them know beforehand what you need. It'll save you a bunch of time!
Check how your images look on mobile every time you add an image. Usually, square images work best for both.
Need help to customize your Shopify Image Sizes for your Shopify store with EcomSolid? Don't hesitate to leave your questions in the comments below!