"How can I increase sales for my Shopify store?"
At some point, every online store owner has this question in their mind. Obviously, to have more sales, you need a winning product, customize your product pages, make your store UX-friendly, have effective promotions, etc.
If you take a look at the Shopify App Store, you'll see more than 2000 apps to help you tackle most of the problems. The real issue is that sometimes you can be overwhelmed by too many options. When every app promises to increase your sales, it's hard to find the ones that will actually bring you good results.
To help you select, in this article, we'll highlight 15 best Shopify apps that definitely help boost your store's revenue
Apps for finding and customizing products
1. Oberlo
Price: Free plan is available
Finding a winning product is always the hardest hurdle, especially with a single product store. Oberlo is a great app to help you overcome it. This's a platform where you can find products from suppliers all over the world and import them directly into your Shopify store.
Oberlo also gives you detailed statistics about each product so that you can make a better decision. In the Oberlo dashboard, you'll see the number of reviews, imports, page views, orders (in the last 30 days) of each product. Look at the example below, you'll easily realize and compare the performance of each product: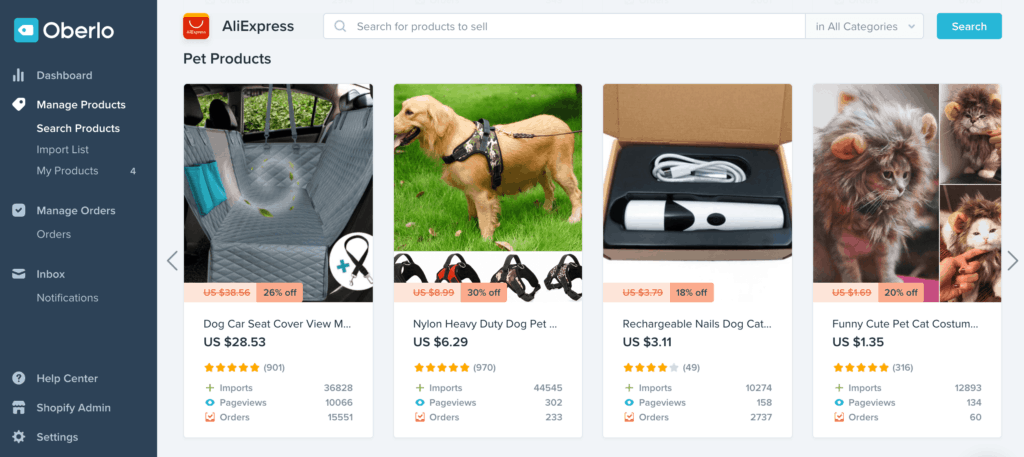 2. Spocket
Price: Free plan is available
Spocket is another product sourcing app that allows you to search and add products from suppliers based in the US and EU. Here're some Spocket features that can help to grow your sales:
Good price: All products on Spocket have a 30-60% discount on retail price, enabling great profit margins for you.
Fast delivery: You can have your products delivered usually within 2-7 days. Fast shipping time will increase customer satisfaction and customer retention rate.
Branded package: Using Spocket, you can send a branded product package to your customers, instead of the generic package used by AliExpress suppliers. This advantage is very helpful if you want to turn your single product store into a private label one.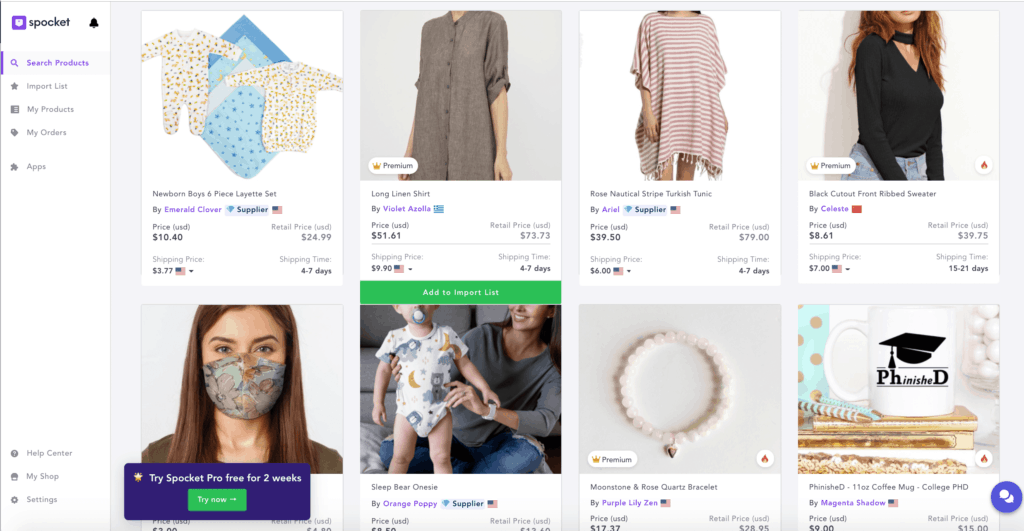 3. Printful
Price: Free to sign up and no subscription cost. You only pay when an order is made.
If you want to make money by selling some jewelry or face masks with your own custom design, Printful might be a good app for you.
Printful has plenty of products like blankets, phone cases, pillows, flip flops, etc. If you already have some graphic designs, you just need to upload them on the Printful mockup generator, then display products to your storefront. Printful will take care of the rest.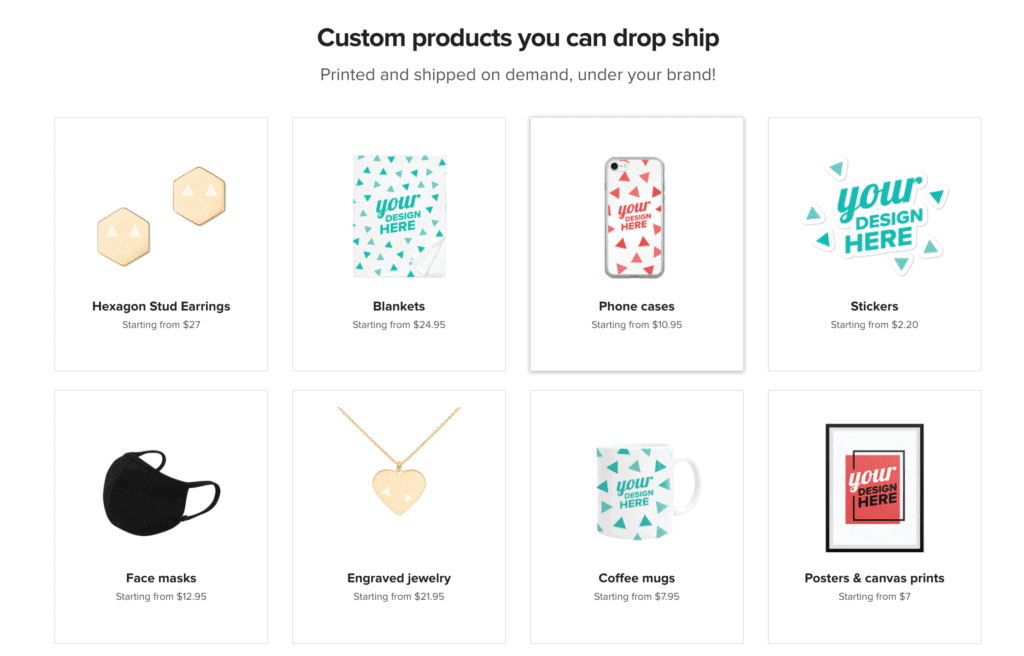 The World's Most Powerful Shopify Page Builder
Bring your dream eCommerce store to life with the most
powerful drag-and-drop page builder.
Even when Printful is very convenient to use, it can't guarantee to bring you success. You should really focus on making your graphic design outstanding and unique that the customers couldn't find anywhere else, especially if you're running a single product store.
Apps for conversion optimization
4. Bold Discounts
Price: 14-day free trial is available. The Basic plan starts at $19.99
77% of shoppers said sales promotions can influence the store they choose to shop, almost half of them (48%) admitted that a discount can speed up their buying decision. Therefore, an app that helps you to create effective promotions is a must.
Bold Discounts can be very helpful for your single product store. Quickly update storefront prices, schedule your sales ahead of time, run an unlimited number of promotions, edit promotions with mobile admin, prices sync in all sales channels — all with just one app.
5. Subscriptions by ReCharge
Price: Free up to $100,000 in processed revenue
With a subscription model, you can charge customers a recurring fee, typically monthly or yearly. By doing that, you'll definitely increase the customer lifetime value. Isn't this great?
If you're selling physical products on subscription (such as prepared food & drinks, pet snack, soap, shampoo), Subscriptions by ReCharge will take care of the whole subscription process for you.
Here are what ReCharge can do:
Provide you a "Subscribe & Save" product page option to turn one-time products into monthly subscriptions.
Allow your customers to fully manage their subscriptions such as change, skip, reschedule, or cancel.
Make it convenient for you as it integrates with many third-party apps such as Klaviyo, Smile.io, Swell, and Loyalty Lion.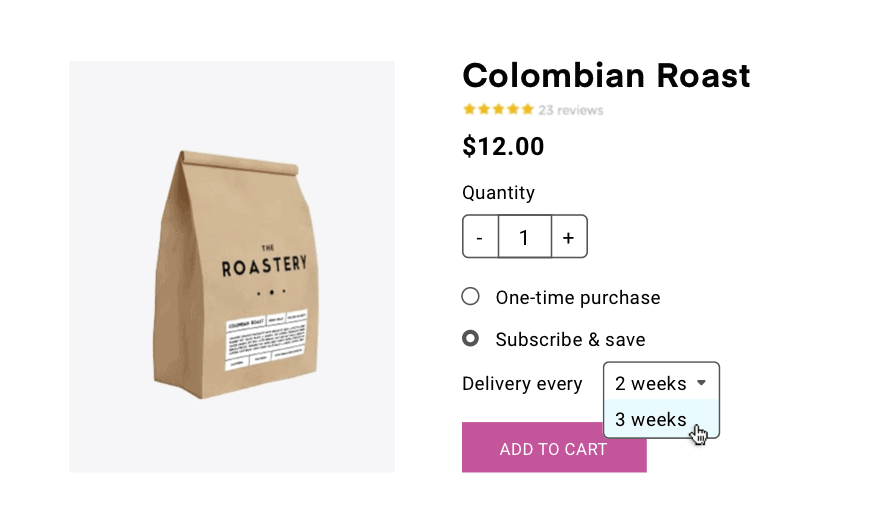 6. Smile.io
Price: Start with $49/month (Several plans available)
A customer loyalty program allows you to reward your customers who frequently engage with your brand. Research shows that a 5% increase in customer retention can boost a company's profitability by 75%. Therefore, it's important to keep your customer coming back.
Smile.io is a great app to help you do that. Smile.io provides you many ways to engage with your customers: loyalty points program, referral program, or VIP program. It can also help you create an eye-catching reward popup to impress your visitors from first sight.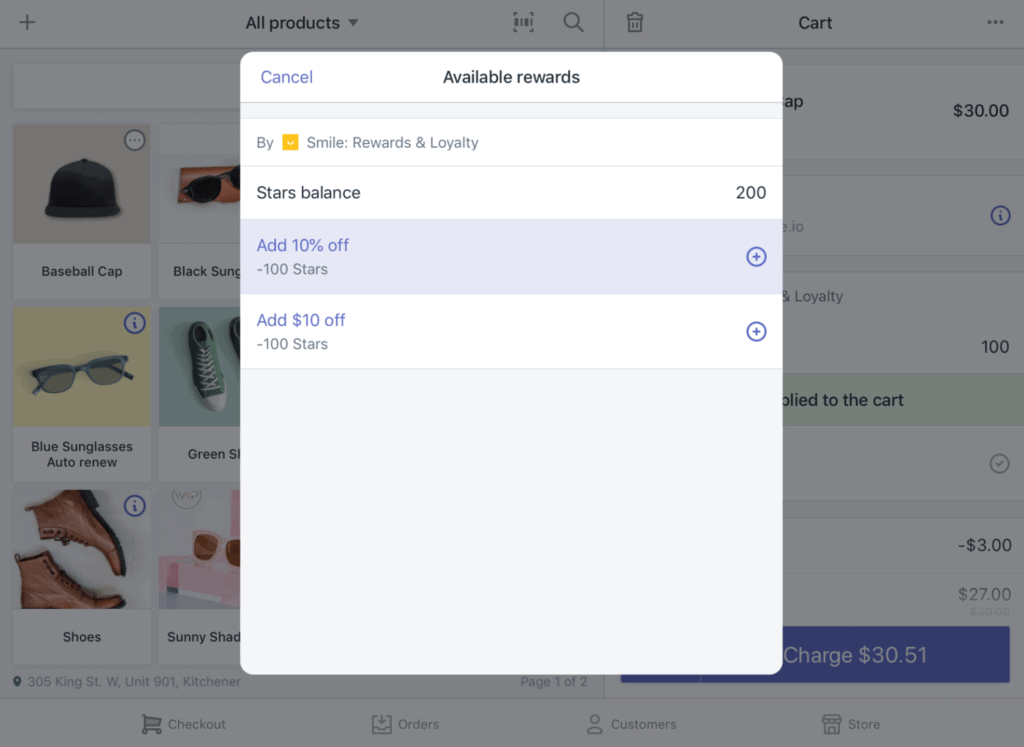 7. Countdown Timer by POWr.io
Price: Free plan is available
Countdown Timer by POWr.io shows the exact amount of the remaining days, hours, minutes, or seconds of a sale event. The purpose of this app is to create a sense of urgency, which encourages buyers to make purchase decisions right away.
Here is a demo when you add Countdown Timer by POWr.io to your store: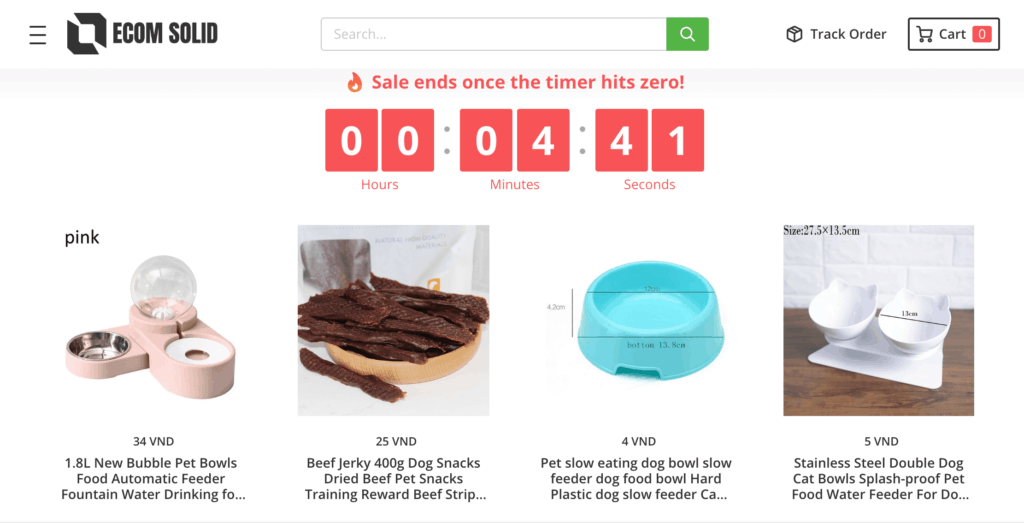 Apps for building eCommerce websites
8. GemPages
Price: 30-day free trial. Starter Plan starts at $29
Designing an eCommerce store for the first time can be hard, especially for someone who hasn't had any experience in coding or web design. GemPages, an intuitive drag-and-drop page editor, can totally take this burden off your shoulder.
With a one-product store, you need a unique website that can impress visitors from first sight. The drag-and-drop editor of GemPages will help you to do it. With more than 50 basic elements, you can design any type of content or layout you want with no coding required. Moreover, it also offers a wide range of high converting and ready-to-use templates, including homepages, product pages, landing pages, blog pages, coming soon pages, about us pages etc. All of these make it easy for you to create and manage your whole site.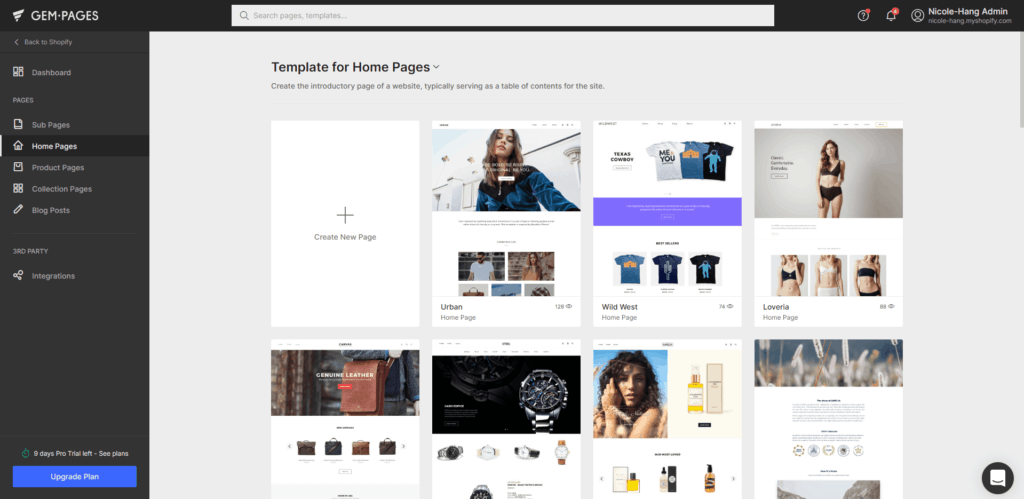 Saving time for website builders, you can invest more in marketing and sales strategy to win more customers.
Apps for enhancing marketing
9. UpPromote: Affiliate Marketing
Price: Free plan is available & GROW AFFILIATE plan starts at $21.99/month (14-day free trial)
Building a professional affiliate campaign is quite challenging. UpPromote is the top recommended app for Shopify's merchants interested in affiliate marketing. It provides an automated all-in-one affiliate and influencer marketing solution with advanced features and outstanding support. There are numerous criteria that make UpPromote stand out from other applications, such as:
Easy-to-use: Quick setting up process with detailed instructions. Automated processes with automated functions can help to save time, such as Auto-generated affiliate links, coupons, and auto approval affiliates/referrals.
Build your affiliate team: Customizable affiliate registration form. Besides, you can create unlimited affiliate programs with different commission offers.
Manage your affiliate campaign: Track all referral orders and manage your affiliate performance through a reliable real-time tracking process.
Support to recruit affiliates by free listing on UpPromote Marketplace; The customer referral feature allows your customers to refer your products to their friends and family and earn a small commission.
Here is a demo of when you customize your affiliate program form by UpPromote to your store: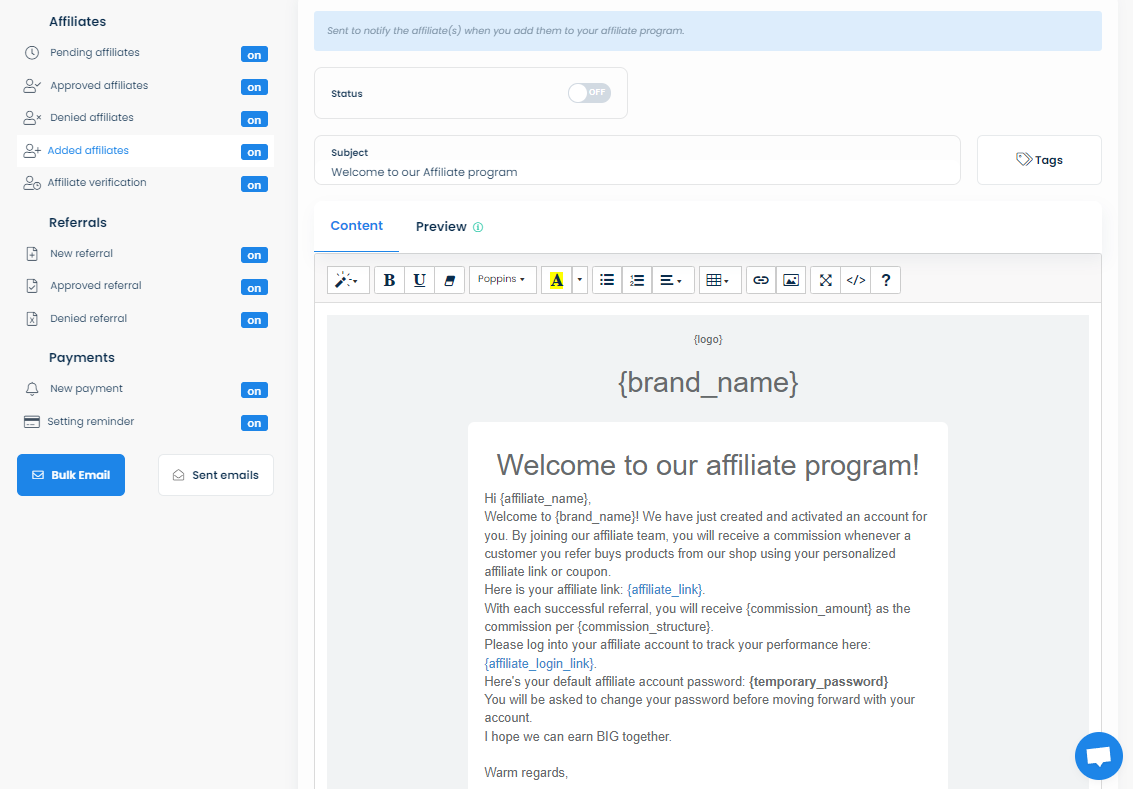 You can build a professional affiliate campaign and easily approach potential affiliates with Uppromote.
Apps for trust and security
10. Fera Social Proof
Price: 30-day free trial is available. Small Startup plan starts at $9/month
According to a Nielsen report, 92% of consumers said that they trusted non-paid recommendations above any other advertising type. Therefore, providing reviews from your previous customers is a great way to build trust for your store.
For a single product store, Fera can improve your store's credibility by showing visitors:
Social proof pop-ups
Customer testimonials and reviews
Visitor and product viewer counters
Recent sales pop-ups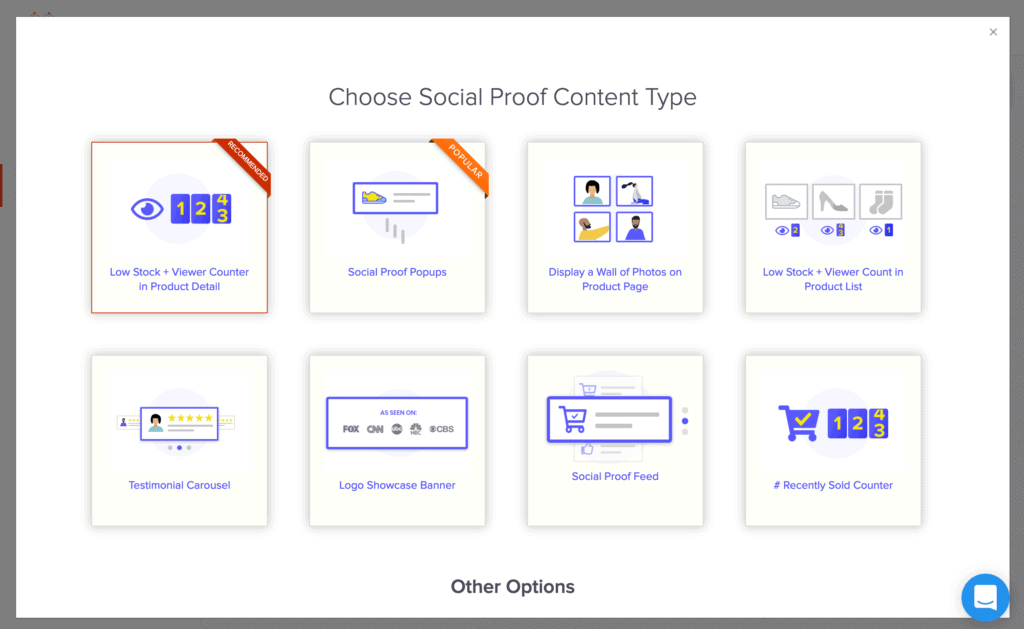 One of Fera's best features is the ability to A/B test so that you can determine which type of social proof is having a positive effect on your website. Here's an example: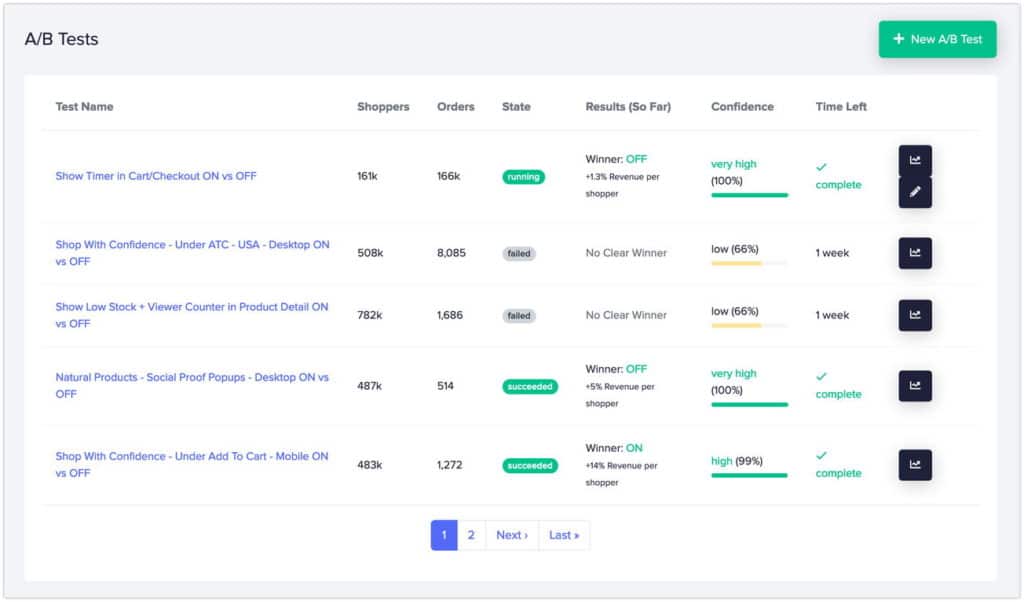 11. Loox
Price: 14-days free trial is available. The monthly subscription fee is $9.99 per month if you have under 100 review requests per month
Loox is another social proof app for Shopify that helps you gather user-generated photos from your customers. You can also easily import reviews from AliExpress and Amazon by just a few clicks.
If you've just launched your store, showing customers' feedback along with real images of how they used your products will make prospects trust you and have more confidence to buy from you.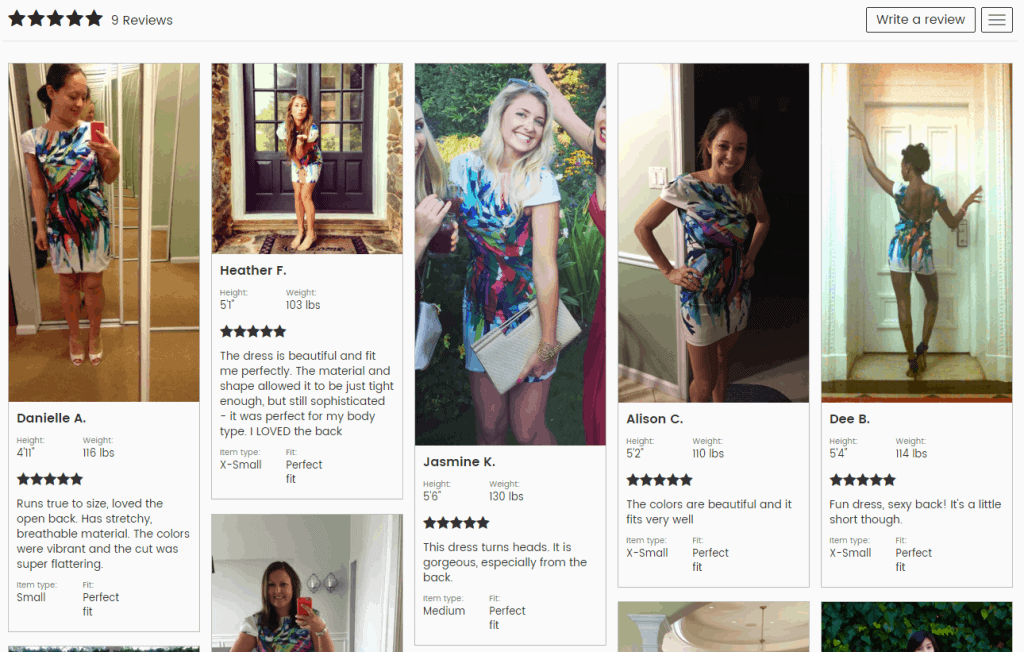 12. Free Trust Badge
Price: Free plan available
Free Trust Badge is an app that helps to show payment trust badges on your store website. The purpose of these badges is to make shoppers feel safe to buy from you.
Installing this app, you will have access to 670 premium payment badges and multiple design options. You can change the font size and color of them to match the theme and your brand identity. You can also drag and drop the trust badges you want into nearly anywhere on your store website within a few clicks. Here's an example: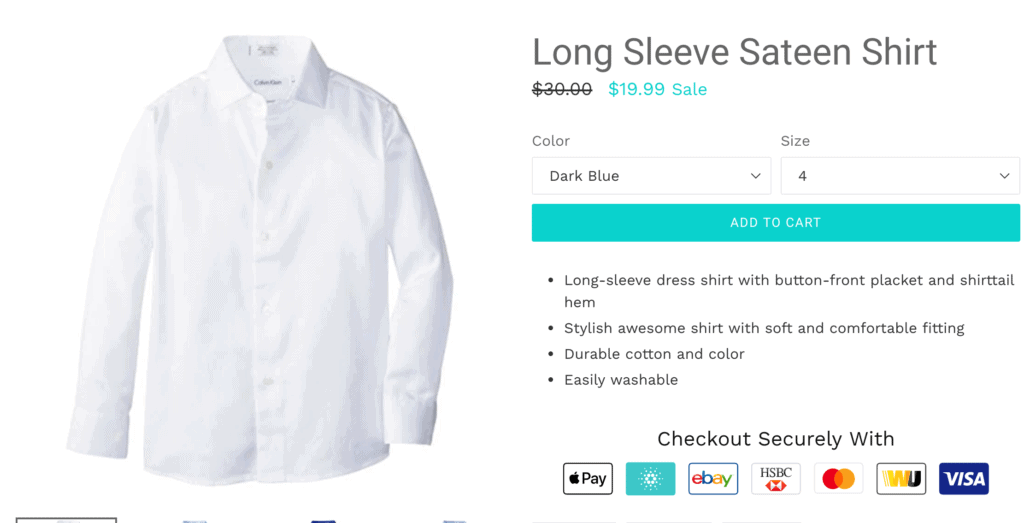 Apps for customer service
13. Facebook Messenger Live Chat
Price: Free
Real-time customer communication is a key to converting your potential customers. The longer it takes you to answer a message, the higher chance you'll lose this customer. Facebook Messenger Live Chat is a great tool for you to immediately communicate with your customers. So consider it as one of your customer support channels.
After installing this app, your customer can reach out to you whenever they have a question via a "Live Chat" button on your website. This is how it looks on our EcomSolid website: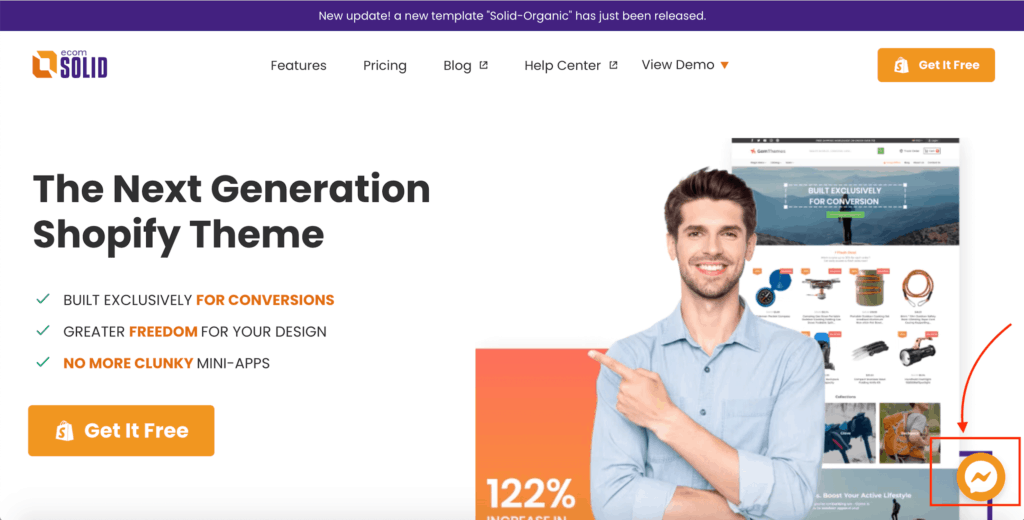 More conveniently, the whole conversation between you and your visitors is automatically stored on the app. So if they contact you in the future, your chat history will reveal lots of insights to help you continue your conversation without asking all over again from the beginning.
Facebook Messenger Live Chat also provides the Chatbot feature to decrease the workload of your customer support team. For example, you can set up Chatbot to automatically ask visitors basic questions about their size, their locations, etc. It looks like this: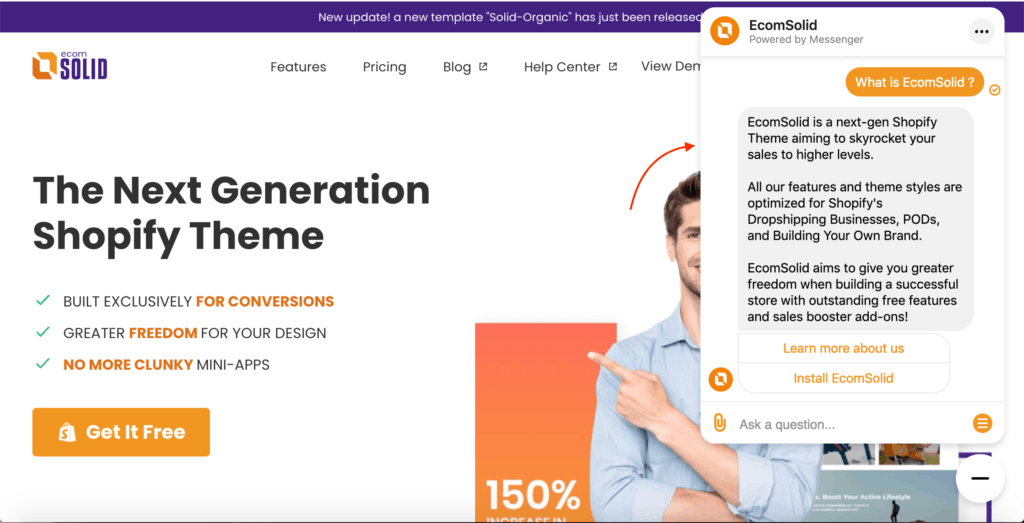 14. Gorgias
Price: 7-day free trial is available. The basic plan starts at $60
If you're selling your product on multiple channels such as websites, Facebook, Instagram, it's hard for your customer support team to manage all of the channels at the same time. That's why we need Gorgias — an all-in-one help desk platform that helps you manage everything in one place.
Using Gorgias, everything from email, live chat, social media channels, contact us pages will be unified to streamline your support tickets. No more switching between tabs or cutting and pasting customer information.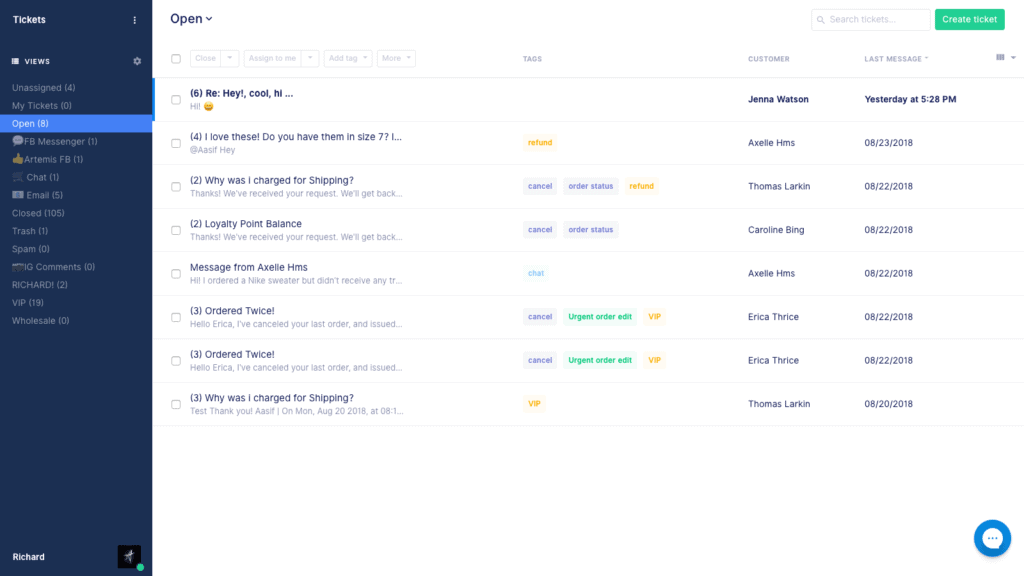 15. AfterShip Returns Centre
Price: Free plan is available.
Customers have many reasons to return your product: wrong size/ color ordered, broken products, products failing to match their expectations, etc. So even when you don't like managing returns, you still need to deal with it. A poor return experience can lead to customer dissatisfaction and reduced future purchases.
By setting up an automated returns process, AfterShip Returns Centre will provide your customers with delightful returns experience. With this app, your customer can easily submit returns requests instead of filling out a complex returns form or sending you a mail. During the return process, they remain notified about the status of the returns and delivery time.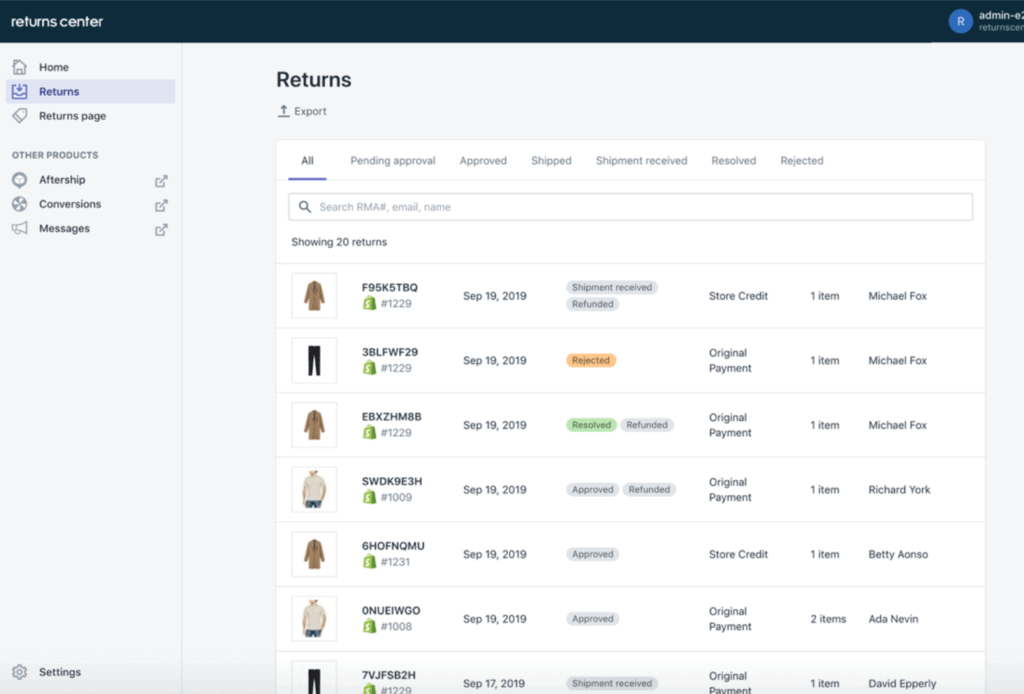 Now it's your turn
Alright! Now you've known the 15 best apps to boost sales for your single product store. It's your turn to try them out and see which ones work best for your store.
Do you know any other useful apps? Don't hesitate to share with us in the comment below.

The World's Most Powerful Shopify Page Builder
Bring your dream eCommerce store to life with the most
powerful drag-and-drop page builder.