When it comes to creating a Shopify store, the Shopify About Us page is one of the crucial, indispensable supporting pages.
Along with the product pages, it is probably one of the first pages customers will check to help them form an opinion and make a decision.
Having a persuasive Shopify About Us page therefore is an important step towards inspiring trust and loyalty in your customers. It is the go-to page for a store owner to proudly say: "This is why you should buy from us."
In this article, we will guide you through creating a About Us page, and turning it into a page that can actually inspire purchases from customers.
Let's get started (if you already have an About Us page and are looking to improve it, skip to step 2.)
1. How to add an Shopify About Us page?
First you would need to create your first About Us page for your new Shopify store.
Step 1: From your Shopify admin, click Online Store; afterward, go to Pages from the side menu.
Step 2: Click Add Page. Here you can manage and create your "About Us" page
Step 3: Start by giving your page a title, for example, "About Us"
Next, it's time to add some content. You should add information about your brand, values, and mission.

The World's Most Powerful Shopify Page Builder
Bring your dream eCommerce store to life with the most
powerful drag-and-drop page builder.
Step 4: Click Save. Your "About Us" page Shopify was created.
2. Tips to write a killer Shopify About Us page
The About Us page Shopify is a place to show off your business wins, a home for your founding story, and a sales page that answers the questions new customers have.
The About Us page can be the key point affecting whether customers choose your products or not, especially if your brand is new and doesn't have too much credibility.
Basically, what you need to do is to show them "Why they should buy YOUR PRODUCTS, and FROM YOU".
Before kicking your "About Us" page into gear, here are the four basic things that you will need to cover on your page:
Set up the scene: Tell your customers the story of your business and why you started it.
Describe the problem: Every customer has a pain point. Describe to them the cause that your business serves.
Give a solution: Communicate this pain point with your products. You can explain how your products are made and the ways they help customers.
Envise future: Let's picture your future, which is stated by describing your mission and goals.
Along with good content, you should consider including those elements in your About Us page Shopify design:
Picture/video of your store/products: If you know how powerful a picture/video will become, you will certainly add it to your About Us page. Adding a picture/video not only helps to boost conversion and sales (by attracting customers), but also shows great ROI, builds trust, and is good for SEO. Therefore, if you've invested in a video that helps potential customers get to know your business or your products, your About Us page Shopify is a good home for it as well.
Your business model: The business model is considered a unique value proposition and can be a selling point that's worth including on your About Us page Shopify. Let's talk transparently about your operation process like how your store cut out the middleman and pass the savings onto customers, or where you find the right materials for your product. The more transparent you are, the more customers will trust you.
Awards, testimonials, reviews: Because customers crave social proof, leveraging testimonials/awards/reviews to substantiate the performance, quality, or value of your products and services is good to achieve brand trust and wins customer loyalty. They are common examples of milestones that can be used to help tell the middle of your story.
Social media and CTA: Your About Us page can also be a funnel to other parts of your website or social media, so the final step is to add links to your social media presence (Facebook, Instagram, Blog, Email….) and some powerful CTA to encourage visitors to click or opt in. It will help to build a strong connection between you and your visitors.
3. The untapped potentials of the About Us page
It is a fact that when a visitor wants to learn more about you or your business, the About Us is the page they will look for.
Research shows that 52% of visitors head over to a company's About Us page before doing anything else.
The Wordstream Blog changed up its About Us page. The result is their conversion rates raised by 13%.
If you still doubt, here's an analogy: when you meet a new person at some event, normally, you check for similarities.
By asking about their hobbies, background, favorite food, and so on, you try to discern whether they have a "similar story" as you.
When you find them credible, you start forming a meaningful connection with them and consider investing effort in maintaining the relationship.
This is the reason why when a prospect visits your website for the first time, they head to the About Us page to find out if they can trust you.
"If anyone wants to quickly understand your brand, the About Us page should be the single link you send them."
However, there is a problem with the About Us page Shopify that many stores don't evaluate it carefully and bury its link in the website's footer, which makes it blurred in the eyes of customers.
The truth is, the About Us page is an ideal place that should hit the visitor's eyes from the first time. Besides being a foundation for story-building and showing off the business success, this tool supports customers with their questions about online business.
In summary, online merchants should install and utilize this amazing page for their stores now.
4. Inspiring About Us page Shopify examples
If you are impressed and want to create a great About Us page Shopify, here are some kickass About Us page examples you can draw inspiration from:
Example 1: A Better Lemonade Stand About Us page
A Better Lemonade Stand wrote their "About Us" page content perfectly. They give you information right off the bat, talk about who they are and what their goal is, and provide visitors with CTA buttons (9 CTA buttons in exact) within their content.
Not only are they selling on their website, but A Better Lemonade Stand is also allowing their audience to become further connected with them by inviting them to their Facebook community.
Example 2: Shopify About Us page
Shopify About Us page is one of the most essential factors that help this brand to build trust and raise conversion rates. It talks with the consumer about who they are, what they can do for you, and their mission statement.
The Shopify About Us page also shows you how many active Shopify stores there are (as well as their total sales – thus far).
Example 3: Airbnb About Us page
Airbnb About Us Page is the outstanding example for any About us page.
Almost all merchants make a mistake on the About us page because they misunderstand the functionality of this page.
Instead of talking with their consumers about what they do and what they are, they write with their confusing philosophy, which makes visitors bored and eventually leave this site.
Airbnb About us is doing great and effectively with its simple and impressive content. That is a method to help this company engage people and increase conversion rates.
Example 4: Apptopia About Us Page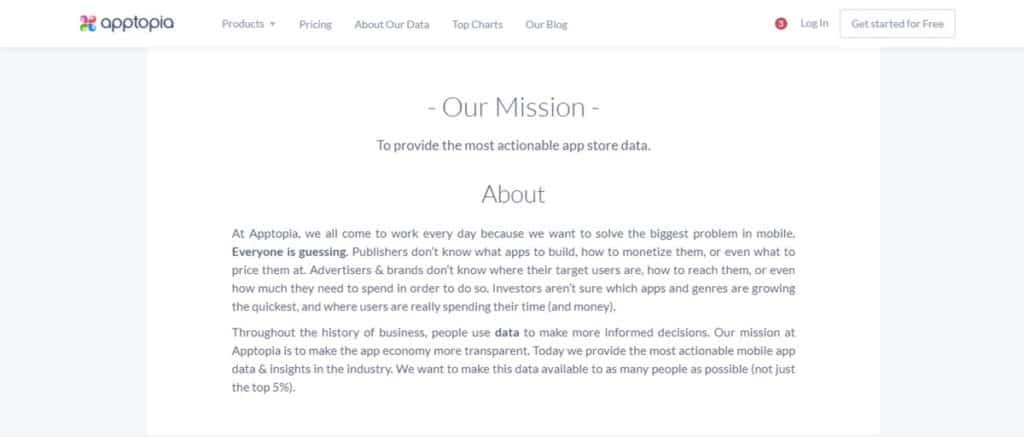 Apptopia created a good structure of the About Us page, containing a lot of information categories for their customers. This involves their team, their mission, investors, leadership, etc.
Besides, on their page, all of the information is classified in a method that makes it their customers easy to leap any sections or page that they want.
Your Shopify About Us Page is of huge importance
We know that there are some ways to gain the trust of customers. However, due to clients usually tend to form a quick first impression, instant prestige is necessary.
By creating a Shopify About Us page, you will have one more resource to help them make a purchase decision.
Read also:

The World's Most Powerful Shopify Page Builder
Bring your dream eCommerce store to life with the most
powerful drag-and-drop page builder.