According to Google, an impressive 39% of purchasers are influenced by search.
Imagine how beneficial it would be if your store is front and center on customers' Google related search results. You will be able to attract customers and influence their buying decisions.
Those are only some of the benefits of building a great blog. It is not a simple process, however. These Shopify blog examples below will get your creative juices flowing and help you start blogging on Shopify.
6 Brilliant Blogs Run By Shopify Stores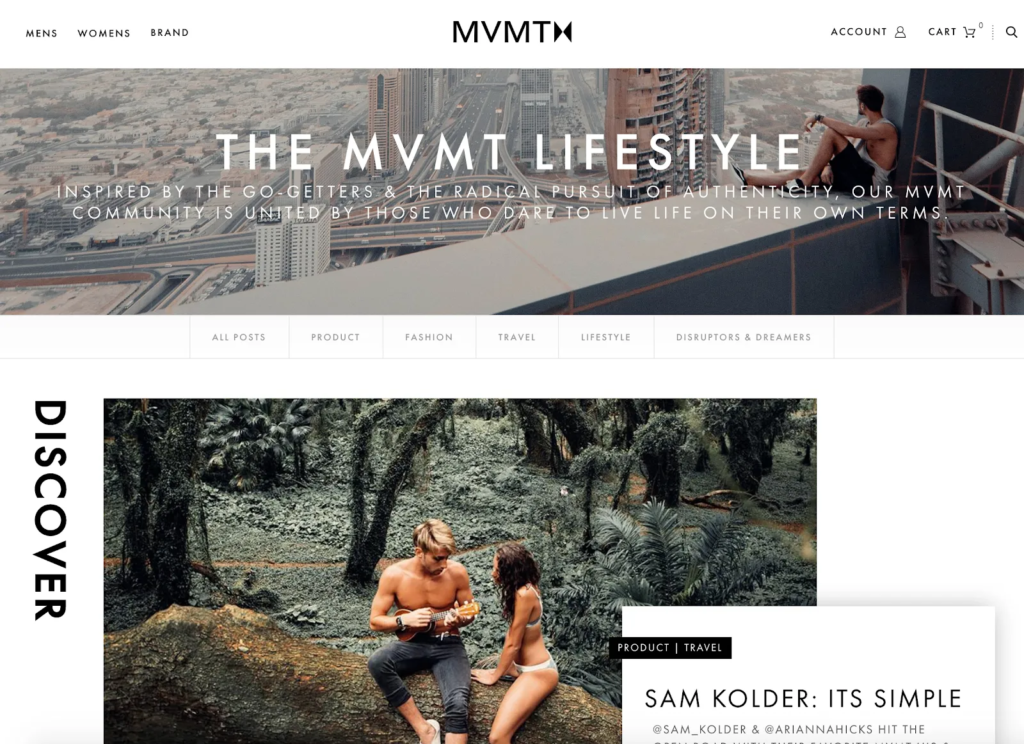 | | |
| --- | --- |
| Monthly Site Traffic | ~1.6M |
| Rank at number #1 for the term | "The mvmt", " mvmt website", "mvmt store locator", etc. |
MVMT Watches sells watches, accessories, and sunglasses to succeed and style Millenials. It is one of the world's fastest-growing brands that grew from zero to $60 million in sales in under four years.
Blog content has played a vital role in MVMT's growth, helping to position the brand as a leader in a millennial fashion. Rather than writing articles like everyone else, they show off routines and looks from their most widely known customers and influencers. You can buy an influencer's apparel right from the articles!
This Shopify blog also regularly features collaborations with social media influencers, which helps them grow an incredible following across social media.

The World's Most Powerful Shopify Page Builder
Bring your dream eCommerce store to life with the most
powerful drag-and-drop page builder.
Here are some of its achievements:
Instagram: More than 1.1 million followers.
Facebook: More than 3.6 million likes.
YouTube: More than 11.5 million views.
MVMT always keeps its brand consistent across the blog, its store, and social media content.
Learn more:
Shopify Collabs: What Is It and How Do You Use It?
Shopify POS Go: What Is It? Why Should You Get It?
Try These 12 Mother's Day Marketing Ideas and Watch Your Sales Grow
How to Set Up The Shopify eBay Integration?
🤗 Key takeaway: Connect your Shopify blog to social media influencers as much as possible to drive sales.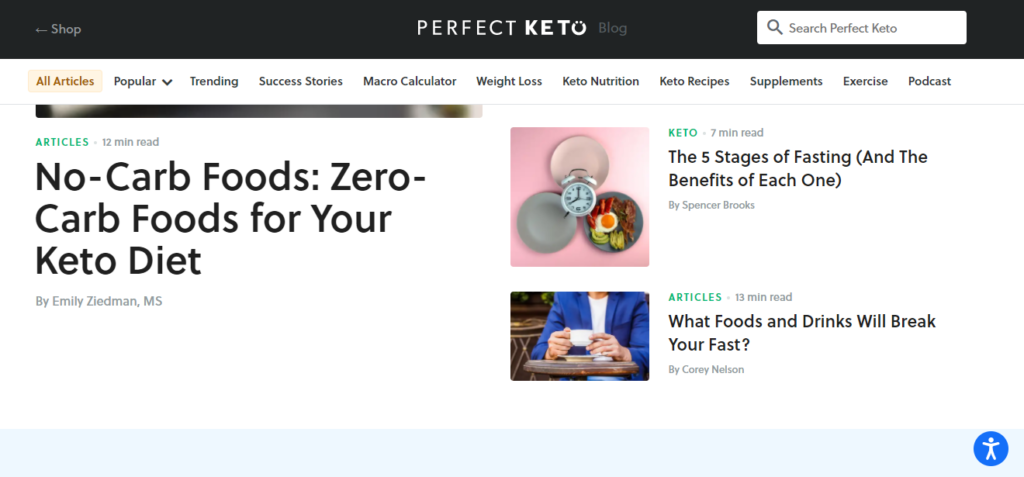 | | |
| --- | --- |
| Monthly Site Traffic | ~2.2M |
| Rank at number #1 for the term | Ketogenic diet blog", "keto blog", "keto diet bloggers", etc. |
PERFECT KETO sells Keto diet-friendly foods like protein bars, nut butter, and supplements for the picky keto eater's pantry.
Keto has exploded in the last few years as a lifestyle and diet plan for losing weight and maintaining the health-giving foods you eat. With this trend, PERFECT KETO's blog writes highly educational content about the Keto diet and living a healthy lifestyle. They have ultimate guides, a podcast, topical grocery lists, tips for ordering keto-friendly takeout, and more.
With high-quality content from medical specialists and nutrition planners, Perfect Keto manages to build a brand of repute and draw keto-curious readers to their site.
Besides, the blog has some highlights that you can learn::
Using a descriptive product title and write-up
Showing clear customer ratings
Offering clear product options, showing which products are new and limited
Providing multiple payment options that include interest free-installments and "subscribe and save" options for recurring orders
Using high-quality product images.
Eventually, they have a resource waiting for you to opt-in, and a funnel to get you to buy.
🤗 Key takeaway: Content is king. Remember to add a funnel to turn readers into customers.
Learn more:
Shopify payments vs. Paypal: What are the key differences?
What is Shop Pay and Is It Safe?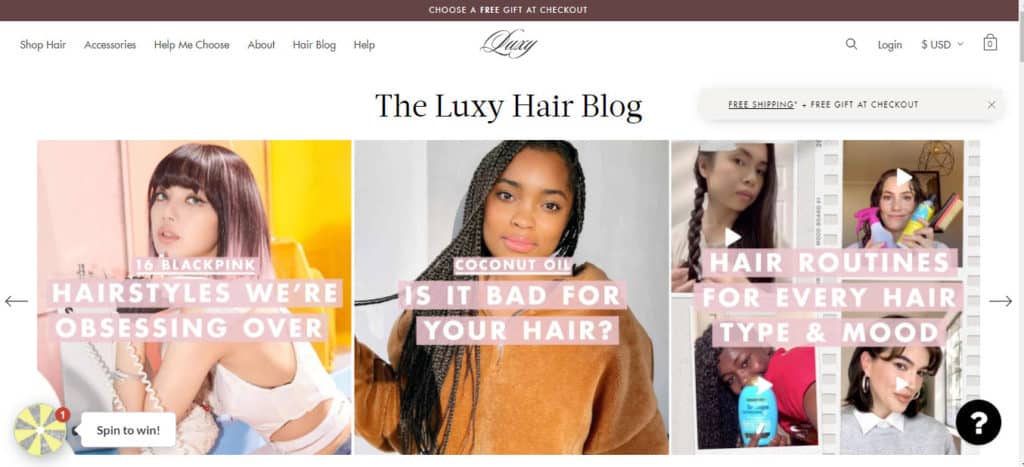 | | |
| --- | --- |
| Monthly Site Traffic | ~227K/month |
| Rank at number #1 for the term | "How often should you wash your hair", "easy hairstyles", etc. |
Luxy Hair is a successful online store selling customer-centric hair extensions for women.
LUXY HAIR's Blog is focused on hairstyles, care, and tutorials. It uses useful, highly engaging content that is easily recognized by the Search Engine. Some posts are even nabbing featured snippets on Google: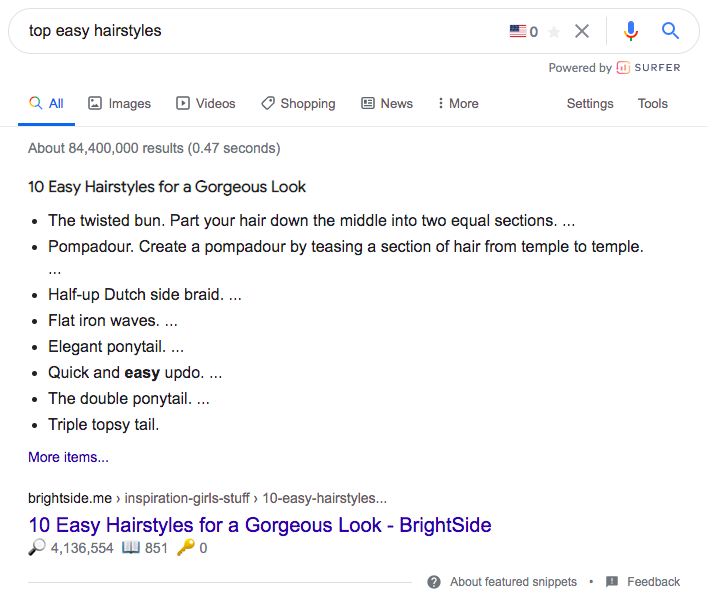 To gain that, the blog has a heavy focus on internal links between content (great for SEO). Their homepage is quite easy to navigate, which gives visitors the chance to select a specific topic to dive into as well as the latest and most popular posts on the site.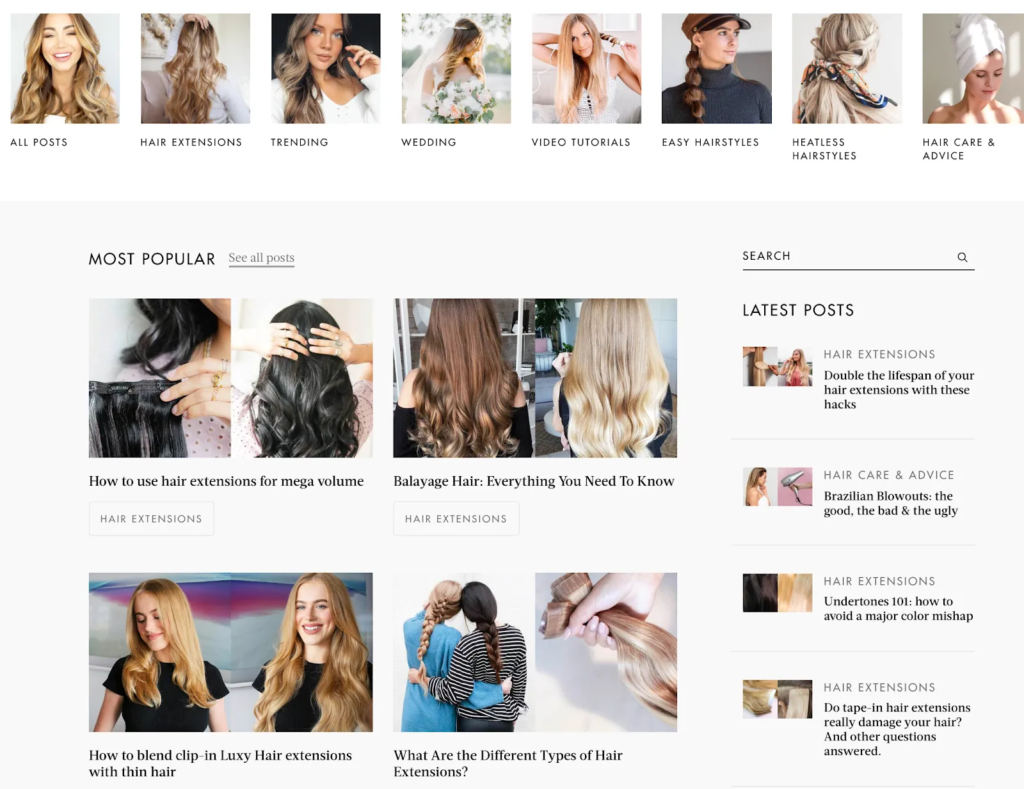 Luxy showcases many products mentioned in the content. It also uses fun, interactive quizzes as a way to capture leads.
Still can not fail to mention that they have a powerful Youtube channel. It has amassed 1,474,246 subscribers and 173,657,125 total video views. Integrating Youtube video links to the blog helps Luxy entice a lot of customers.
🤗 Key takeaway: Focus on SEO to generate traffic. Build a loyal community of fans.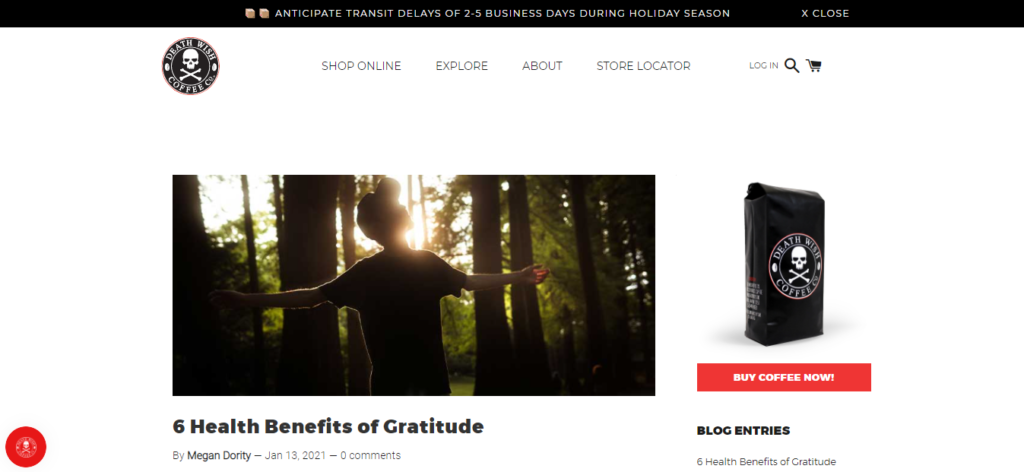 | | |
| --- | --- |
| Monthly Site Traffic | ~42K/ month |
| Rank at number #1 for the term | "Sand coffee", "how to get out coffee stains", "can coffee make you sick", etc. |
Established in 2010, Death Wish Coffee sells the strongest coffee in the world. Death Wish Coffee is one of the most successful eCommerce coffee stores.
It is experiencing 200% year-over-year top-line growth as well as launching a subscription service and a wholesale business that sells to major grocers.
This outcome comes partly from the "convert blog traffic into customers" strategy using SEO and social media.
Specifically, the blog Death Wish Coffee aims to reach its target customers: coffee lovers, so it ranks for coffee-related keywords.
For example, the blog owns the featured snippet for the search phrase "coffee before workout".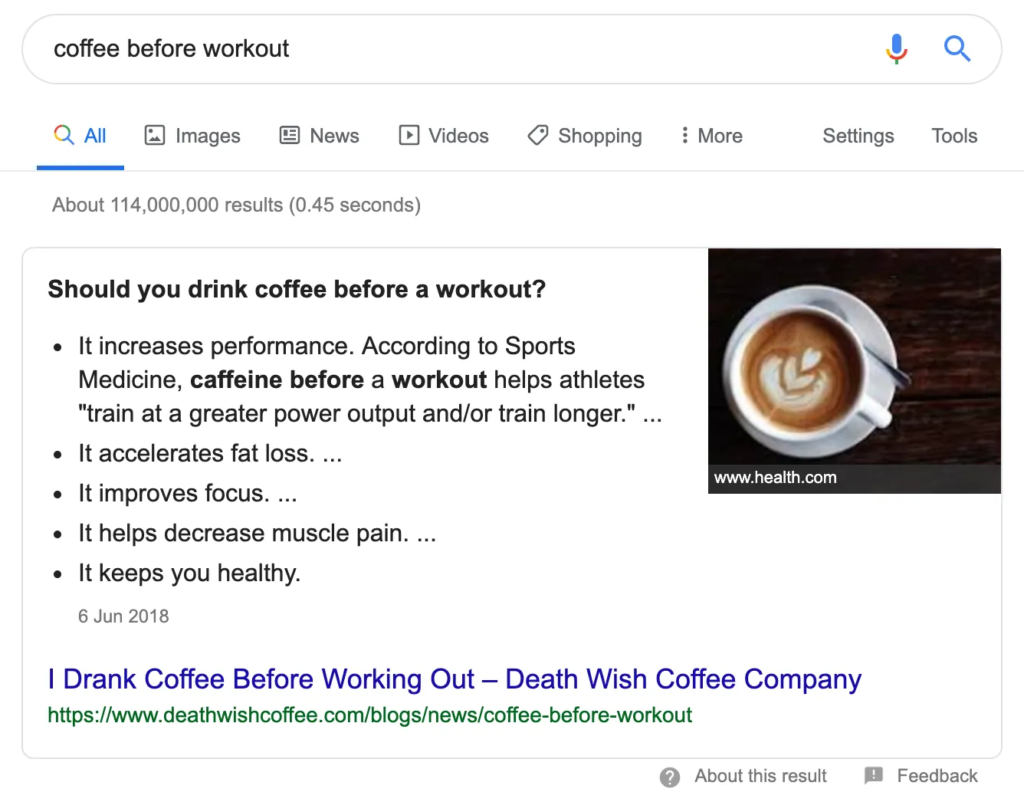 The search phrase "coffee before workout" receives over 2,200 searches per month in Google, with around 50% of those searches click through to a website (according to Ahrefs).
The blog also includes a pop-up offering a 10% discount to first-time buyers who join their list (which opens up after a visitor has been on the blog for around 5-10 seconds):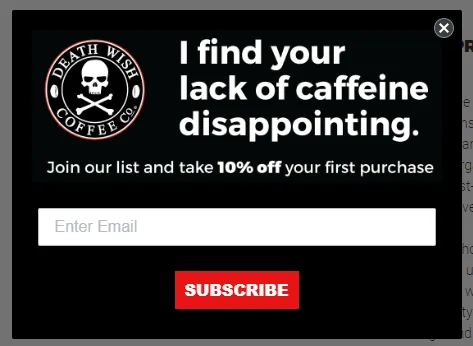 An email subscription Call To Action underneath each post: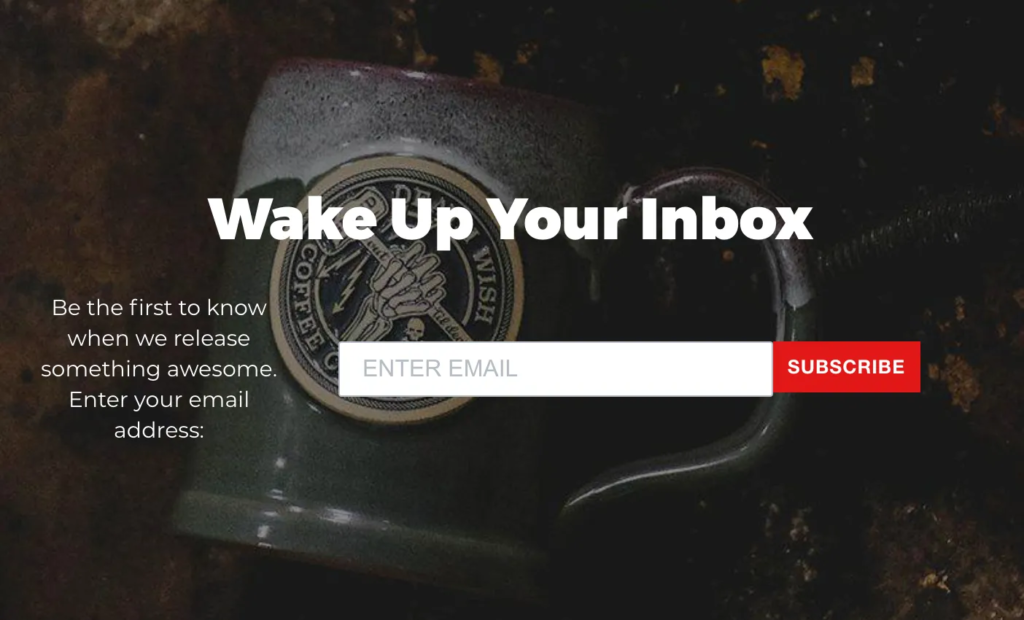 Every page on the blog links to product pages, which helps Death Wish Coffee to drive visitors through its funnel and toward a sale.
The right sidebar of the blog showcases its flagship product with a "Buy Coffee Now!" button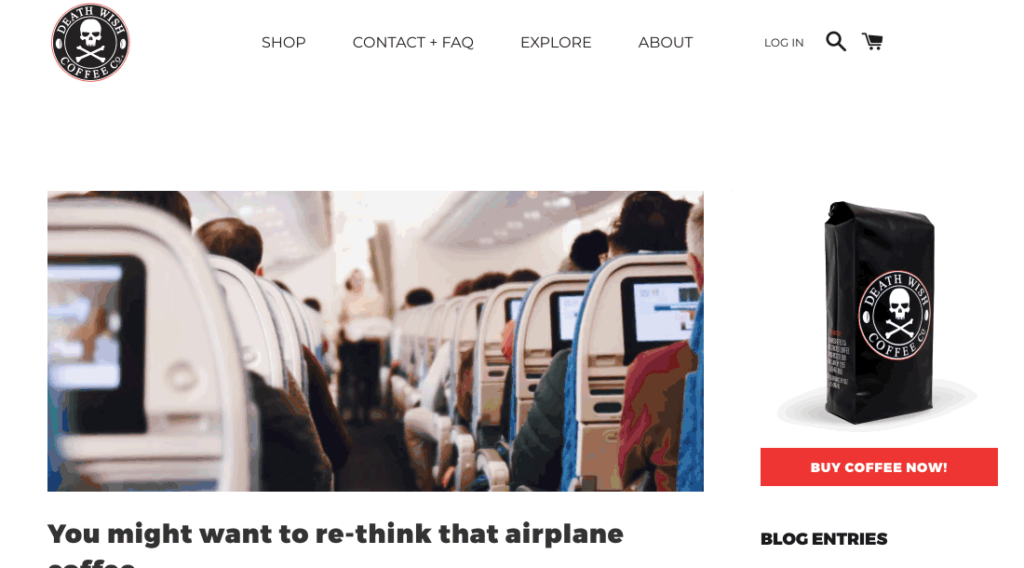 Social proof is featured prominently on the blog with share counts displayed within each post: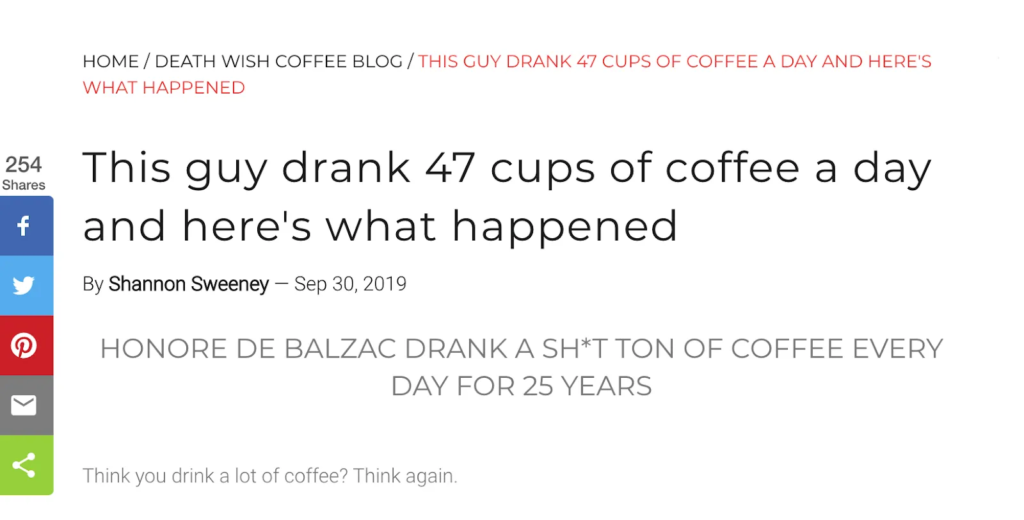 13% of the traffic of Death Wish Coffee's website comes from social media as Death Wish Coffee allows users to share its articles and multimedia content to social media presence.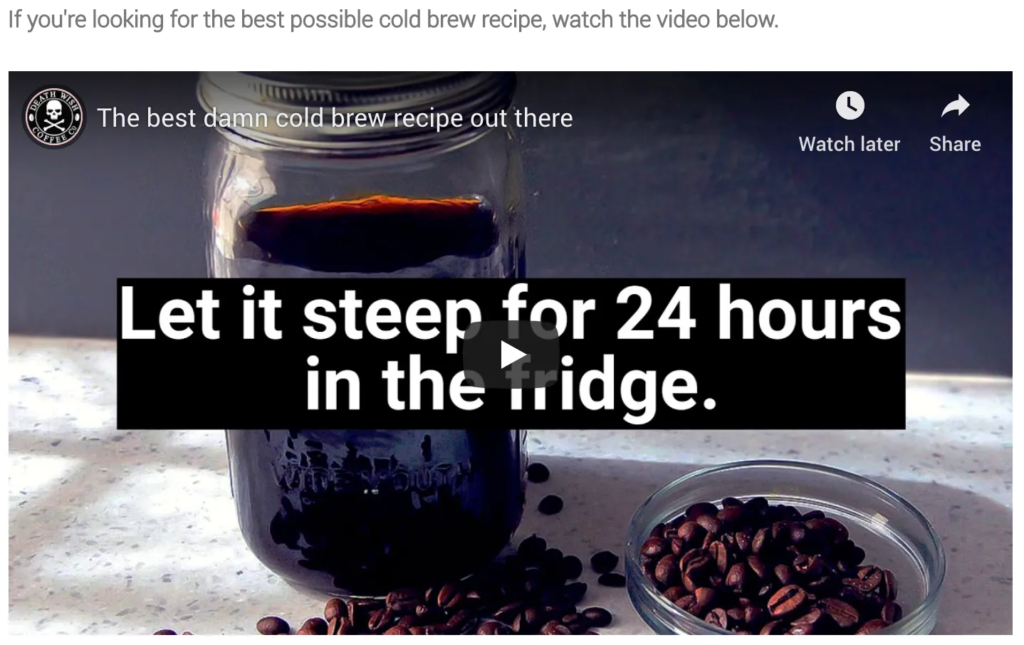 🤗 Key takeaway: Let your blog content present everywhere to capture leads and grow your email list. Don't forget to build trust in your customers.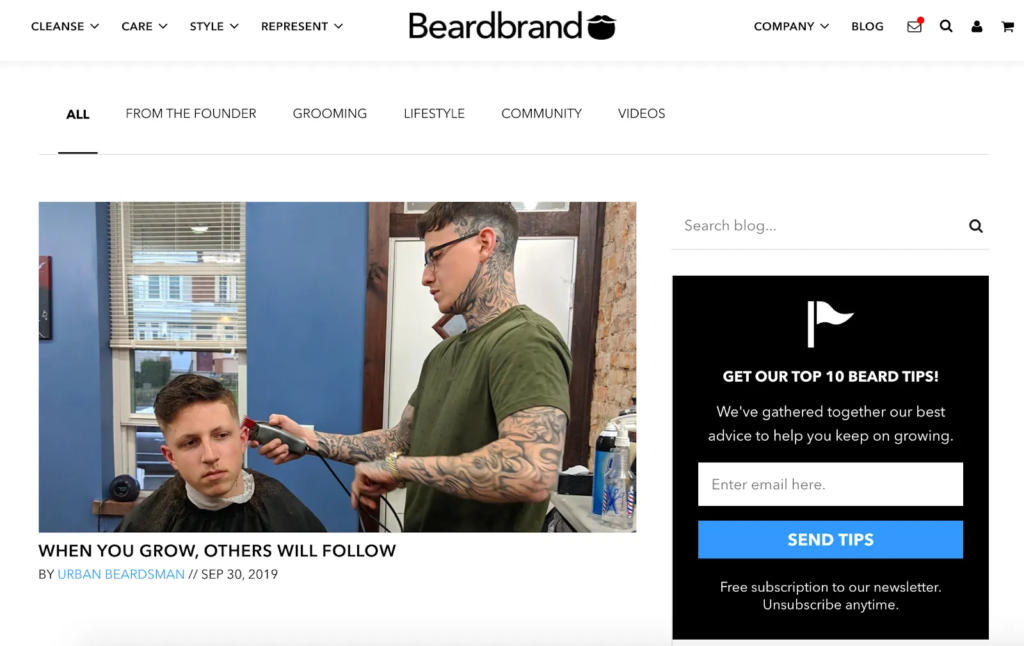 | | |
| --- | --- |
| Monthly Site Traffic | ~75K/ month |
| Rank at number #1 for the term | "Beard styles", "beards", "beard straightener", etc. |
Beardbrand fosters style for the urban beardsman. They sell beard care products as well as other items associated with the bearded lifestyle (t-shirts, accessories…).
Beardbrand built a zero to $120k per month eCommerce business in under a year, which seldom entrepreneurs gain. The Beardbrand blog also obtains some great achievements:
Beardbrand has a higher repeat customer rate than the industry average
Beardbrand's 7k email list gets a 46.6% open rate and 13% click rate
Beardbrand's users gladly write reviews of their experiences and share them on social media
Customers will tell Beardbrand that they purchase from this brand because of its videos and its vision
Urban Beardsman (the Beardbrand blog) features plenty of beard-related content and posts on style, travel, grooming, community, and business insights.
That content is considered to be very helpful for its "Urban Beardsman" audience. It also aligns much with the brand's mission: To Make Men Look & Feel Awesome.
But its stand out is that its blog focuses on the community: It shares stories from customers on topics like grooming, confidence, and healthy eating.
As a result, it creates brand ambassadors who will love to share their content and talk about Beardbrand with friends.
Beardbrand also has had lots of success with its interactive beard style quiz: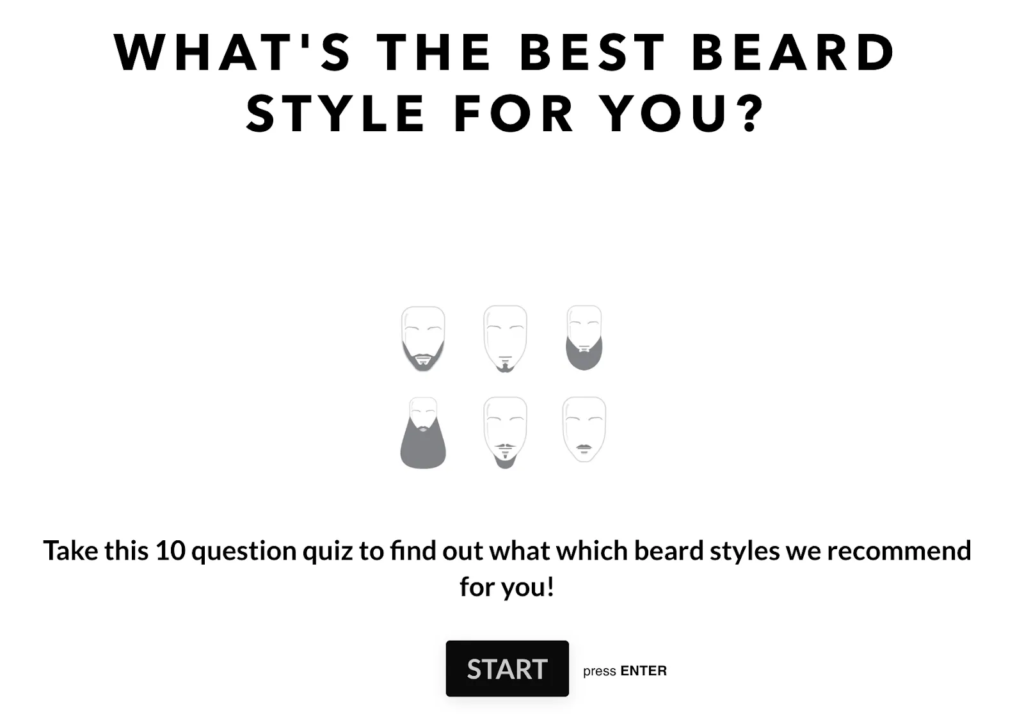 The quiz acts as a lead capture mechanism for the business by offering participants the chance to sign up for its mailing list: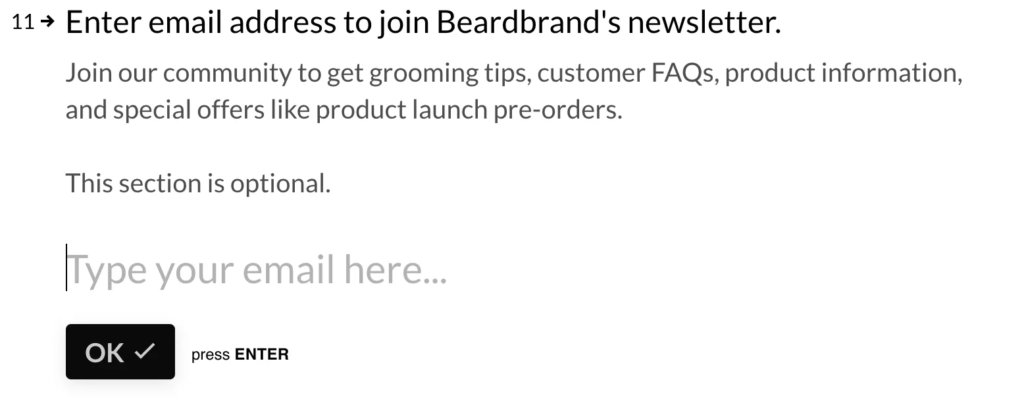 🤗 Key takeaway: Bring usefulness and happiness to visitors, and they will voluntarily be your customers.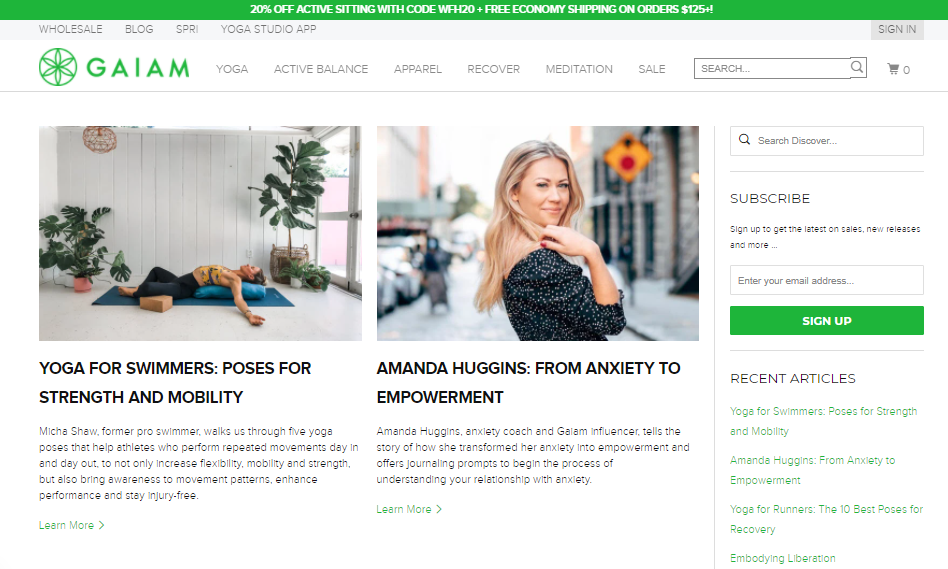 | | |
| --- | --- |
| Monthly Site Traffic | ~1.4M |
| Rank at number #1 for the term | "Steady state cardio", "meditation for beginners", "inner leg workouts", etc. |
Gaiam is a lifestyle brand offering high-quality fitness, yoga, and wellness products
Gaiam has a large distribution network, including 18,000 stores within stores, 38,000 retail doors, and 5,000 category management locations, but it is not a shock.
Their blog reaches 1.4M views monthly traffic, and almost all visitors become their customers. It is the truth that Gaiam is everywhere, even online.
If you take a quick look, you can see that Gaiam's blog is not too unique or crazy. It simply offers advice on Yoga, meditation, or wellness tips.
However, they tie their merchandise in with yoga how-tos for beginners and yoga education for special interest groups like seniors, swimmers, or runners.
These posts are interspersed with aspirational topics about authentic life and tapping into the benefits of meditation.
This mix of content drives SEO optimization and promotes conversion rate, which positions them as a trusted company in the yoga and wellness world.
🤗 Key takeaway: Don't sell what you want to sell, give users what they need.
Let's get started
As you can see from these examples, there are lots of ways that you can create a blog and get massive success and online notoriety. It's certainly not a simple task but follows these examples, be persistent with it, and you should see results.
📣 Bonus Tip: The best way to stand out in a crowded market is to create a visually engaging shopping experience. So if you have started thinking about it, we'd be happy to give you a step-by-step guide to customize your Shopify theme.

The World's Most Powerful Shopify Page Builder
Bring your dream eCommerce store to life with the most
powerful drag-and-drop page builder.