Dropshipping is not dead, despite what some people want you to believe. After working with over 20,000 eCommerce sellers, we can say that with confidence.
In fact, dropshipping is thriving more than ever. The issue is customers no longer tolerate mediocrity. To be successful with dropshipping, you need to take it seriously.
And no better way to do that than to learn from the people who are doing it right.
That is why we've put together a list of top 5 Shopify dropshipping store examples. Each of these has different goals to achieve and different audiences to reach, but they have all been successful one way or another.
In this article, we will break down our analysis for these stores into 3 categories:
Store Design
Winning Product
Marketing Strategies
Without further ado, let's get started!
5 most successful Shopify dropshipping store examples
Before we begin, if you're new to dropshipping and looking for fulfillment services to start, look no further than CJdropshipping for great products and customer support.
Pura Vida – branded jewelry store
Pura Vida Bracelets is an example of how to take a highly competitive market and create a niche that lets you stand out from the crowd.
This brand has expanded its artisan community to include a family of more than 800 artisans, who can count on a steady income and positive work environment.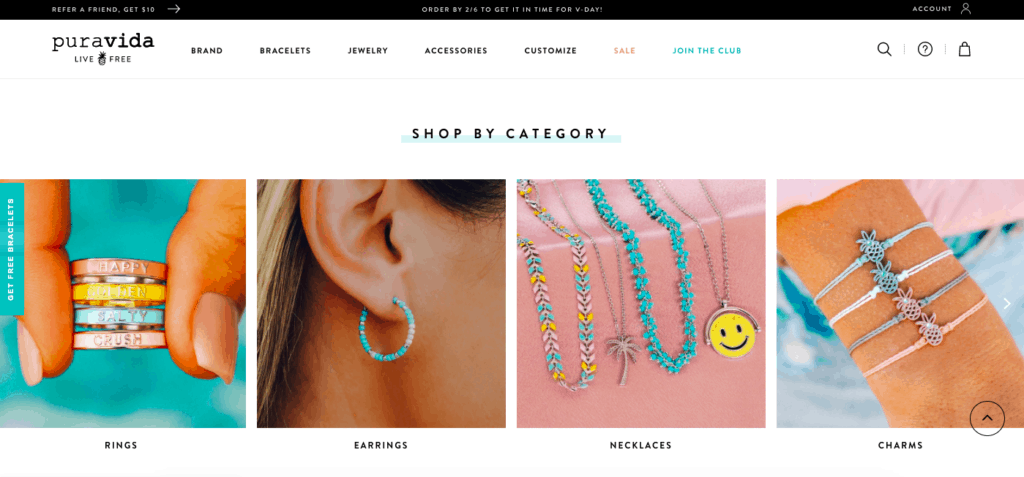 | | |
| --- | --- |
| Product Niche | Jewelry |
| Web Design Style | Clean, simple, and minimalist |
Why we love their web design?
Entering the store and you will be immediately impressed with their usage of video in the hero banner. It sets the tone for the store and captures attention effectively.
The simple aesthetic design such as the careful usage of grids, clean and easy to read typography, and a lot of white space within the layout of the website, makes it appealing to Millennials.
Efficient white space is especially something that new sellers often miss. Inexperienced sellers tend to cramp a lot of details and sections together, making things look suffocating.
More importantly, each of their products comes with attractive and professionally taken product images that fit with the overall aesthetics.
What about their product?
From day one, Pura Vida had a unique product and brand story. And here's a look behind the scenes at how they made it happen.
First, the team understands the power of word-of-mouth marketing.
Our friends would take one and take another for their friends. Then their friends were coming to us to get bracelets for their friends. And then before you knew it, more and more people were coming to us. All of the sudden, we realized we were going to have to start shipping to meet demand.

Griffin Thall, Co-founder of Pura Vida
Obviously, having a unique and touching story behind their product helped them resonate quickly with customers, and bring in a lot of organic referrals. Selling your product with a truthful and relatable story is one of the strongest tactics you can do.
Secondly, even with such an advantage, they still recognized that social media is a must, and only someone immersed in it can keep up. Pura Vida's Instagram is a great case study of influencer marketing done right.
As a result, Pura Vida has emerged as one of the most successful Shopify stores around.
Learn more:
All About Shopify Jewelry Stores: A Beginner's Guide
10 Creative International Women's Day Campaign Ideas
12 Best Mother's Day Marketing Ideas For Your Online Store
What to Sell on Valentine's Day in 2023?
10 Creative International Women's Day Campaign Ideas
12 Best Mother's Day Marketing Ideas For Your Online Store
🤗 Key takeaways: Pura Vida created demand among customers and established a powerful story around what the Pura Vida products and brand stand for.
Little Trendsetter – kids fashion niche store
Little Trendsetter specializes in wonderful baby clothes and accessories as well as clothes for children of an older age.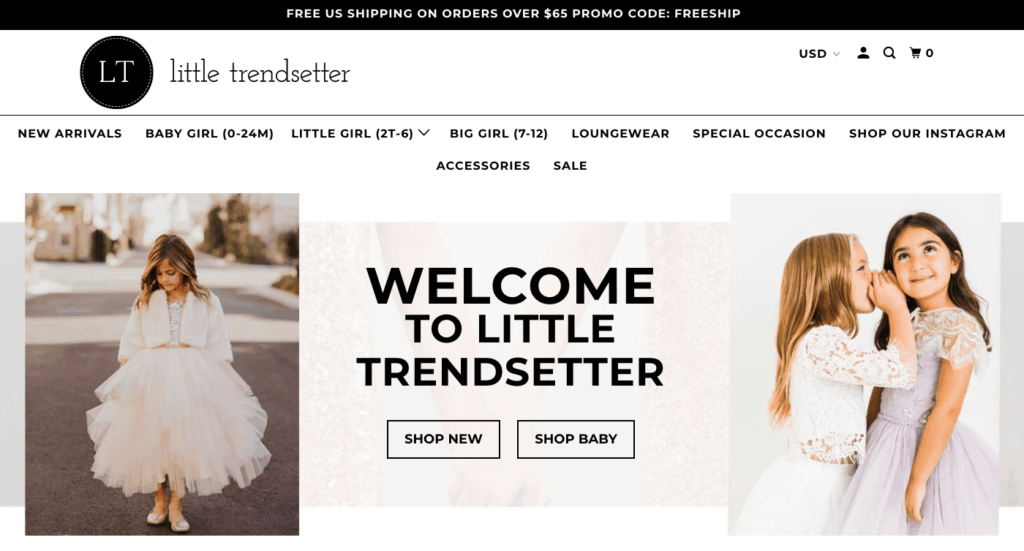 The World's Most Powerful Shopify Page Builder
Bring your dream eCommerce store to life with the most
powerful drag-and-drop page builder.
| | |
| --- | --- |
| Product Niche | Baby clothing |
| Web Design Style | Simple, elegant, and bright |
Why we love their web design?
The easy-to-navigate site enables shoppers to quickly filter their search by age and size is one important strength.
But the most impressive part of this store is their effective product descriptions. Reading these descriptions, you can get a feeling that the store owners know what they're selling and who they're selling to pretty well.
These descriptions are detailed, colorful, make each product seem special and can really inspire customers to imagine why they should purchase such products.
Dropshippers who want to achieve this effect should test out the product you're selling to get a sense of what it's about and how it can impact customers' lives.
(Check our other article for more details on writing a good product description for one product store.)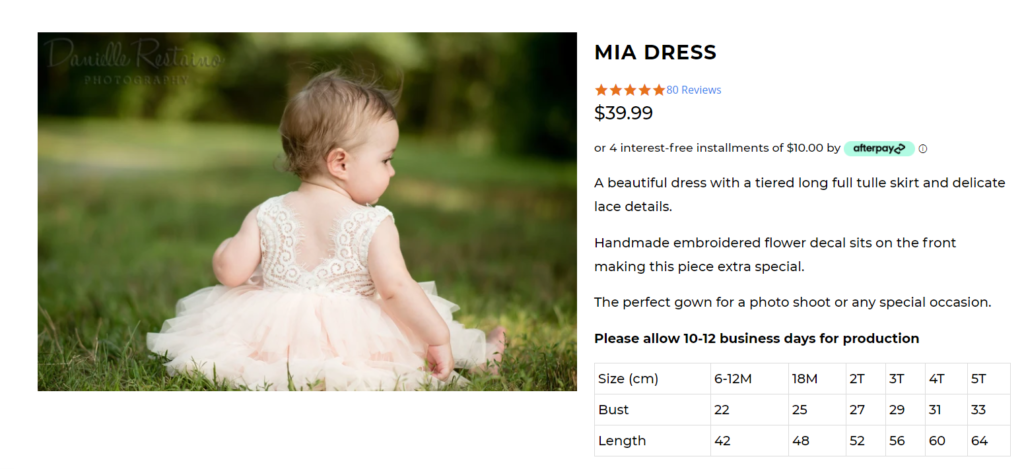 What's more interesting about this store is that on the Shopify checkout page, shoppers can choose Afterpay to pay for their purchase in four installments while Little Trendsetter receives full payment upfront.
What about their products?
Revenue for the baby care products market alone is expected to reach $11.4 billion in 2018, on its way to topping $13 billion by 2021.
Back to Little Trendsetter, they set out to create a store with fashionable and trendy clothes for girls and their moms. This product niche is good because it already has an active audience on social media, especially on Instagram. In fact the #littletrendsetter hashtag on Instagram now has over 90,000 images.
By taking advantage of this existing audience and this already popular hashtag, Little Trendsetter got attention for their shop faster.
Learn more:
What is Shop Pay and Is It Safe?
15 of the Best Shopify Themes for Clothing Stores
7 Best Shopify T-shirt Stores to Get You Inspired
All About Shopify Jewelry Stores: A Beginner's Guide
Shopify for Restaurants: Complete guide 2022
How to Build and Start a Shopify Pet Store
How to Create and Manage Multiple Shopify Stores?
🤗 Key takeaways: Take advantage of social media trends to insert your brand and products and put them in front of customers subtly.
Watchoutfitters – branded watch store
Watchoutfitters is one of the most successful Shopify dropshipping store examples.
With an aim to curate a unique selection of watches from around the world, this brand built the store from the highest quality materials, and a timeless design, but at a fraction of the cost of a name-brand watch.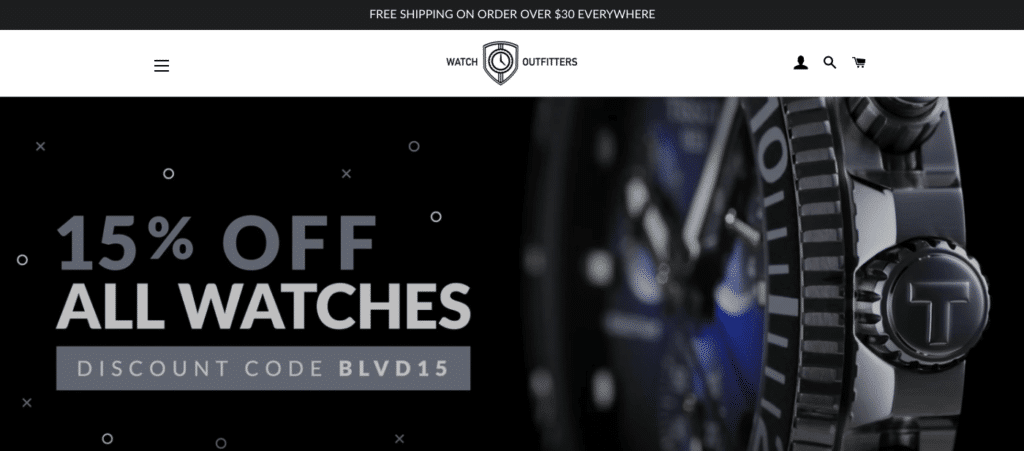 | | |
| --- | --- |
| Product Niche | Men's Watches |
| Web Design Style | Luxury |
Why do we love their web design?
At first glance, Watch Outfitters impresses with its minimalistic style. The homepage has a hero banner and then a slew of product images, and that's it. The rest is white space. There are no side banners, no pop-ups, no chat boxes, etc.
This elegant design is a must for creating a luxurious sense. Once again, we have to emphasize the mantra of using white space wisely and giving the space of the section to breathe.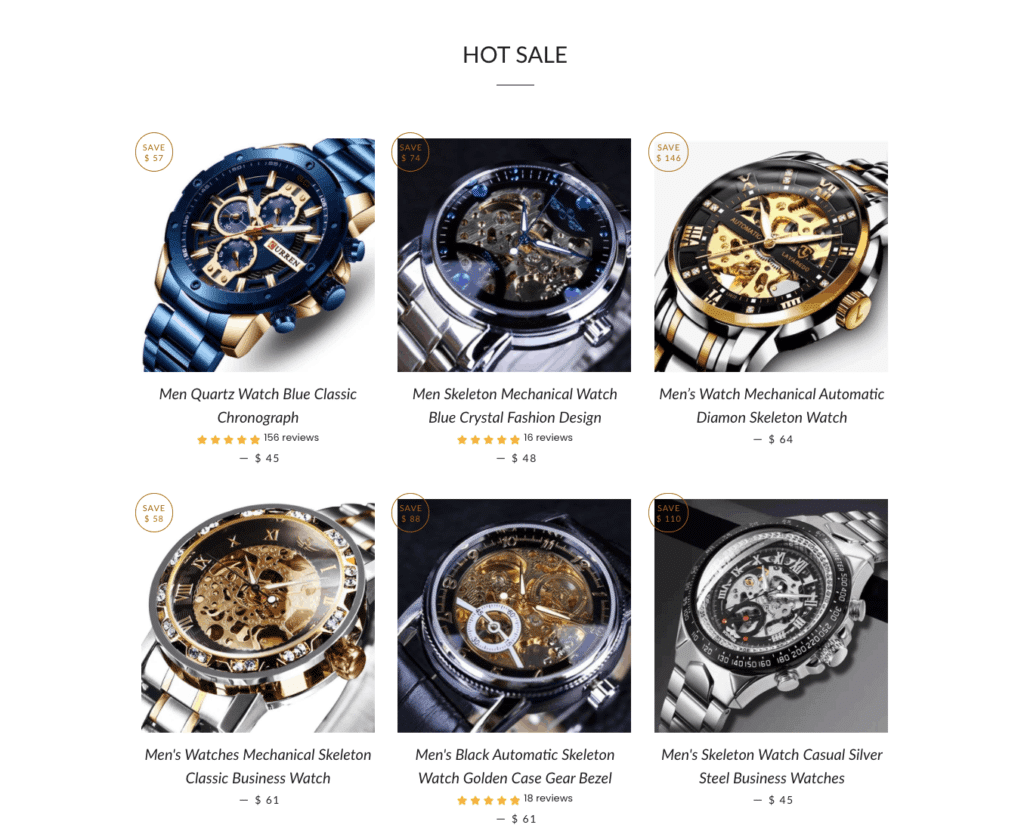 As shown in the picture below, every product page has tons of great reviews. And what's more important is the reviews look genuine. The photos and the comments look like they were generated by real customers.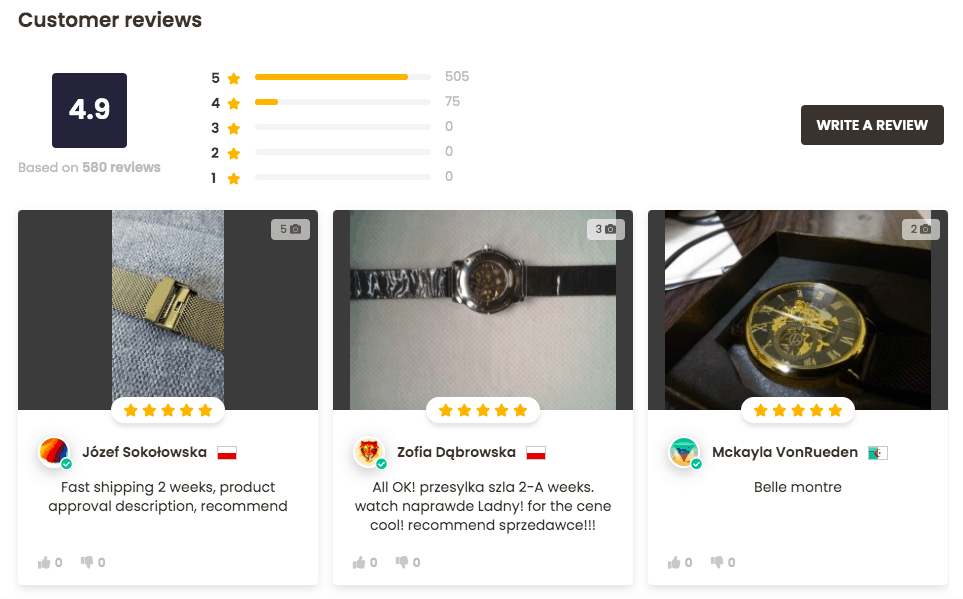 So if you're going to add reviews to your site, do it right by starting with a good amount of them, and setting up a system to continue getting new reviews. We cover this topic deeply in our guide here.
What about their products?
Watch Outfitters clearly entices buyers by offering luxurious-looking watches at a heavily discounted price.
🤗 Key takeaways: We strongly recommend that you take some time right now to gather reviews from your existing customers across Facebook, Instagram, Twitter, or Google My Business.
VOZORY – home decor general store
VOZORY is one of the most beautiful Shopify dropshipping store examples you can find.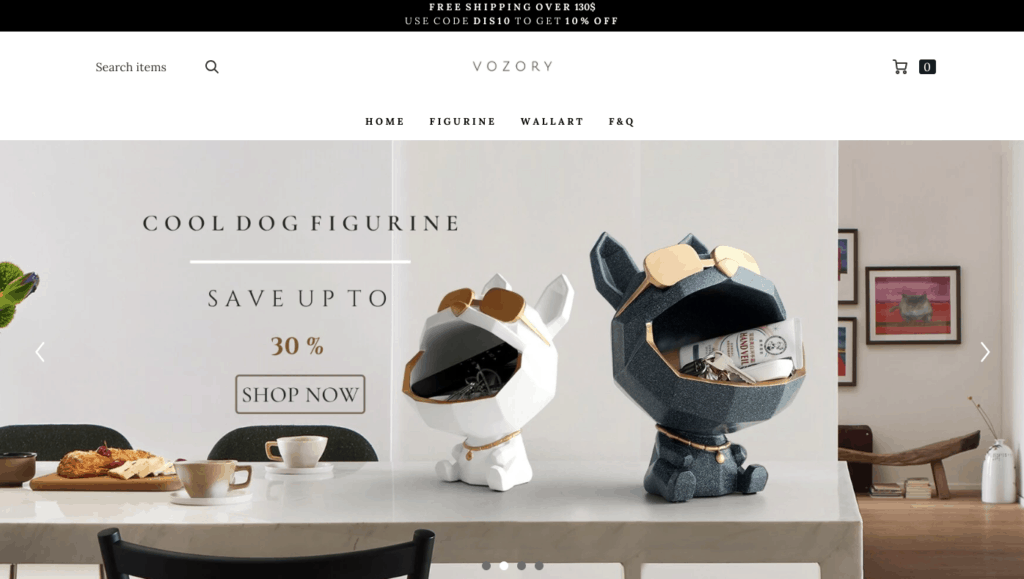 | | |
| --- | --- |
| Product Niche | Home Decor |
| Web Design Style | Minimalistic |
Why do we love their web design?
First, the high-quality and full-width hero banner image immediately captures every visitors' attention. Without a doubt, beautiful product images really set Vozory apart from most dropshipping stores.
It also comes from the fact that the store seems to intelligently pick products that inspire curiosity, making you have to take a second look.

Overall, the black and white tones throughout the theme provide a minimalistic experience to the site that draws all attention to the product images, letting them speak for themselves.
What about their products?
As staying at home more, we are starting to pay closer attention to the convenience and appearance of our own apartments.
So dropshipping home decor truly has become an attractive business idea recently. But as previously said, what set Vorozy apart is that they are able to pick products that are truly interesting.
When choosing a product for dropshipping, avoid products that are boring or easy to find at all costs. You are not going to be able to compete against Ikea or Walmart, so picking items that are unique is the way to go.
🤗 Key takeaways: VOZORY makes use of our Ecomsolid theme. The most special thing about EcomSolid is that you can easily every part of your theme without coding knowledge.
Bewellbodycare – fitness niche store
Bewellbodycare is the last (but not the least) entry on our Shopify dropshipping store examples.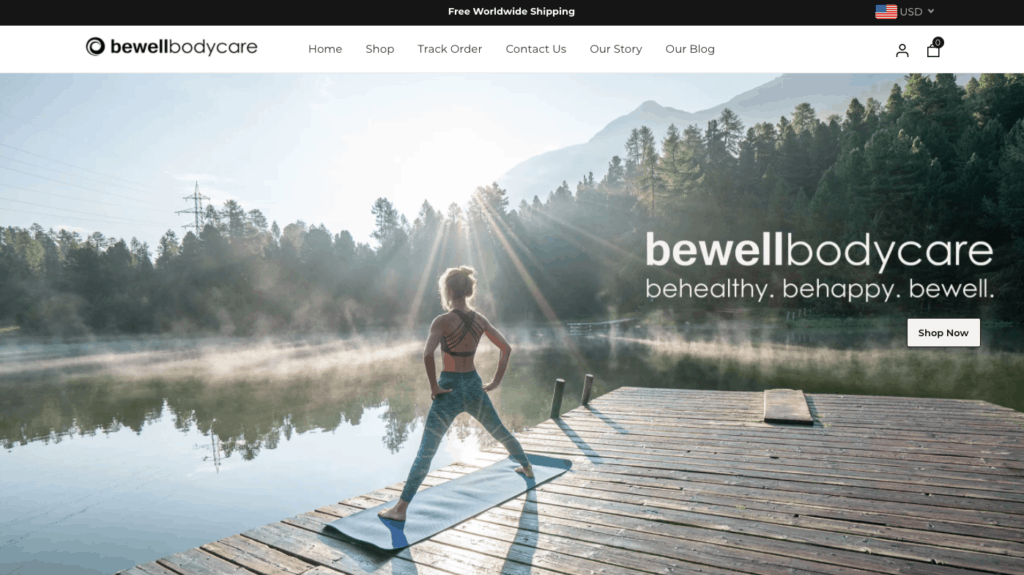 | | |
| --- | --- |
| Product Niche | Fitness |
| Web Design Style | Minimalistic |
Why we love their web design?
Beautiful and clean, it fits this health and beauty dropshipping Shopify store so well.
Thanks to beautiful photography and smart copying, we immediately draw attention and keep scrolling more.
And navigation is simple, with a clean layout, straightforward menu bar and clear list of products.
Also, this Shopify dropshipping store is well-designed in many ways:
The creative incorporation of the brand video,
Interesting use of space,
Intuitive product display pages,
And beautiful imagery.
What about their products?
Bewellboycare's product photography dictates the entire brand experience – the images are sleek, innovative, edgy, and minimalistic all at the same time.
Now, move to the product page. It features more than high-quality photos and basic information.
Shoppers can find helpful videos, directions for use, real customer reviews, and FAQs sections. Everything is created so that it provides a complete on-site experience.
This brand knows who its users are – a group of young, passionate about fitness millennials looking for massage sessions that can help them take care of their bodies.
And it totally works for me.
🤗 Key takeaways: Bewellbodycare has a compelling Shopify About us page. Dropshipping businesses tend to hide who they are behind the brand. But showing who you are and your story behind the store can be a good way to connect with customers.
Bewellbodycare's great web store was created with the EcomSolid Shopify theme. If you're inspired and want something like this for your own Shopify store, try EcomSolid now!
Wrapping up
Now that you know what Shopify dropshipping store examples stand out from the crowd. And of course, you can steal some of the same strategies on your own site.
The recipe for setting up a successful Shopify store is not a fixed process. How to stand out from the crowd of other dropshippers?
It's no wonder that the professional-looking web design leaves such a good impression on shoppers. They love visuals.
Successful small merchants understand that it's not only the product – They're selling insights, information, and solutions.
With this in mind, use your creativity, let your imagination run wild, and create the best Shopify store out there!
Do you have any Shopify dropshipping store that you love the most?
Let's talk in the comment below! We would love to know!

The World's Most Powerful Shopify Page Builder
Bring your dream eCommerce store to life with the most
powerful drag-and-drop page builder.