We all know you are here because you're stressed out about building a good Shopify landing page.
We've listed out 12+ most powerful Shopify landing page apps to help you build a badass landing page with improved designs, marketing, and especially conversions.
We've even broken it down into different categories to help you find what you need easier.
Here we go! ????? ?? ?????
Best Shopify Landing Page Apps
There are over different 5,000 Shopify apps in the market. So obviously, we have not gone through and tested every single app.
However, we can recommend these 12 apps that really do an awesome job to optimize your Shopify landing page.
Learn more:
Shopify Customization: How to Build Custom Shopify Pages That Sell
Try These 12 Mother's Day Marketing Ideas and Watch Your Sales Grow
7 Shopify Landing Page Examples from Top Brands
Many of these you can get absolutely free. And the others are so good that you should not hesitate to pay for them.
---
In Shopify, you can either use a Shopify free theme or buy a premium theme. Both of these have limitations when it comes to building a landing page.
But the real revolution started with the Shopify landing page builder apps – an impressive addition to Shopify that turned designing into a more visual procedure.
? Let's jump right in and start first with three best landing page builder apps for Shopify!

I dedicated myself to install GemPages, a flexible page builder tool through the Shopify App Store.
My main fear was – I don't have any coding skills.
However, on the first try, I was surprised to see how simple and intuitive this Shopify landing page app is to use.
Actually, it is really easy to create landing pages, homepages, product pages, and Shopify blog templates to flesh out your e-commerce website.
You just choose from 50+ pre-made templates – proven to convert – catered to every industry and purpose.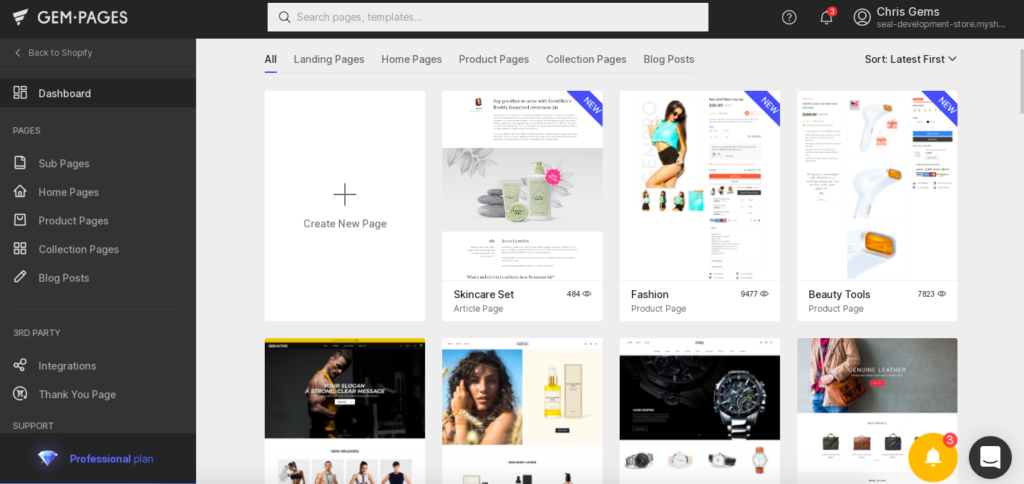 I decided to go with a GemCosmetic template
GemPages have a really simple, yet practical dashboard where you can choose from over 70 elements or custom HTML codes for landing page optimization.
Gempages' numbers of elements is easily top of the market. They have more design elements available to use than any other page builders apps we've looked at. That makes them powerful enough to turn any visions you have into reality.
You can add these sections, then add content to those sections such as media, text, headers, colors, and background colors, then you can move them around by simply dragging-and-dropping
The app shows me how it would look on a laptop, tablet, and mobile as I design it.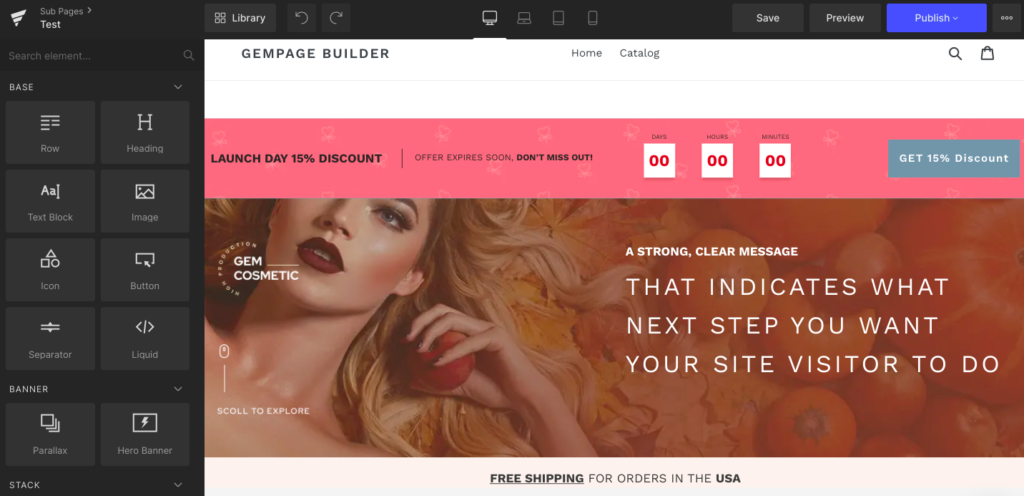 The World's Most Powerful Shopify Page Builder
Bring your dream eCommerce store to life with the most
powerful drag-and-drop page builder.
And that's not all.
GemPages's live chat support is worth 10/10, which normally resolves your issues within 15 mins.
They also introduced the A/B testing tool which is nice for those who like to experiment and tinker around. At the moment, it is still a bit basic compared to other robust A/B testing apps, however.
GemPages blog helps you to learn more about Ecommerce and Marketing tips for your Shopify stores.
2. Sales Pop up ? Conversion Pro

What makes Sales Pop up special is even when with the free plan, it is enough to jump in and start designing without any coding required.
As you can see, it's not an intrusive notification. It pops up really nicely.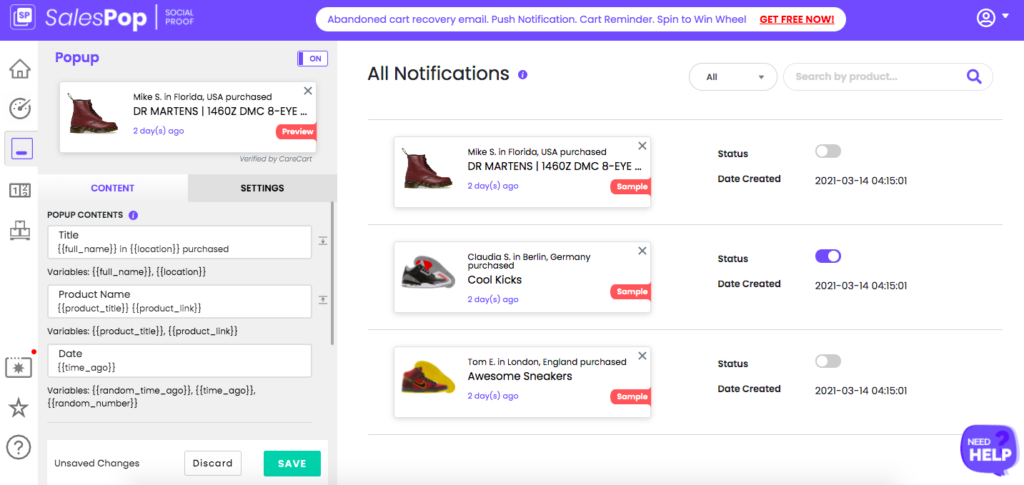 Also, in the dashboard section, you will know your top five performing sales notifications, the number of clicks, and additional revenue generated by the app.
However, there is not live chat button. Instead, you can submit a support ticket using emails.
3. POP! Sales Pop & Social Proof

As the name implies, the Sales pop-up notifications app kickstarts your sales by displaying recent sales notifications from your store.
The app makes it so easier to customize the design through the ready-to-go pop theme library, yet effective dashboard with insights from total views, total clicks, and total pop closes.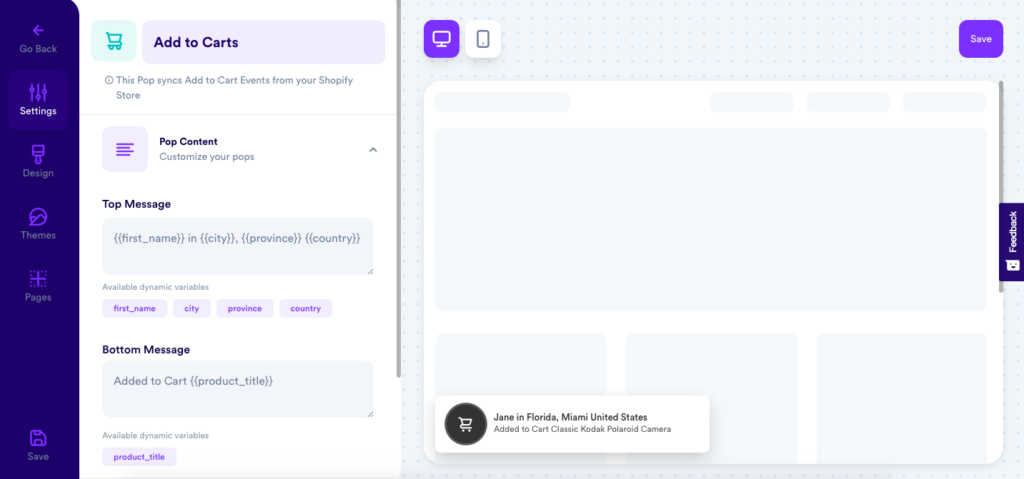 After all, which one is the best landing page optimization tool to make your visitors take action earlier?
Sales Pop Up
POP!
?
– Make well-considered decisions with the strong analytics tools.
– Display sales pop-up notifications in many styles.
– Nudge visitors to buy with a countdown timer.
– Select any products to display their stock countdown.
– Dive into an in-depth analytics dashboard.
– Choose from various pop types.
– Have a wide range of themes and templates in library.
– Easily edit sales pop on the go.
?
– Support through emails or search in its FAQ.
– The charge was generated after the 7-day trial period expired.
$
–Free trial forever.
– Free plan.
– Or start from $29 – $129 per month.



---
92% of B2B buyers are more likely to purchase after reading a trusted review.

According to G2 and Heinz Marketing
That's why customer reviews are one of the most effective ways to help your customers make a decision faster.
? Therefore, you can't miss the top three best Shopify review apps below!
4. Yotpo Product Reviews & Photos

So in my efforts to make people trust my brand and enjoy buying from my store, I first try Yotpo.
Yotpo stands out from the crowd with a feature allowing you to collect reviews from multiple platforms with one click. You can moderate all your reviews yourself or automate AI with its easy-to-use interface.
Besides all the great extra features, this app does the hard work by boosting brand discovery and increasing traffic from Google search or social like Facebook.
5. Loox Product Reviews Referrals

At the same time, we've tried Loox, which has over 6,000 reviews with 4.9 stars on Shopify App Store.
What special about Loox is that it displays photo reviews and star ratings on Google Shopping product listing ads, organic search, and your brand's Facebook page.
You can also gather authentic product reviews by scheduling email reminders and offering a discount for photo reviews. This feature definitely set them apart from other competitors.
6. Ali Reviews ? Product Reviews

Ali reviews is another great Shopify app to collect reviews, especially if you are running a dropshipping store.
You can easily import reviews instantly from AliExpress or other sources via a CSV file.
It also offers 9 stunning layouts that fit your appearance. The photo galleries and reviews look out of the box and can be fully customized too!
And thank the integration with Google Shopping, your product reviews and ratings can be transferred automatically to search results.
When it comes to landing page optimization, every aspect counts. So to get the best of product reviews, take a look at the table below.
Yotpo
Loox
Ali Reviews
?
– Display best reviews and ratings on site.
– Make better decisions using analytics.
– Moderate all reviews yourself or automate with AI.
– Increase traffic from Google Shopping or Facebook.
– Automatic request emails with discount codes.
– Showcase eye-catching photo reviews popups.
– Easily access to all reviews with the Loox sidebar.
– Customize email reminders and offer discount codes.
– Display photo reviews and rating on Facebook or Google Shopping.
– Import picture reviews from Aliexpress to your store.
– Drag-and-drop reviews on all pages with 9 stunning layouts.
– Import 1000+ real reviews from AliExpress in a flash.
– Send automated emails to request product reviews after purchase.
– Display personalized reviews based on visitor info or behavior.
– Integrate with Pagefly, GemPages, and Layouthub.
?
– In free version, the store gets limited 50 monthly orders.
– You can't edit or clean up the review.
– You can change the fonts and colors but can't fully customize the way it looks.
$
– Free plan.
– Or from $19 to $49 per month.
– Free trial for 14 days.
– Or from $9.99 to $99.99 per month.

– Free trial for 7 days.
– Or from $9.90 to $49 per month.
---
7. Growave – Loyalty, Wishlist, Reviews UGC

The next Shopify landing page app that we want to add is Growave.
Growave is the all-in-one marketing platform that empowers your Shopify store with product reviews, wishlists, loyalty programs, referrals, social login, and UGC.
It lets you build strong customer relationships using branded rewards, loyalty programs, and reviews.
And with the Wishlist option, it will recover all the abandoned shopping carts with remarketing emails sent to bring back the shopper to your store with attractive offers.
---
8. Bold Product Options
Next, we do recommend Bold Product Options. It is such a winning technique to deliver a better shopping experience to your visitors.
What really cool about this Shopify landing page app is it combines your full catalog data and consumer buying behaviors to deliver recommendations to each customer.
They create a ton of product customizations with custom pricing options, flows, photos, and colors, etc. You can also set specific prices at different tiers for each product.
---
9. Frequently Bought Together

Another way to eliminate the chances of your customers leaving without a purchase is to include personalized Frequently Bought Together.
When customers visit a product page, a bundle of related items is automatically displayed, encouraging the users to add multiple items to their basket.
---
10. Sticky Add To Cart BOOSTER PRO
What's particularly interesting about Sticky Add To Cart is that it allows your customers to buy directly from product listings (whether on the homepage, collection pages, recommendation widgets, etc…).
For example, whenever your customers scroll through the product details, on the right side, they can see the sticky add to cart panel, which contains the product's price, quantity box, and the "add to cart" button.
Then, it will help you improve the user experience and increase checkout rate without having to navigate or scroll anywhere else on the page.
11. Shogun Page Builder

Even if you used any Shopify landing page builder before, Shogun would help you understand it faster with a simple and sleek design.
The dashboard is easy to make use of rows and columns even easier. The library section allows you to start with over 30+ mobile-optimized page templates or build your own.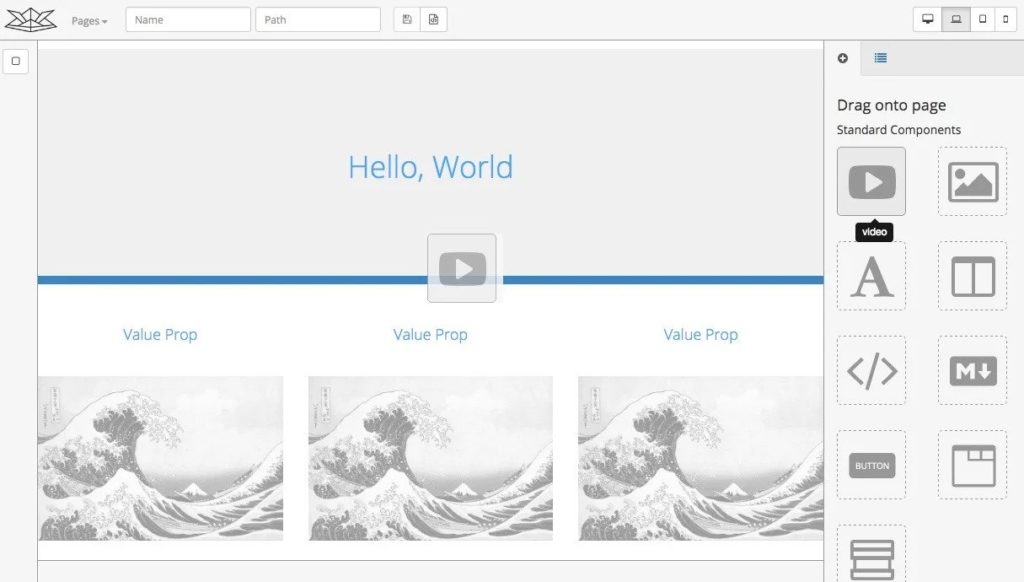 In addition, the one feature that Shogun has over the other two apps is its content scheduling feature. In short, Shogun lets users schedule when exactly they'd like to publish a product or content on their store, which is nice to have for big businesses with multiple general stores and brands to manage.
Similar to GemPages, one more aspect I really enjoy about Shogun is that it allows you to test new page elements and measure the performance with A/B testing.
---
In simple terms, FOMO (a.k.a fear of missing out) notifications create a feeling of urgency in your customer's minds. These messages tell consumers which items are most popular, help them buy your products faster, and ultimately increase sales.
However, these techniques demand careful implementation to make them work and not backfire.
? Check out these social proof and FOMO apps for Shopify that provide you with better and smarter tools for your landing page.
12. PageFly Page Builder

The second name we would like to put into this list is PageFly. It is available as a free app download, but you also have the option to pay for the Pro version.
Pagefly has over 70 templates to choose from, which is slightly higher than its main competitors, making it a good choice for the lazy store owners who are looking for ready-made solutions. You can filter them by industry or page type. You can also see how each template looks on widescreen, desktop, tablet, or mobile device.
It also lets you fully control the landing page design with 50+ elements. By taking advantage of the simple drag and drop feature, you can easily create the page from scratch.
Finally, Pagefly is the most budget-friendly among the three choices.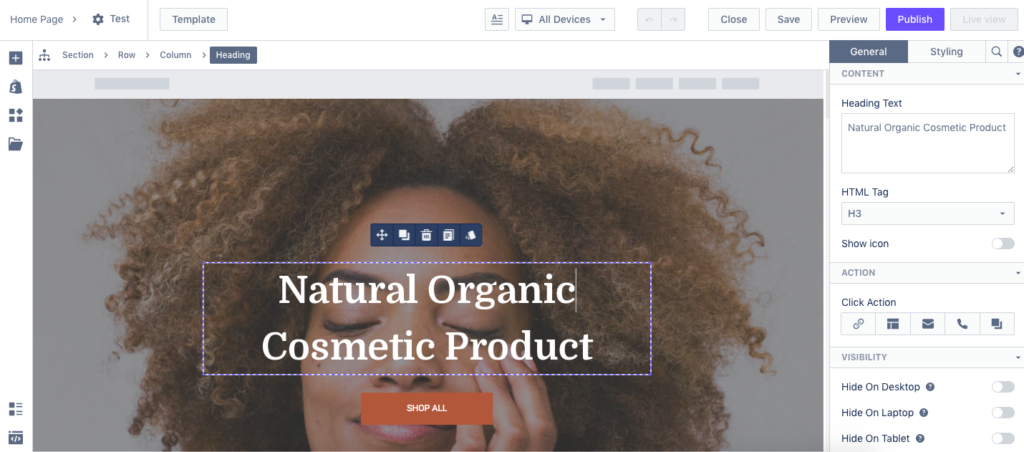 Conclusion
With rising competition, the best way to stand out in a crowded market is to create a stunning and engaging shopping experience.
And with this many Shopify apps to choose from. How can you know which one is the most compatible for your Shopify landing page?
Just give them a try – based on our experience.
The only thing you can do to increase sales is to test, test, and see what works best for your Shopify store.
Learn more:

The World's Most Powerful Shopify Page Builder
Bring your dream eCommerce store to life with the most
powerful drag-and-drop page builder.