Recently, there has been a new discussion about dropshipping becoming dead. It is believed that dropshipping is saturated and reached a point where it is not as profitable as it used to be. However, as far as we can see, dropshippers usually don't die, but they change the way they work.
Instead of building a general store with hundreds of products in all categories, they began focusing more on customers' needs and reaching out to the untapped niche markets. Therefore, we believe that one-product Shopify stores are in a thriving trend and predicted to become the future of dropshipping.
Read more about one-product store here
5 awesome one-product Shopify store examples
There are already many successful single product Shopify stores out there. Here are a few examples that we hope can inspire you to start off on your own.
01. Snooz: The store sells a portable white noise machine called SNOOZ to help people fall asleep and remain asleep with the sound of a fan. This product helps customers solve a dilemma that is lack of sleep and poor sleep quality. (Theme: Startup)
02. Hana: This company sells sustainable feminine care. They have a clear and relatable mission that can make any potential customers feel sympathetic. These missions and messages were effectively communicated on their website.
03. Wurkin stiffs: Wurkin Stiffs is an innovative accessories brand bridging the gap between fashion and function by selling magnetic collar stays that quickly convert a shirt into a "Hidden-Button-Down" collar. They also have lots of variations and accessories for their signature product to help customers find those suitable for their needs. (Theme: Retina)
04. Dryrobe: The brand created a very unique and specific product – the dryrobe that helps to improve the experience of an active outdoor lifestyle. They called their product as "A life saver on many cold mornings or chilly evening". (Theme: customized)
05. Neos SmartCam: This one product store focuses on selling the Neos SmartCam in single and twin packs and upsells with a couple of accessories. Neos was born with targeted customers as homeowners. They fill the gap between home technology and traditional insurance to give customers something they really want, that wonderful feeling of knowing everything at home is safe. (Theme: Launch)
Key factors of profitable one-product Shopify store
By observing and analyzing a lot of one-product stores, we drew 5 common points to make a profitable single product store.
Outstanding product
A "just fine" or "good" item won't do for a single product store. You have to find the absolute best option. Oberlo – a dropshipping marketplace that allows you to find trending products to sell online, listed out 5 criteria of a good product for a single product store, which are:
1. Hard to find

2. Tricky to guess the price

3. Interesting enough to entice consumers

4. Purchasable without research

5. Affordable
If you plan to build a one product store, keep these 5 standards in mind as this will make 70% of your store's success. Now, using this criterion, we can look back at the above 5 examples to analyze which products have the most potential for success.
CannyCollars with customized dog harnesses seems to fit the five-search criteria quite nicely. First of all, you can find lots of dog harnesses on the internet, but it is not easy to find the products that are as personalized as you want and being able to print your dog's name and your phone number. Then, it is difficult for users to compare the price of this product as well, because it has special features than any other stores selling harnesses.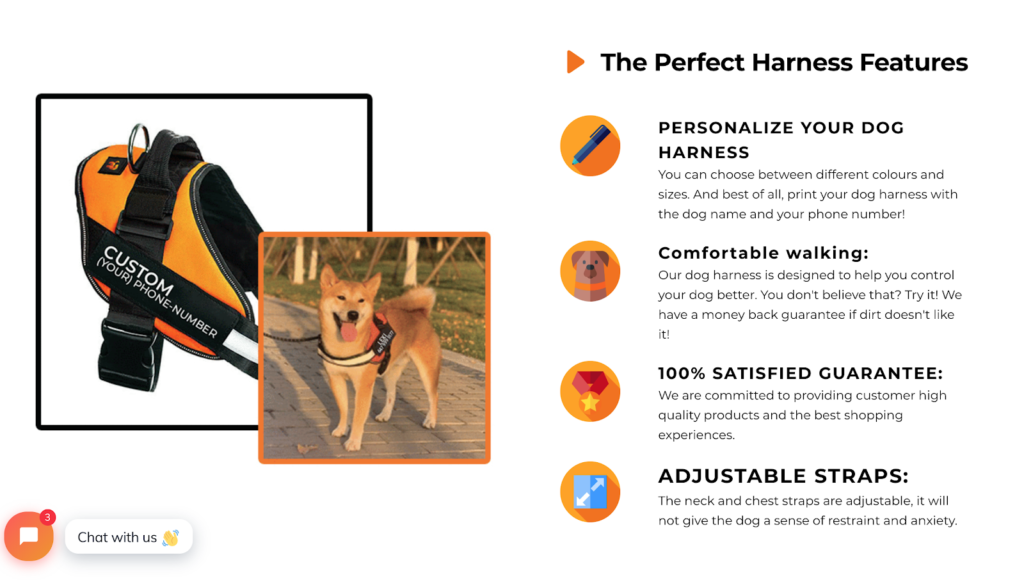 With a single product store, the product's idea, purpose, and benefits should be clear immediately. You don't want your store visitor to leave the website and go googling this product, right? Canny Collars did a good job here when presenting the features and services by 4 bullet points in a very clear and concise manner with specific illustration images.
Social Proof is a must
Most Americans (70%)

The World's Most Powerful Shopify Page Builder

Bring your dream eCommerce store to life with the most
powerful drag-and-drop page builder.

admit to looking at reviews before making a purchase. This figure proves that social proof is vital for any online store, especially with one product store. By having previous customer feedback showing that the product is good and safe to buy, customers will feel more confident making purchases through your store.
Snooz, one of the 5 above examples, builds a separate page dedicated to showing off tons of previous customer reviews. It includes a lot of real images, long and authentic reviews from customers when experiencing the product. This builds trust in customers, from which they have the confidence to buy a new product that they may not even know about before.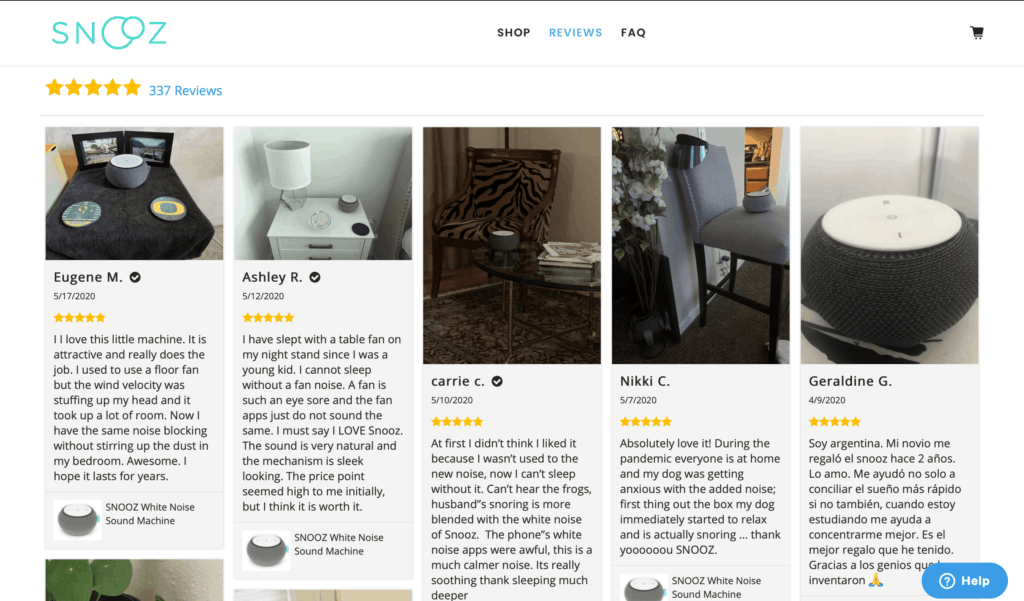 If you are building a one-store product and find it difficult to integrate customer reviews, try these three apps:
Loox: Loox helps you to easily collect photo reviews, build strong trust, and increase sales. Loox also has many other features: sending an automatic email to request reviews; offer reviewers a discount or create a homepage review carousel.
Nudgify: Nudgify is a social proof app that shows relevant messages for each type of page on your Shopify store.
Fomo Social Proof: Fomo displays recent orders, product reviews, and a variety of other customer behaviors on Shopify Stores. Fomo also integrates with Zapier, Mailchimp, Instagram, and more.
Killer product copywriting
Now that you have only one product to showcase, you really need to think about writing attractive and enticing copywriting for your website. How your product works; what its features are; and why people love it;…your customers should understand all of this information at a glance. But how? Here are some tips for you.
Firstly, remember that your potential buyers are not as interested in your product features and technical specifications as you might think. They want to know what's in it for them—how it will address their biggest pain points. That's why you need to highlight the benefits of each feature.
Secondly, stop using meaningless words. As top-shelf words like "world-class", "market-leading", and "innovative" are used so frequently, they've lost much of their impact. In contrast, facts and figures increase your credibility. Where possible, include numbers and write them as digits (7) rather than words (seven) because numerals stop wandering eyes.
Meaningless drivel: "Innovative robe from a world-leading manufacturer."

Try instead: "The warmest, advanced change robe to survive in under 15 degrees C."
Then, fascinate your audience with stories. Stories are a powerful copywriting tool. And the stories are memorable. For example, Hana used their "About us" page to tell a story about their mission, their solution, and their great ambition to change people's lives for the better. Such stories bring emotion, and initiates empathy in visitors.
Learn more:
16 Best Shopify apps for clothing stores
How to optimize your product pages for conversion
How to create an impressive Shopify about us page
What to Sell on Valentine's Day in 2023?
10 Creative International Women's Day Campaign Ideas
Try These 12 Mother's Day Marketing Ideas and Watch Your Sales Grow
High quality visual
When you sell only one product in your store, basically, you only have the homepage to catch your visitors' attention and convert them into buyers. As you may know, it only takes 50 milliseconds for users to form an opinion about a website. That's why you need to make sure that your site is easy to read, product-centered, and good-looking. Here are some design tips for one-product store owner:
Optimize website for mobile: In fact, according to Google, 48% of customers started searching for the product they bought on a mobile-first. Therefore, be sure your site is 'responsive' to most common screen sizes.
Use hero image/ section: A hero image is a large or oversized web banner image that is pinned to the header section of a webpage, usually towards the top of the page. Large, oversized images grab the user's attention as soon as they land on a page. With one product store, they will help users identify the product as soon as the page loads. Remember to make the hero image interactive by adding a call-to-action button.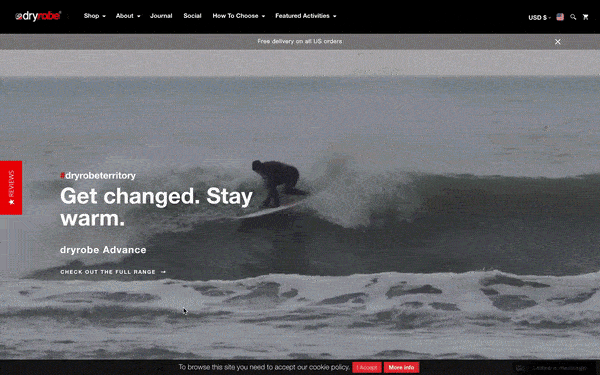 Don't use stock images: No matter how professional the stock photo, it will always be someone else's image and someone else's interpretation of the idea, concept, emotion,…Therefore, it will never show the true characteristics of your product. You only sell one product, so invest in quality photography, building concepts, and stories for your product.
Create product videos: Product videos can have an incredible ability to increase conversions by better helping people understand your product and provide customers with as much information as possible about the products you offer. Therefore, think about creating and showing your product video on your one-product store to grab visitors' attention. Check out how to add video to Shopify product pages
📣 Learn more: Shopify Product Images: A 10-minute Guide for Beginners
Start with the right theme
Although many Shopify themes have multi-purposes and can be used to sell a single item, themes designed specifically for one product store will still be a better choice. Choosing the right theme will save you time, effort, and get the best results you want.
For a one-product store website, simple navigation, a clear call-to-action, and great product photography and videography will be essential. All of this can be achieved with our EcomSolid new template.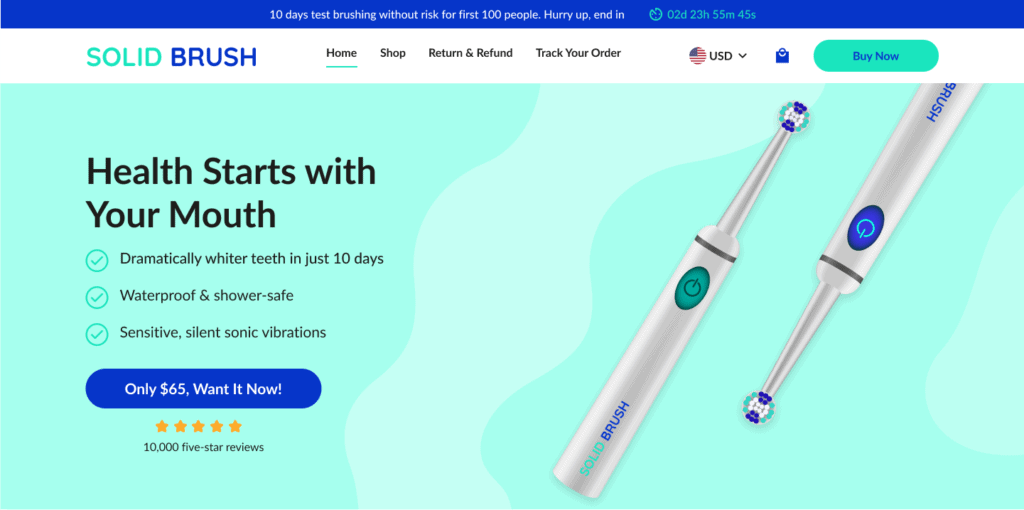 Not only that, this theme version is superior to existing themes thanks to the following features:
Pre-designed, optimized templates for one product store
+10 sales-booster add-ons to significantly improve your shop's buying experience and convert your visitors into customers.
Advanced Visual Theme Builder that works like your in-house design team.
Live Theme Updater! Update your store features & designs to new versions without worrying about updating code.
Fully compatible with 3rd-party apps like Oberlo, Product Reviews app, and GemPages.
Frequently Asked Questions
What is a One-Product Store?
One product store is an online store dedicated to a single product. One store, one website, one product. It's a clear shift away from the classic ecommerce stores chock full of products and promotions. With the classic stores, sellers can fall into the trap of wasting their efforts on several mediocre products. Instead, let's focus on one great product and do it exceptionally well.
How do I make a one-product Shopify store?
Start with deciding on your winning product. A winning product should be one that is: interesting enough to capture people's attention, hard to find in traditional retail stores, not overly complicated, and affordable.
Then you need to build an optimized and effective one product store. For more details, read our guide on
how to build a profitable one product store
.
What are the advantages of one-product stores?
In short, the pros and cons of one-product stores vs. the general stores are:
–
Better Focus
since you only have to focus on optimizing and promoting one product.
–
Optimized marketing budget
since it's easier to test your advertising and calculating your budget for one product.
–
Higher conversion rate
having too many choices available can overwhelm customers. Having one attractive product makes it easier for them to decide.
–
Branding potential
it's generally harder for people to remember your store if you sell all sorts of products. A one-product store helps buyers connect the product to your store, and makes it easier for you to promote your brand.
You can read more on
advantages and disadvantage of one product Shopify stores
.
Conclusion
By focusing on only one product, you can emphasize all the details that make it special. Without distractions from many different products like general stores, you can increase your marketing content, customer service, product quality… and make you an expert in the market that you pursue.
We hope that the 5 one-product shops examples above will inspire you to create your own single product store and become the leader of a new dropshipping trend!

The World's Most Powerful Shopify Page Builder
Bring your dream eCommerce store to life with the most
powerful drag-and-drop page builder.