The first step with building a new Shopify store obviously would be picking a new theme. This is especially vital for single product stores due to the importance of giving the best first impression.
In this article, we will analyze in details both the outstanding features and limitations of these 7 most popular single product Shopify themes:
One thing that can also help you make a decision is taking a look at the best Shopify one-product store examples and learn what you can from them.
7 Best Single Product Shopify Themes
52% positive review
If you want your product photographs to be the highlight of your eCommerce store website, then the Boundless theme is ideal for you. With this single-product Shopify theme, the focus is on putting your favorite photographs front and center. Therefore, if you are a fan of minimalistic design or just want a very simple one-product Shopify theme, you can choose Boundless.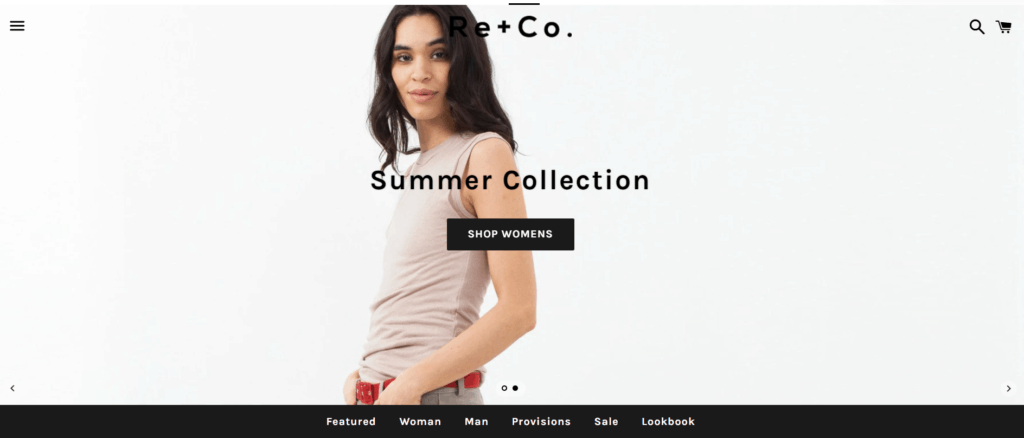 Features
Optimized for large images
Slideshow with fading effect
Sticky navigation
Single product gallery
Full-width collection images – rare for Shopify themes
The Good
The Bad
– Free modern and professional design
– Optimized for large images and features full-width collection images
– 2 style included: Black&White; Vibrant
– Not so many design options.
For example, there's only one option for image-related homepage sections, the 'image with text' section.
– Many features are limited. If you want to use it, you have to pay extra.
For example, The main navigation only allows one sub-level of navigation. If you want more, you need to buy a menu app for $10 per month
We recommend it to: Small one-product store with low-volume
Some stores using Boundless: Black Steel; Epikgo; Ektarfa
Price: Free
46% positive review
Debut is Shopify's default theme, designed to showcase your brand and product. This theme is best for those looking to feature a single product with a wide range of showcasing features.
Features:
Multilevel menu for easy navigation
Product recommendation sections
Easy product filtering
Predictive search
The Good
The Bad
– Free modern and good looking design
– It includes unique homepage sections like a logo list and text columns with images.
– Sometimes there are minor bugs that cannot be handled
For example, some customers complained that the slide images in their website went grey for no reason
– Not mobile-friendly. Many of the homepage sections don't seem to be responsive on mobile.
We recommend it to: One-product store owners who just want a simple store and don't need too much customizations.
Some stores using Debut: Maison M Floral; Blue Heron Yarns; Francois La Manille
Price: Free
84% positive review
This is a Kickstarter-style single-product Shopify theme designed to turn startups into successful stores. The creator of this theme has designed it smartly so that you can not only sell your products but also run a crowdfunding campaign for your product.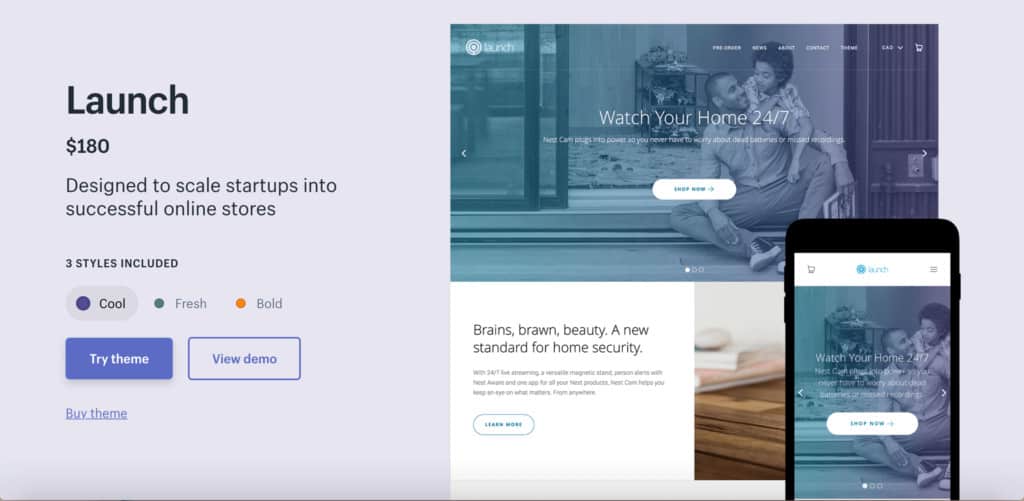 Features:
Optimized for single-product stores
Designed for your crowdfunding campaign
Home page video
Modular-style home page
Customizable color gradient
The Good
The Bad
– Look slick, clean and professional
– Can add custom code if necessary which is rare for Shopify themes
– Good customer support
– 3 style included: Cool; Fresh; Bold
– If you do not have the basic knowledge of code, you cannot optimize many factors. Therefore, to take full advantage of this theme, you should have a developer on your team.
– $180 is definitely a steep price.
We recommend it to: For startups who want to launch products and have plans to raise crowdfunding
Some stores using Launch: Snooz; Sensorymill; Artisteria
Price: $180
This is a game changer in the field of single product Shopify themes. With unlimited customization options, EcomSolid Shopify Theme gives you the power to create the best one-product store. It is a theme that you can configure in a countless number of ways, thanks to multiple layouts and section options. More than that, EcomSolid Theme is designed with a bundle of sales-booster addons focusing on optimizing your conversion rate.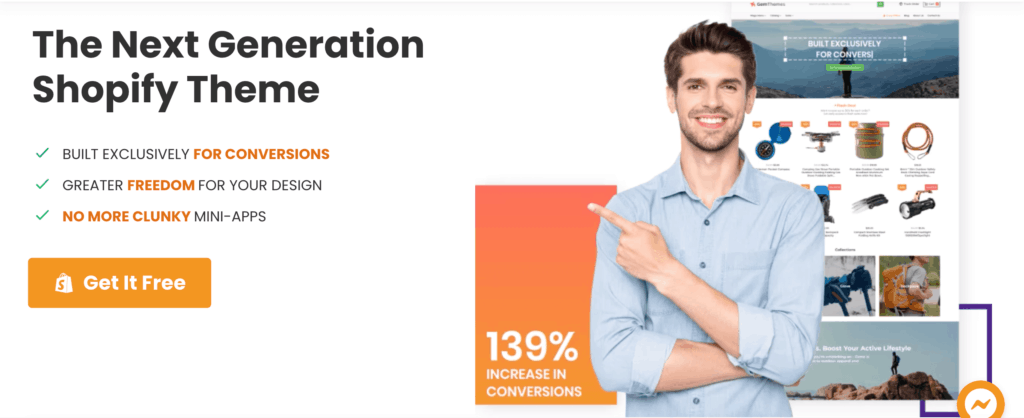 Features:
Intuitive Visual Editor. Just drag and drop, don't need to have experience in coding.
Ultimate Layout Options
Skyrocket your sales with numerous sales-booster Addons.
Live theme updater. Update your store features & designs to new versions without worrying about updating code
The Good
The Bad
– Offer a visual editor with a real-time preview
– Fully compatible with 3rd-party apps like Oberlo, Product Reviews app, and GemPages.
– A dedicated 24/7 Live Chat, to answer any of your technical questions and to help you focus on what is important: Marketing your product
– Have a free version to try
– Although EcomSolid is a potential candidate, it's still a new player on the market. Therefore, there are still bugs occurring sometimes, but the development team is very active in making it better with new features and updates.

– A monthly price can be a hard sell for some. If it is for you, consider this: with EcomSolid, what you are paying for monthly is not only a great Shopify theme but also the sales booster apps which normally would cost you about $200 per month.
We recommend it to: With its high customizability plus the various templates it provides, EcomSolid can fit into all one-product stores.
Some stores using EcomSolid: MyHarness; Descartes; Woof&Barc
Price: There are 2 versions:
Community: Free (Forever)
Premium: $19/month
97% positive review
Maker is one of those single product Shopify themes that follows all the trends and regulations of the modern web. All three styles of this theme have a big, bold imagery section so that you can use to showcase your one product elegantly.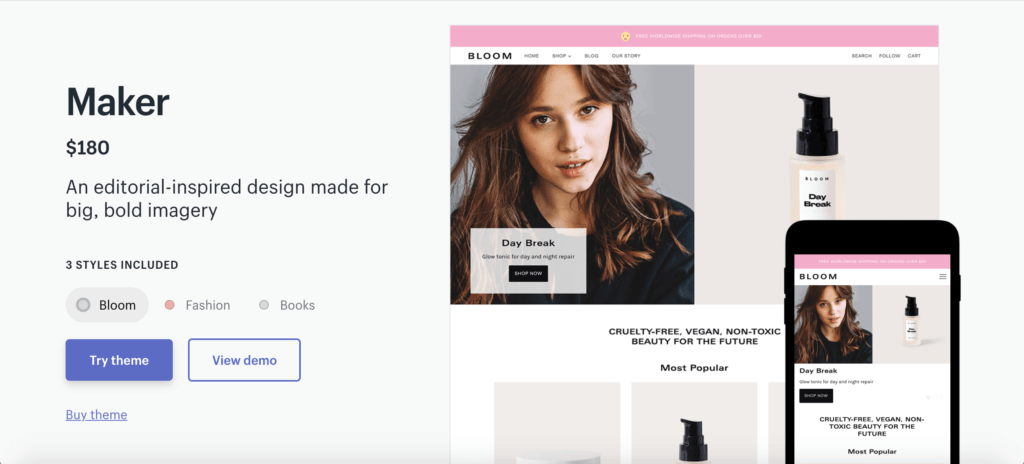 Features:
Optimized for single-product stores
Multiple slideshows
Large, unique image panels
Optimized search engine
The Good
The Bad
– Easy to use and customize (even with little coding experience)
– Simple, elegant design
– Good customer support
– 3 styles included: Bloom; Fashion; Books
Theme updates aren't applied automatically to stores on Shopify so have to be made manually
We recommend it to: Suitable for lifestyle products, with lots of beautiful and high quality product images.
Some stores using Maker: Polka Pants
Price: $180
89% positive review
Startup is a modular layout theme that is designed for one-product stores. Especially, the creator of this theme has designed the homepage smartly so that your audience can buy your product directly from the homepage.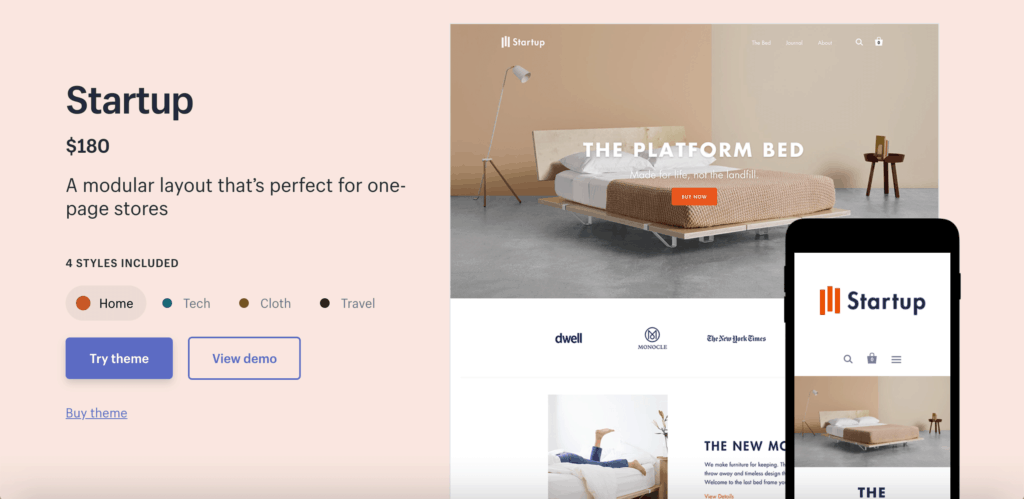 Features:
Optimized for single-product stores
Modular-style home page
Home page video
FAQ page template available
The Good
The Bad
– Clean, beautiful design, and easy to navigate.
– Have flexibility with colors and fonts
– 4 styles included: Home, Tech, Cloth, Travel
– Customer service is not always helpful
– Not very customization friendly
For example, They limit the number of blocks you can put on the front page
We recommend it to: Stores with high-value products, need to look professional without too much customization
Some stores using Startup: Basal Goods; Herbivore; Moments of Light
Price: $180
86% positive review
This is a high-quality single product Shopify theme aimed to promote a single product or a product line. They have created a design that highlights shops in many different areas such as handmade products, cosmetics, drinks, watches, electronics devices…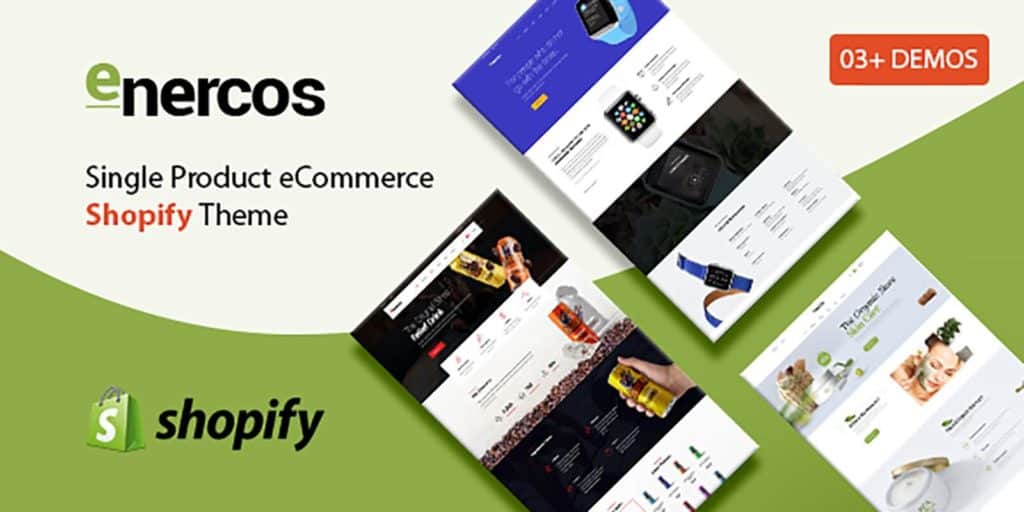 Features:
Optimized for mobile devices
Quickly view product sections
Powerful filter system in collections, Ajax cart, customer testimonials…
Drag and Drop Section
The Good
The Bad
– Easy to set up for a beginner
– Many design options to choose: 4 styles of product pages, 3 styles of blog-type pages,…
– Good customer support
– There are a few bugs after stalling
– With the regular license, you only have six-month support. After that, you need to pay extra money to extend support.
We recommend it to: Suitable for simple products for everyday needs
Some stores using Enercos: Luvima; Trish Gayle; Stop-the-Fire
Price: $48 (Regular License)
Conclusion
We hope that this article, by giving you a more multi-dimensional look at the popular single product Shopify themes of 2021, will help you narrow down your selections.
Here are a few other tips that you should keep in mind whenever you choose a theme for your website:
Remember to make a list of the features you want ahead of time;
Make sure the Shopify theme you choose is mobile-friendly;
Test the theme thoroughly on its features, its speed, and the customer service before making a purchase;
As an insider, we understand that you will need to consider a lot when choosing a theme for your store. Although there are already many good themes out there, we still decided to create EcomSolid with many outstanding features that will help you solve real problems and take your store to a new level. Try it today.
The best Shopify theme editor
for dazzling storefronts and maximum conversions