Maybe you've made a mistake with your brand name. Or you've found a new name that better aligns with your business than the first one. Perhaps, you want to shift into a more profitable niche.
Whatever the reasons, changing a Shopify store name isn't so complicated. In this article, we will unpack step by step guide on how to change the Shopify store name in two easy methods!
How to change Shopify store name?
Watch the video below if you don't have time to read:
Here are the simple 3 steps to help you easily and smoothly change your Shopify store name:
Step 1: Go to Settings > General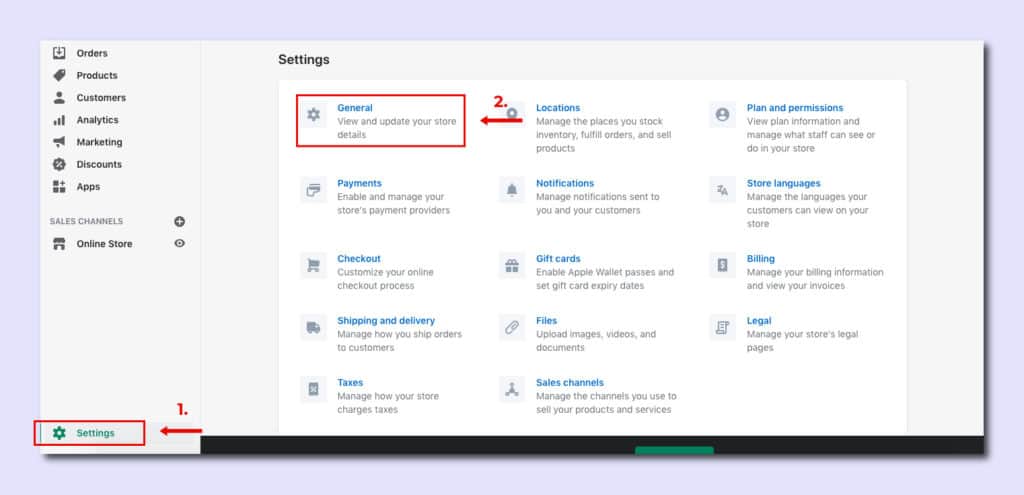 First, access your Shopify admin panel, then log into your account. At the bottom of the left navigation menu, click "Settings".
Once you've done it, you will see the Settings page. Choose "General", which is sited on the top of the left row.
Step 2: Store details > Change Shopify store name


The World's Most Powerful Shopify Page Builder
Bring your dream eCommerce store to life with the most
powerful drag-and-drop page builder.
Moving to "Store details", you will see your current store name. What you have to do now is deleting it and choosing a new Shopify store name.
In this example, we want to change our business brand from "Pet store" to "Minimal".
Step 3: Save > See the result

Click "Save" button at the top right of your screen. That's it. Your Shopify store name has been changed successfully.
Finally, go back to the "Online Stores" and see your result by clicking on the drop-down button "Preview".
How to change your Shopify store's domain name?
Unfortunately, you can't change the original Shopify username. Meaning the address yourstorename.myshopify.com will always stay the same as when you first registered.
However, what you can absolutely do is buy a new domain name and use it as the primary domain name for your Shopify store. It is recommended anyway that you should not use the default *.myshopify.com domain and switch to one with no affiliation to Shopify.
Follow these simple instructions to buy and apply a new Shopify domain name:
Step 1: Online Store > Domains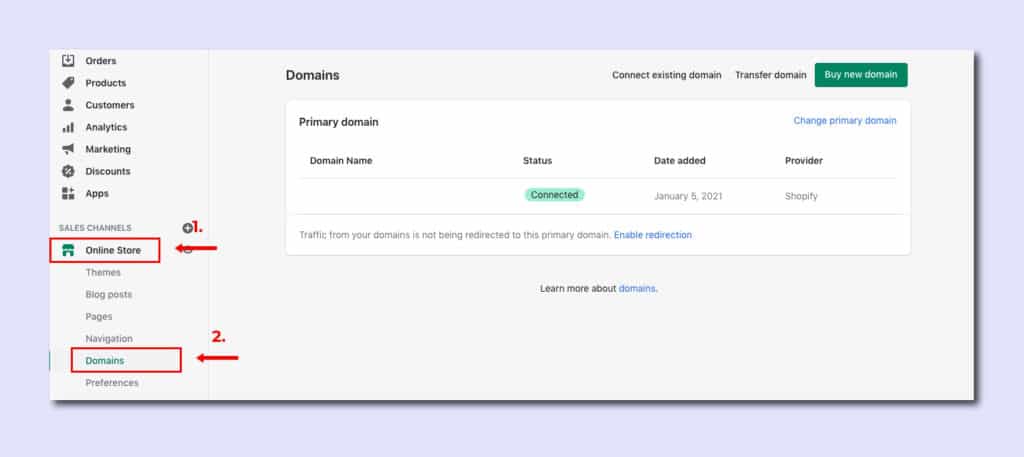 Open the admin panel of your Shopify store. After clicking on "Online Store" on the left side, you will see the "Domains" where you should click on it.
Step 2: Click on the "Buy new domain"

On the upper right corner of the page, click on the "Buy new domain". In this step, you should add the domain name as you want. The system will display available domain names that you can buy.
It's understandable that your new Shopify store name has already taken. Scroll up to our previous headline to brainstorm some new ideas until you come up with a good fit for the new name.
Step 3: Complete a purchase
There are Most Popular and Other Extensions sections. After choosing the most suitable domain name, click Buy. With this option, you can directly purchase a store domain name from Shopify without a third-party domain registrar.
Step 4: Connect to domain name

With this option you can choose:
Connect existing domain – You can use the domain name that you want to connect. Then click Next. In the Shopify help center, you will get specific instructions for connecting your domain.
Transfer domain – You can choose the option to transfer your domain from the third-party providers to Shopify. It means all the management including adjusting domain settings, paying domain, and renewing domain will be directly under the Shopify admin panel.
Can I change my Shopify store name?
As explained, while it's quite easy to change your Shopify store name, changing your subdomain name is not possible. Even you've updated the name store, the "*.myshopify.com" domain name will stay the same as when you first set up a Shopify account.
To strengthen your brand identity, consider purchasing a new domain name either from a third-party vendor, such as GoDaddy, Google Domains, Namecheap, or directly from Shopify and apply it to your store.
How to choose a catchy Shopify store name?
Choosing the right name for your shop is very important. Most entrepreneurs want their business name not only to be instantly recognizable but also to leave a long-lasting memory for their customers. However, it can be difficult to come up with a name original and available.
There is 9.6 million domain registrations in a single quarter, which comes to about 144,000 per day.

According to VeriSign
But, seriously, if you have these tips and tricks from experienced entrepreneurs, choosing the Shopify store name is much easier. Here are the 5 tips to find the perfect Shopify store name:
1. Keep your online store name simple and straightforward
Essentially, many business owners want their store name to be perfect. Unfortunately, perfection is rarely simple. So keep it simple!
The same goes for choosing the Shopify store name. Believe us, you need time to think about it. Especially, you should look for a memorable name for your business and make it easy to remember.
In contrast, if you use a long or complex name store, it will make it harder for your audiences to recognize your brand in the first place.
In our experience, choosing the first thing that pops into your head will be the first thing that pops into customers' heads.
⭐️ Notes: Make it easy to spell and say. If someone has heard your brand name, your store should be easy for them to remember. One or two words is highly recommended.
2. Research keywords
Conduct market research to discover which Shopify store name is taken and try to come up with something different.
A great way to start with a new name for the Shopify store is doing some research around your products, competitors, and customers. Keep asking yourself these questions:
What kind of questions are audiences asking to find your products?
What other vocabularies are closely associated with what you want to sell?
It's also great if your main product or keyword is in the name of your shop. Then, people will know right away what your are selling.
Not only leading to closer scrutiny, having a keyword in your domain name brings a possible negative ranking effect from search engines. So find balance between keyword and branding.
3. Make sure your chosen Shopify store name is available
After you have decided on the right niche for your store, using the Shopify store name generator will help you deliver hundreds of unique name ideas with a click of a button.
We recommend choosing the .com domain name for your brand. Why? Users are more likely to click on abcd.com than abcd.anythingelse. Additionally, .com is easier to remember, it's almost the default TLD that most professional brands use.
Of course, it's not easy to grab a .com domain, most good ones are certainly bought already. If that's the case, .net, .co, or .io could be good alternatives.
⭐️ Notes: Don't forget to be consistent on social media. It is important that your Shopify domain name and your online Shopify store translates well over Facebook, Pinterest, Twitter, and Instagram.
4. Choose a long term name
When first starting your store, you're probably a small business getting a first sale, or making your first $2,000. Time flies. It's no surprise that you hit much bigger milestones.
That's why you need to think of a big business name when your Shopify store will grow in the future. Instead of building a one-product store, you may want to add more products to your business.
For instance, a name store like "Yoga Accessories" might work when you are a small business. When you grow bigger, you would like the business name like "Athleisure Wear".
Wrapping up
Okay, you've got all the tips that you need to come up with how to change the Shopify store name. That was the first necessary step for starting your Shopify business, there are still a long way ahead.
But don't worry, follow our Shopify store setup checklist, we've got all the essentials covered.

The World's Most Powerful Shopify Page Builder
Bring your dream eCommerce store to life with the most
powerful drag-and-drop page builder.