Only one more week til that time of the year when the whole dropshipping community are left in disarray. You will soon see people freaking out on Facebook with questions like:
Does Chinese New Year affect my dropshipping store? Or Should I dropship during Chinese New Year or not?
DO NOT PANIC! Sure, Chinese New Year every year hugely affects eCommerce and dropshipping for a whole month.
But it's not all hopeless.
In this article, we will break it all down for you. Specifically, we are going to cover three main things here:
When is Chinese New Year 2021?
How will it affect your dropshipping store?
And most importantly, how to dropship during Chinese New Year?
Let's get started!
When is Chinese New Year 2021?
Every year, during this time, business in China will be brought to a halt.
If you source products from China, obviously this will affect fulfillment, so it's utterly important to know when you should be doing preparation.
Typically, that translates to a timeline for deliveries from China as such:
November 2020: Begin new custom orders.
February 3, 2021: Last Pre-Chinese New Year shipment.
February 12, 2021: Chinese New Year.
March 6, 2021: Post-Chinese New Year shipments restart.
April 2021: Factory back to full capacity.
Some factories might even shut down for up to 3 weeks. If you are unlucky, the disruption can last 35-40 days.
Chinese New Year: How will it affect my store?
So what exactly should you be doing in preparation? Or even better, let's take a look at some specific beneficial activities you can take when dropship during Chinese New Year!
1. Prepare for a month-long of factory closures
As we mentioned before, the CNY 2021 is celebrated for sixteen days. Here's a chart of how Chinese people celebrate the holiday.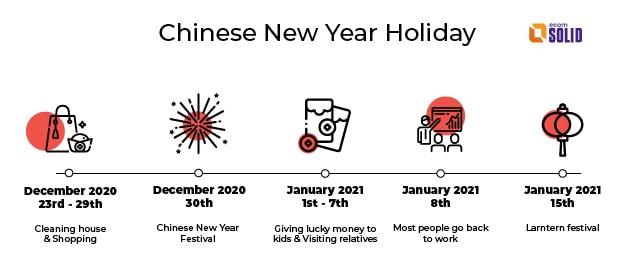 This is also when hundreds of millions of Chinese travel across the country to see their families, making a collective 3 billion trips during 40 days. Just look at the video below.

The World's Most Powerful Shopify Page Builder
Bring your dream eCommerce store to life with the most
powerful drag-and-drop page builder.
Therefore, most factories will be closed for one to two weeks before the actual date, then after the New Year Holiday, they will often remain closed for an additional two weeks.
As a result, it can cause severe disruptions across the supply chain. In addition, finding and training new workers provides new challenges of its own.
In our experience, if it's possible for your business, it is best to turn to non-China-based suppliers temporarily. We know most suppliers are located in China. However, there are other options.
AliExpress:
AliExpress doesn't just operate in China. They also have suppliers that are based in the US. Head to the Ship From box at the top of the page above the search results and select the United States. This will filter the results to all products that ship from the US.
Printful:
If you sell on-demand print & embroidery products, apps like Printful will work smoothly during the holiday.
Whomever you choose to work with, it's important to talk with experienced suppliers about the potential problems. Keep in mind that you might need some patience when dealing with suppliers.
If you don't know what to ask, follow our suggestions:
Find out which products are still delivering,
Ask the suppliers what delays may occur,
Then work together to find ways to effectively overcome those obstacles.
Of course, if you could focus on a single product that you know will still deliver with a great one product store, you might be a big winner.
2. Deal with shipping delays
Prior to Chinese New Year shutdown, most businesses do their best to prepare for the factories' time-out. However, this may lead to an overload of shipments that contributes to shipment delays.
Here are some important time frame to take note of if you want to dropship during Chinese New Year:
Between now and Feb 3, some stores will shut down and stop shipping orders.
Between Feb 4 and Feb 10 most stores are closed and will not even answer questions.
From Feb 11 onwards stores will reopen, but suppliers may still be down until Feb 17.
In our experience, to prevent these closures from disrupting your fulfillment, it is best that you should prepare from NOW by stocking up on all of your most popular inventory, or items that have the potential to run out soon.
For example, right after the Chinese New Year holiday, it's time for Valentine's Day. Don't wait until after CNY ends to stock up for that.
Learn more:
What to Sell on Valentine's Day in 2023?
3. Be smart with your marketing efforts
In the meantime, spend less on advertising. Instead, you should use the time to post on social media, blog more regularly, support customers, or other activities to keep your brand active.
Even if you cannot take on a lot of orders during this time, these activities will help you build a relationship with current or potential customers.
If you are selling to an Asian market though, CNY is actually the biggest opportunity to scale. According to statistics released by the Chinese Ministry of Commerce, during CNY of 2019, Retail and catering companies in China made over one trillion yuan (about 148.37 billion U.S. dollars).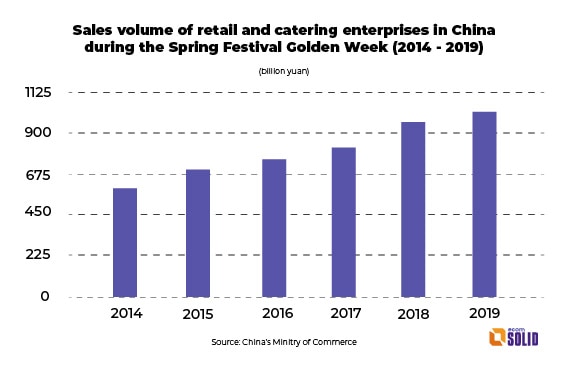 So if you're a brand that sells primarily to an Asian market, it would be a dream to dropship during Chinese New Year.
4. Take advantage of downtime to improve your store
Is it now the right time to redesign your store?
There are plenty of good reasons to switch to a new design or at least change your Shopify theme. For example:
The store takes a long time to load.
You're suffering from high bounce rates.
The design doesn't have a mobile-friendly design.
Your competitors have more modern, slick-looking designs, making you look bad in comparison.
Or your current Shopify theme is simply costing you more than its worth.
If you are not happy with it, now's definitely the chance for you to improve.
😎 An easier way to design your store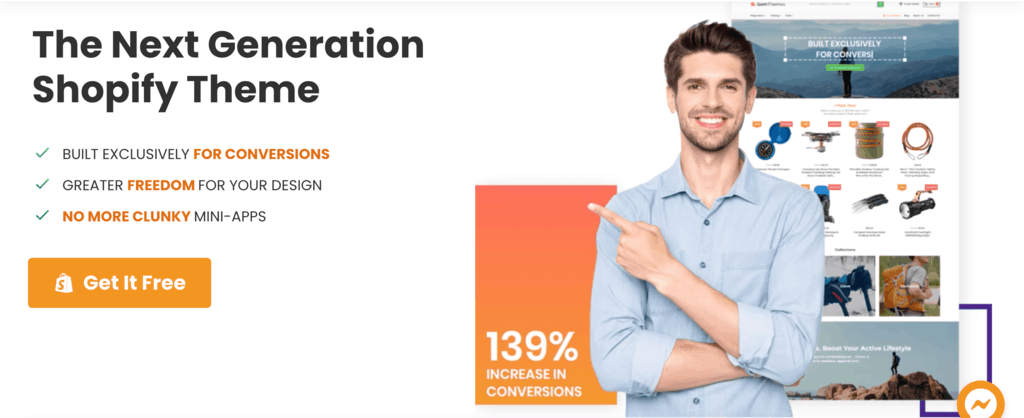 You might need to hire a web designer, which can be quite expensive. However, you can save by using EcomSolid instead. Our free theme helps you easily customize your store, integrate with 3rd-party apps, build any type of pages, and many more.
5. Notify customers about the delivery time
The most important thing is to make sure your customers understand the changes in delivery time even before they place orders.
There should be a pinned title noticing the general shipping information, and a list of delivery times valid for different regions. For instance, you can add something like this to your product description.
👉 Please note: You will receive the item in 21-28 days after placing your order. Kindly go to our Shipping page to read about the delivery times for your region!
Or for customers that already placed orders, now is the time to follow up with an email explaining the situation and offering a discount for the inconvenience.
6. Plan early for next year
Ultimately, planning in advance for this festival can help set your Shopify store apart from the rest, reducing significant problems in the supply chain and logistics. Meanwhile, you also maximize opportunities that the holiday can bring to your business.
Don't let the festival screwed you over!
In conclusion, the impact of the Chinese New Year holiday will last from 2 weeks to a month. The best thing you can do is to get your order as early as possible, in November or December.
But if you've already had orders during this time, be patient and keep in touch with suppliers.
And don't forget to join our free newsletter subscription for more tips like these!

The World's Most Powerful Shopify Page Builder
Bring your dream eCommerce store to life with the most
powerful drag-and-drop page builder.