In a fast-paced industry like eCommerce, everything can change in a year or two. In order to avoid falling behind, you have to keep up with trends and continuously innovate.
If you've been using the same theme for a year or more, it is high time to switch to a new one.
Lucky for you, it is not a difficult process and here we will show you 3 ways to easily change Shopify theme, no coding required
What are Shopify themes?
Shopify themes are the templates that decided the looks and feels of your Shopify store.
Themes are a big contributing factor to the success of any store as they affect how you look in the eyes of customers. For example, if you want to sell pet products, your theme should look eye-catching to pet owners and should be different from stores that sell electronics.
That's why it's important that you choose the right theme or select a theme that gives you the flexibility to change and customize frequently.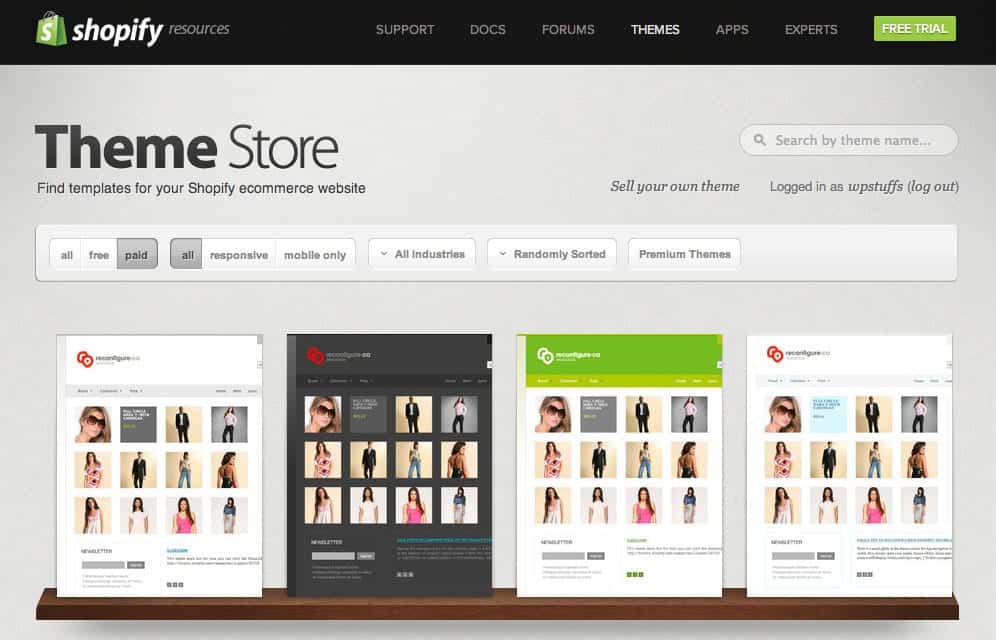 Shopify theme is managed through multiple devices (mobile, computer, notebooks…) making it easy to manage on-the-go.
No coding is required to change Shopify themes. However, different themes have different limitations on what you can edit.
How to change Shopify theme?
1. Using themes from the Shopify store
Step 1: On the Shopify back-end, look at the menu on the left of the admin page and tap on the Online Store button, you will automatically be in the first section called Themes.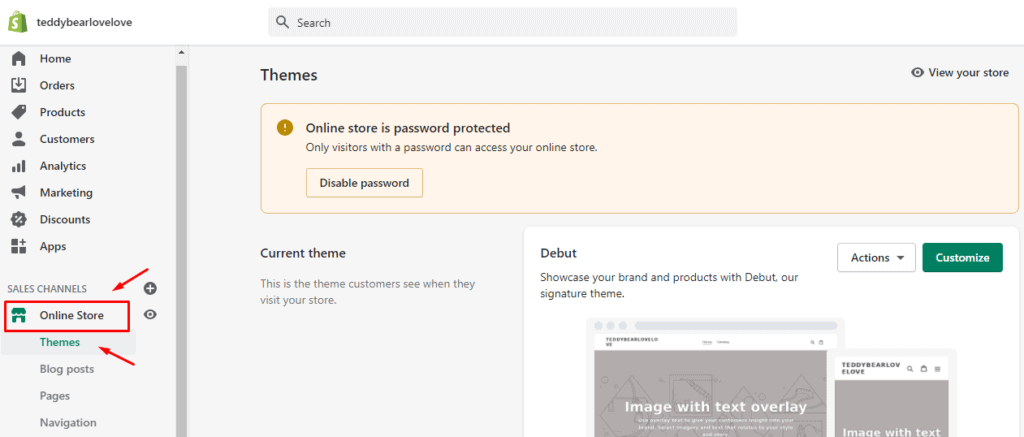 Step 2: On the main page, scroll down to the bottom of the page until you see Free Themes and Shopify Theme Stores
Step 3: Click to Explore free themes to see the collection of free themes or Shopify Theme Store which will be a mix of free and paid themes.
If you want free of charge and no distinction to change Shopify theme, choose Free themes. If you wish your store to be more professional and exciting, Shopify Theme Store is highly recommended.
There are many Shopify artists who build creative and innovative designs on the Shopify theme Store. They are mostly not for free, but you can get your money's worth.
🔔 Explore Free Themes
Open the Explore free themes tab to go to the theme collection. You will see available themes such as Simple, Boundless, Venture, Debut, Supply, Narrative…
After clicking on the one you like, you can read about the information, the features and the styles included. If you are totally satisfied, enter the Add theme to the library button on the bar to add it to Theme Library.
Now you can easily customize the theme and publish it
Or you can publish directly using the Actions button on the page.
🔔 Shopify Theme Store
If you want a trending and well-designed theme built by the pros, the Shopify Theme Store should be your choice. Shopify Theme Store includes over 100 free and premium professionally designed e-commerce website templates that you may use for your online store.
If free themes help you build conversions in mind to achieve the best initial user experience, the paid themes offer more unique designs that businesses can completely match your branding.
The paid premium themes cost between $140 – $180, and they can be previewed completely before purchasing.
Step 1: On the Shopify main page, click on Shopify themes store, you will be directed to the page themes.shopify.com where you can find Trending This Week; Big, beautiful imagery, Minimalist style, Browse by industry, Great for large inventories, Great for small inventories, Video, and 3D for products, etc.
Step 2: Enter the one you like. You may have to purchase to permanently use this theme. Just select Buy theme to Add payment method and get An overview of your billing and payouts.
2. Upload your own Shopify theme
To bring the most beautiful and eye-catching interface to your site, you may freely choose the theme anywhere and upload it to your Shopify store. If you have a developer to help you or you are comfortable with HTML, CSS, and Liquid, you can build themes yourself and Shopify enables you to work the way you demand.
After creating your own theme, open the Upload theme tab and Add file or Drop file to upload.
Once upload completed, your new theme will appear in the theme library just like those purchased from the Shopify Theme Store and are ready to be customized and published once visible.
3. Using themes from outside of the theme store
Shopify's mission is to make commerce better for everyone, but Shopify itself can't be all things to all people. Many Shopify merchants use third party themes on Shopify and are very happy with them.
Third party themes make your store better and faster with various functionalities that Shopify themes don't have like conversion optimization, built-in sales-booster add-ons, unlimited options for customizing the layout, etc.
To change Shopify theme by using third party services, you need to integrate the one you like into Shopify.
Go to the website of the app you choose and click Get Started
Enter your Shopify domain to start. Afterwards, you will gain access to the theme's dashboard.
Or you will also see the theme and can access it from Shopify's backend. Simply choose Apps in Shopify's dashboard and click on the theme you want to work with.
Conclusion
Congratulations, now that you know how to change Shopify theme, you are ready to update your store or install a theme of your choosing. Make sure you choose your theme wisely.
Read other articles on our blog to explore your options and what you need for a high-converting Shopify store.
Good luck and happy selling.

TRY ECOMSOLID TODAY AND GROW YOUR BUSINESS.