Most Shopify sellers pay a lot of attention to getting more traffic to their website, but not enough of them care as much about what customers see when they've arrived at the store.
That is criminally insane if you ask me.
How can one waste so much efforts to get traffic and then not take full advantage of it? They're just throwing money out of the window at that point.
And the crazy thing is the things that have the biggest effects on a store are usually small but must-have visual elements.
That's why we're here, sharing with you a list of 8 such important elements for a high-converting one product Shopify store. The list would also apply for landing pages or normal product pages.
Please make sure you don't miss out any!
1. Attractive hero image
A hero image is an oversized banner at the top of a website. It is usually the first thing your visitors will see and your first chance to grab their attention. 
In fact, it only takes visitors 50 milliseconds to decide how they feel about your web store. Therefore, the hero image is one of the most powerful elements to leave a strong first impression.
Let's look at a good example below developed by our professional designers at EcomSolid: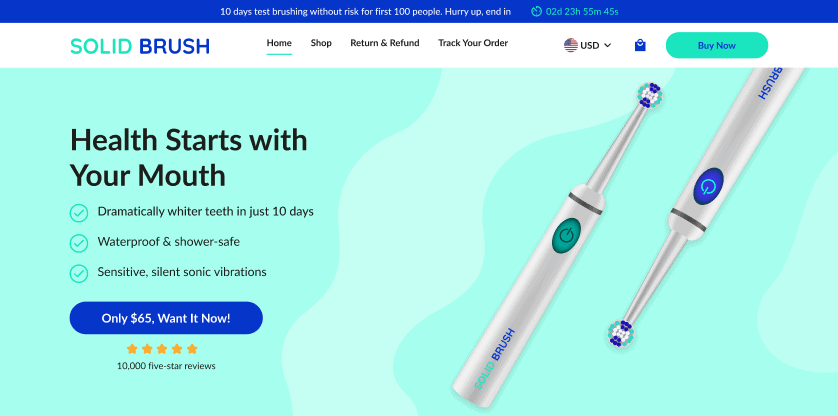 So what makes this hero image work? 
High-quality photo: The product is front and center with a background that helps make it 'pop'.
The headline: A clear, short statement of why they should care about your product, i.e, "Health Starts with Your Mouth". Noted how it talks about the benefit rather than the features of a toothbrush.
The subheadings: Highlight 3 strong features of the product with an impressive quantifiable promise.
The button: Comes with the 5-star review and a clear call-to-action.
Also don't forget to check Shopify image sizes guide to make sure you choose the best sizes for your banner images.
2. Compelling product description
The product description includes all related information about the product like product title, product features, product image or video, pricing, shipping, variants, etc. 
Take a look at this example: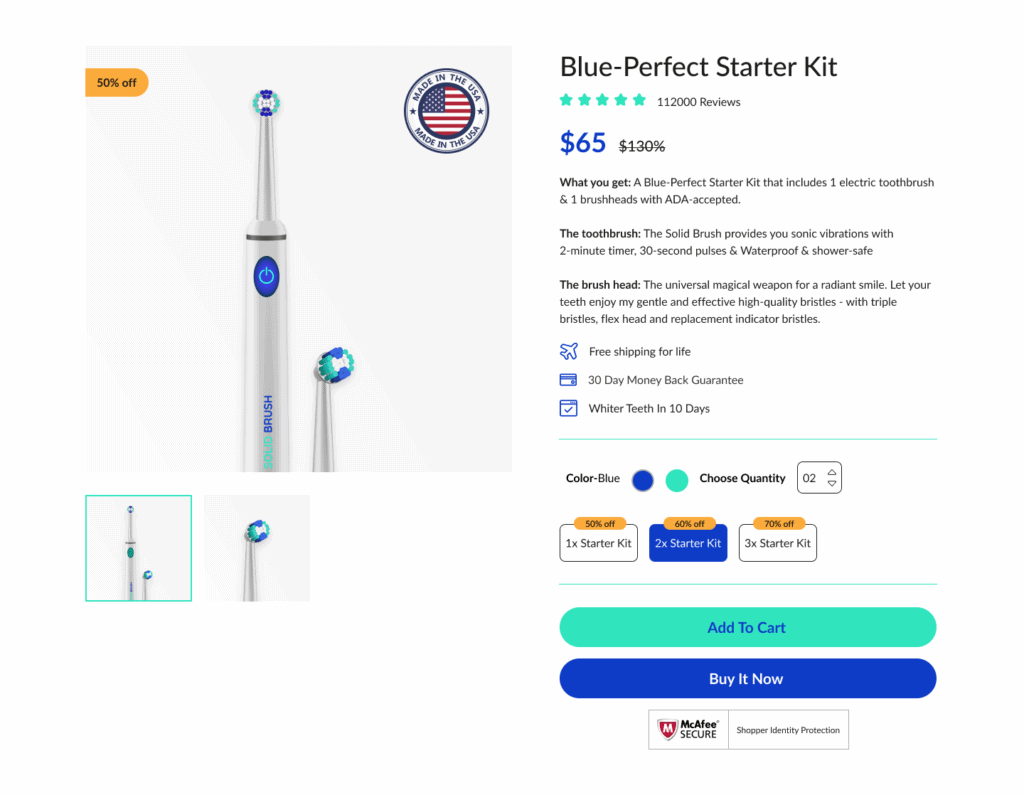 This product description covers the necessary information in one place. However, its goal should not only be to give information, but the description itself should aim to convince visitors to buy.
Emphasize your product features / benefits with short and clear sentences instead of long paragraphs.
Highlight how this product will help improve the customers' lives.
Or even better, tell a story to make them imagine how amazing it would be to own something like this.
Here is a good example: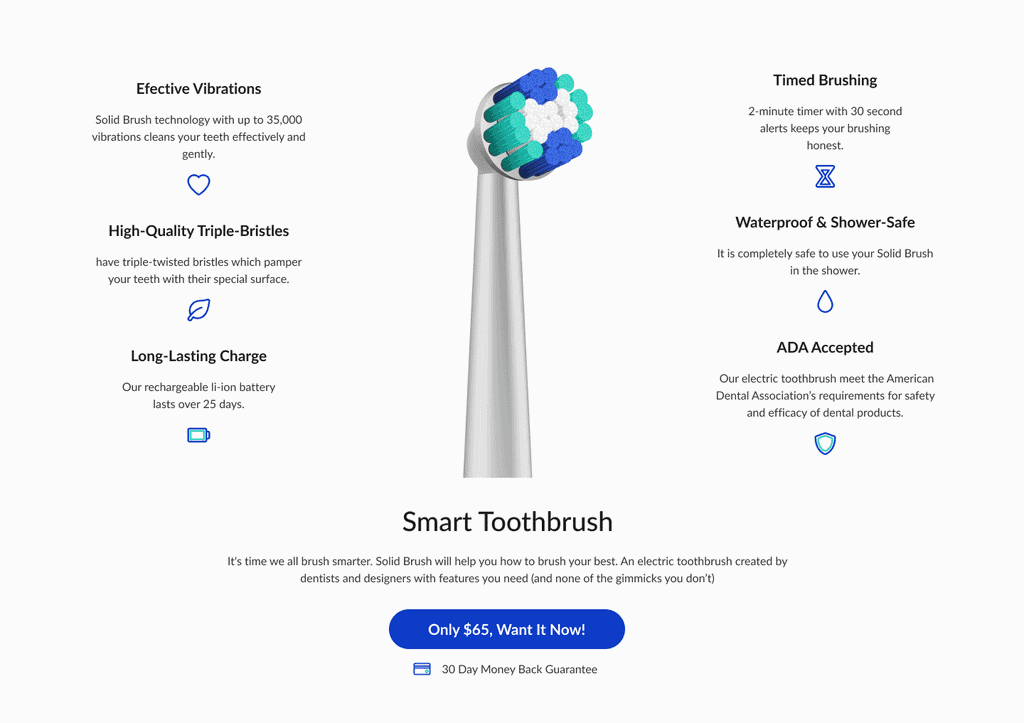 The World's Most Powerful Shopify Page Builder
Bring your dream eCommerce store to life with the most
powerful drag-and-drop page builder.
3. Customer Reviews
According to the Pew Research Center, more than 50% of American shoppers are now checking online reviews before making a purchase. Therefore, one of the best ways to build trust in your one-product Shopify store is to provide reviews from real people who have benefited from your product.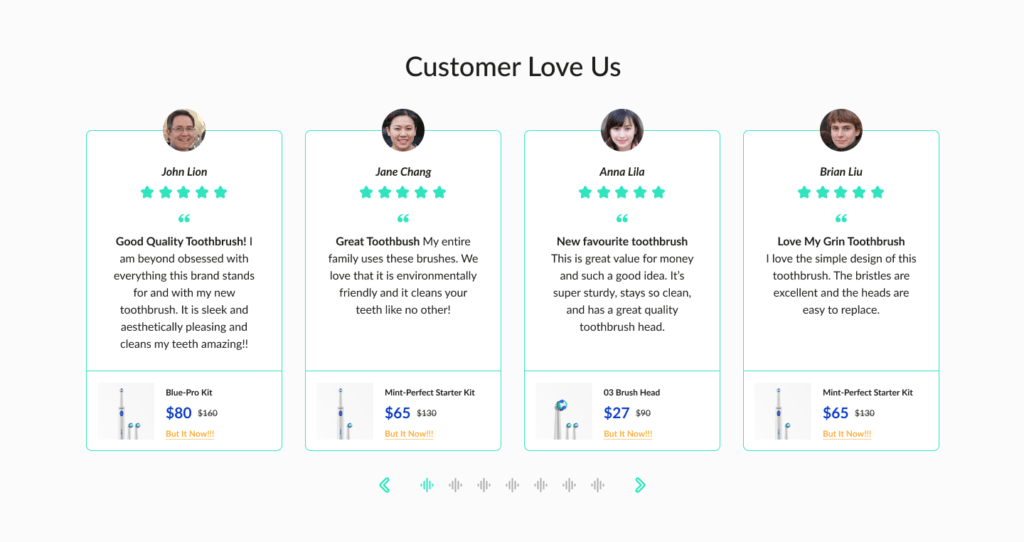 Here are some tips to ensure your customer reviews are trustworthy:
Display the name of your customer
Show the face of your customer
Use a real image or a video to illustrate what they say
Ask for specific information (A feedback like "Good product" doesn't bring much value)
But how can we get reviews from your customers? It isn't tough. The simplest way is to ask your customer directly for a review by sending an email follow-up or just a text message. But it could be easier to get their feedback if you can offer them something like a small gift or a discount for their next purchase. There are always some happy clients willing to leave a review, don't be afraid to ask them. 
Read more about 5 examples of successful one-product Shopify stores
4. Trust Badges 
A trust badge is a logo or a symbol that you display on your site to confirm that your business is legitimate and all processes taking place on your store are safe and secure. 
To increase your conversion rate, you can add some trust badges like: 
Safe Checkout Badges: This type of trust badge ensures that your checkout process is safe, your customer's personal information or their credit card code will not be stolen. They are usually placed near your "Add to Cart" or "Buy now" buttons on your checkout page. 

Accepted Payment Badges: When you have payment badges from some recognizable brands like Mastercard, Visa, American Express, or PayPal, you make shoppers feel safe to buy from you.

Trust badges from third-party companies: Third-party endorsements help instill trust by showing your visitors that you have credibility. To get this type of trust badge, you can apply to some common programs such as Better Business Bureau, Google Trusted Store, or VeriSign. They can be free, one-time paid, or subscription. 

Money-Back Guarantee Badges: According to VWO's experiment, a "30-day money-back guarantee" boosted sales by 32% for online education service. Bring that much value, but this badge is completely free, you can make it yourself or download it online.

5. Upsell
As an eCommerce store owner, you always want to increase your revenue. Instead of spending lots of money on advertising to acquire new customers, you can find ways to maximize the AOV (average order value) of your existing ones. Upselling is a good way to do that. This is the technique where you convince the customers to purchase upgrades or to get the more expensive version of the chosen item. 
How can you do upsells for your one-product Shopify store? Here are 2 suggestions for you: 
Better features: You can offer a premium version of your product with several special features that can't be found in the standard version, and of course, at a higher price. For example, if you sell toothbrushes, you could upsell toothbrushes sterilizer for people with cavities. 
Bulk discounts: You can also consider adding bundle products to encourage customers to buy more than one item. The more products they buy, the higher discounts they will receive. If your customer is buying a teeth whitening kit, you could offer two kits at a 10% discount. 
6. Frequently Asked Questions
Even when you have a detailed product description element, a good product video, and lots of customer reviews, visitors will still have questions. That's why having a Frequently Asked Questions (FAQ) section on your store will be beneficial. It helps: 
Explain some detailed information that your product description doesn't cover
Save your time on customer support from answering common questions over and over again. 
Provide a straightforward way to handle customer buying objections. 
Improve SEO.
Earn the trust and build a closer relationship with your customers.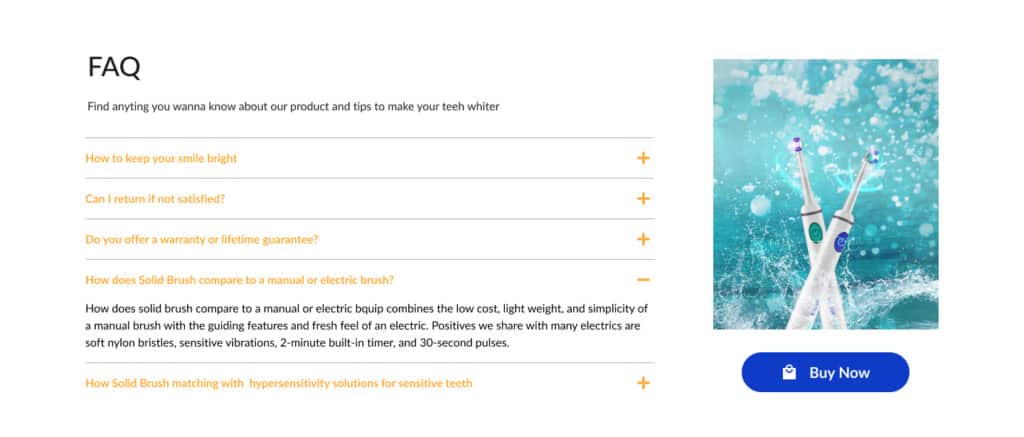 To have a list of questions to put into your FAQ, you can take a look at your page's inbox or ask your customer support team. You might find lots of customer insights here. If you are new and haven't got any questions from customers yet, do some research on your competitor's website, Google, or Quora to have the most related questions.
7. Urgency and Scarcity Element 
By adding urgency and scarcity elements, your customer will experience the fear of missing out (FOMO) which drives them to make purchase decisions sooner. With urgency, customers end up buying products as they feel like time is running out. With scarcity, they are encouraged to take action before the product is out of stock. 
So how can you use this section to improve conversion? Try these: 
Limited-time sales and offers
Offer flash sales
Include a countdown timer in the product detail section
Limited quantity

For Shopify stores, there are many apps that can help you to add this element easily such as Countdown Timer, Smart Scarcity, Bold Discounts, etc. 
8. About Us page
The About Us section could be considered as a great opportunity to share your brand store, not as an obligation element to complete. 
Never underestimate the importance of the About Us page, it can:
Tell a story of why you choose/ create this product and how special this product is to you
Introduce the founder team and their mission, vision
Share milestones and wins you have achieved so far.
Keep in mind that your About Us section is about you, so don't shy away from showing your personality. This element is where you can build a more personal connection with your customers. Let them know how proud you are of this product and how much you love it.
This element can be a separated page, like the way ShopHana did: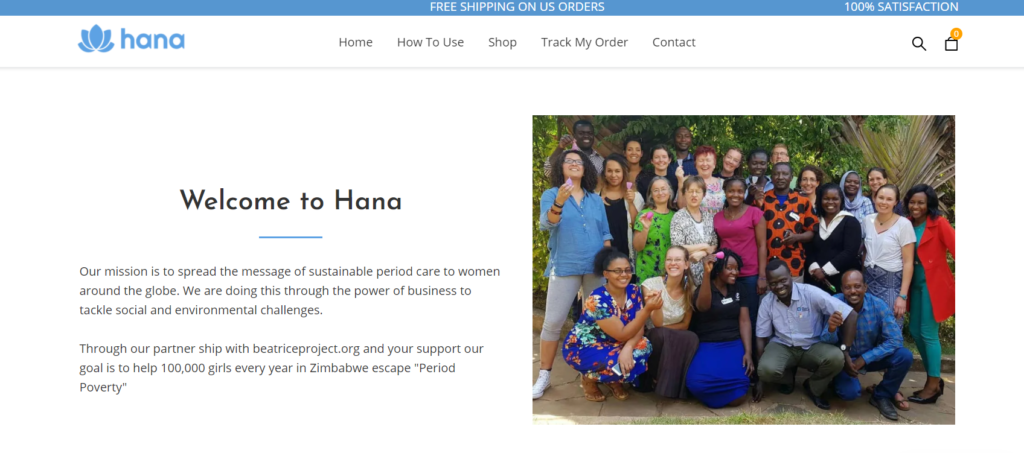 Now it's your turn
Are you ready to start building your single product store? When you decide to dig a little deeper, new problems will probably come up and you can still get lost sometimes. Don't worry, keep going, you will find ways to handle it. 
If you have any questions, let us know in the comment section below. We are pleased to help! 

The World's Most Powerful Shopify Page Builder
Bring your dream eCommerce store to life with the most
powerful drag-and-drop page builder.