To be successful in eCommerce, you don't really need to sell hundreds of different products. Many store owners won big just by a single product Shopify store. Sometimes, you just need only one good idea to be the winner.
Want to know why and how? Let's find the answers in this article!
What's a single product Shopify store?
According to Google Trends data, a growing number of people are showing interest in creating a one-product store. But what's it exactly?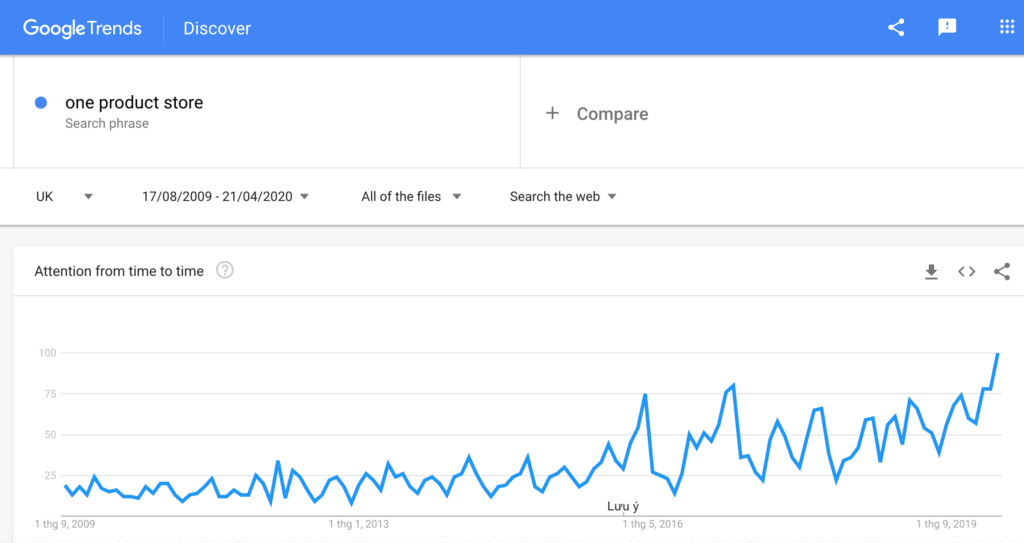 The term "one product store" (or single product store) is quite self-explanatory. It's an online store that sells literally only one product. You can still have some variations of the core product, such as colors, sizes, materials, and a few supplementary items.
For example, DryRobe is a single product store selling advanced change robes that help you stay warm in chilly weather. This store provides two color variations (black and red), two size variations (long and short), and one supplementary item — the travel bag to compress the change robes.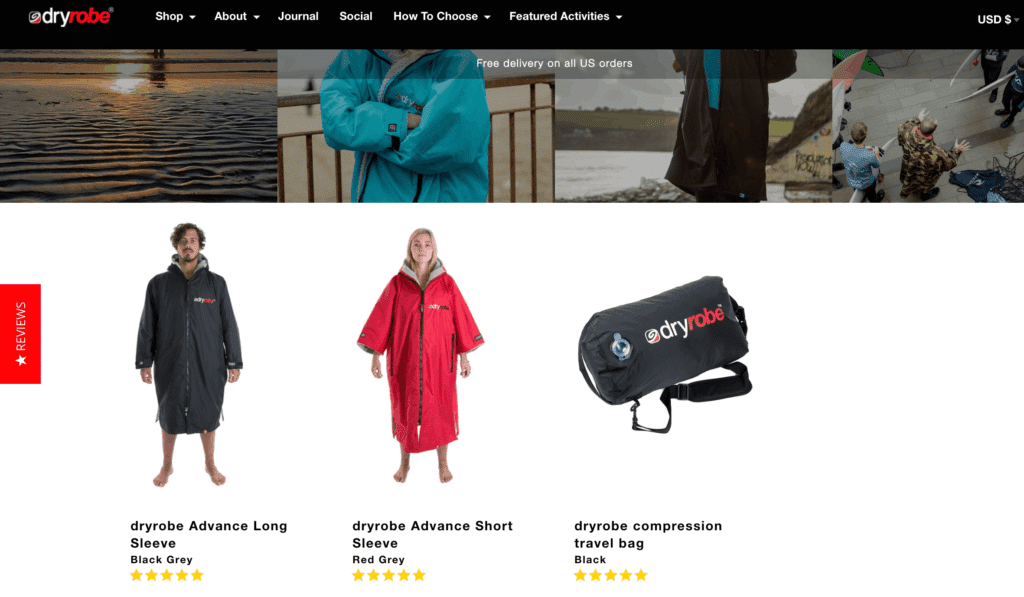 Pros and cons of a single product store
Even if the single product store model is potential, it isn't for everyone. It also has both advantages and disadvantages, as shown below:
Pros
Better focus: Instead of serving a wide range of audiences like a general store, a single product store usually targets one particular group of customers. Therefore, you can completely devote all of your resources to serving your target group.
Reduce workload: With a single product store, your workload is reduced, and you can concentrate on making everything better in quality. For example, without the distractions of building a bunch of product pages for every item like a general store, you can now invest more time and effort to optimize only one product page.
Optimize marketing budget: Running a single product store, you don't need to allocate your budget for hundreds of products like you do with a general store. 100% of your marketing budget will be spent on only one product.
High conversion rate: A study has shown that too many options will overwhelm your potential buyer, and kill your conversion rates. That's what can happen with stores with too many products. But with a single product store, you can be very clear about what you offer, and your customers won't be distracted by other products. Fewer distractions and a better focus will probably lead to a higher conversion rate and more money.
Private label potential: If you sell all sorts of products, it's hard for your customers to distinguish you from many stores. With a single product store, visitors can easily remember your store and what you offer. More importantly, you can build your brand by innovating some unique features, printing your logo, or designing a branded package for your product.
Cons
More pressure: With a single product store, you're investing all of your resources on only one product. In other words, you're putting all of your eggs in one basket. If it isn't the winning product, you'll fail and need to try all over again. That's quite a high pressure you need to deal with.
Heavy research required: If you start with a general store, you can add as many trending products as you want and see how it works. But with one-product stores, you can't do that. To find the winning product, you need to put lots of effort into market research. You may need to run some real ad campaigns to validate the product's potential before officially choosing this product. This step is essential to bring you to succeed but takes you lots of time.
No cross-selling: When you have only one product to sell, you can't use cross-selling to maximize your revenue. However, you can still increase your sales by convincing your customer to purchase upgrades or bundle products.
Now you know the pros and cons of a single product store. Do you want to give it a try? If you're new in eCommerce, it's easier and less risky for you to start with general or niche Shopify shops. After a while, you can pick the product that works best and then start your single product store. But if you're already confident about your product or have some valuable insights from your previous general stores, go ahead and create your one product store.
Don't forget to check out these top Shopify one-product stores that can give you inspiration and ideas for your own ventures!
You may also like:
Try These 12 Mother's Day Marketing Ideas and Watch Your Sales Grow
How to find a winning product for a single product store
Finding the right product to sell is the first and biggest challenge you need to overcome if you want to create a single product store. Here are some things to help you do it:
The criteria for a winning product
When it comes to choosing one product to sell, here're 4 criteria you should keep in mind:
Hard to find: Your product shouldn't be easily found in local stores, supermarkets, or other online stores.
Interesting enough to entice consumers: It needs to be visually and emotionally appealing. To meet these criteria, the product should help customers tackle their painful problems.
Purchasable without much research: Its features shouldn't be too complicated so that your visitors will get an idea of the product's benefits at the first sight.
Affordable: If you can provide a special item at a reasonable price, your chance to get conversion will be higher. But how to set an "affordable price"? Each audience group has a different range of "affordable". So ask your potential customer how much they're willing to pay for this product.
Let's take PalmPress with the personal coffee press as an example. Firstly, you can easily find a coffee press anywhere. But it's quite hard to find the one which is small, simple to use and portable. Secondly, the product is very enticing because of its convenience. You can make your own coffee everywhere without a heavy and complicated coffee machine. Then, if you take a look at PalmPress, you can find several step-by-step tutorials on how to use this product. It's easier for visitors to visualize how the product works. Lastly, you will need to pay $42 for this personal coffee press. PalmPress also did the math to show how this product saves you money: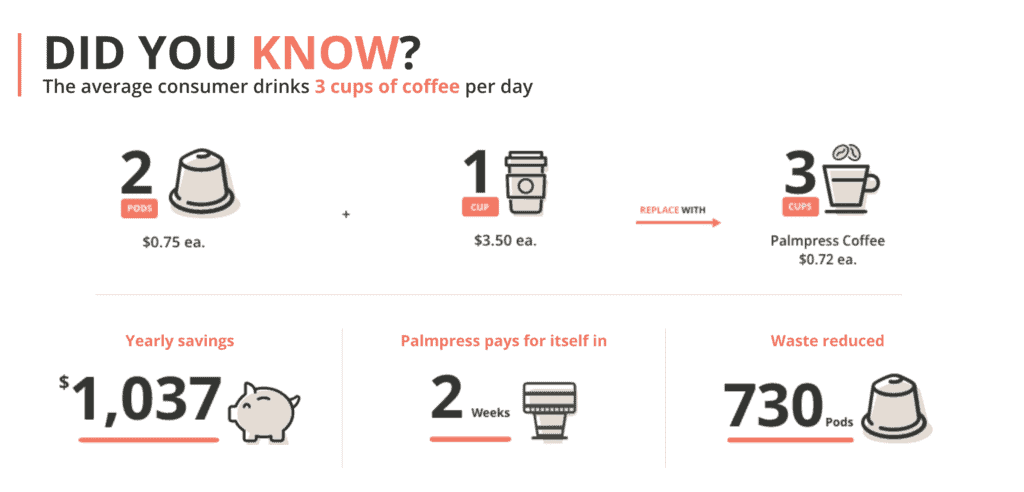 The World's Most Powerful Shopify Page Builder
Bring your dream eCommerce store to life with the most
powerful drag-and-drop page builder.
How to come up with product ideas
You might wonder why many store owners have a such brilliant product idea. Below are 3 suggestions for you:
Solve an existing problem: Start looking at your own life and that of the people around you. What problems need to be solved? Ask yourself this question and list out any potential solutions you can think of.
Identify the new trend: You can find out the new trends by reading the news, watching TV, Youtube, etc. For example, due to the coronavirus, a growing trend in at-home exercise equipment has been observed. Exercise resistance bands have become a potential product to sell online: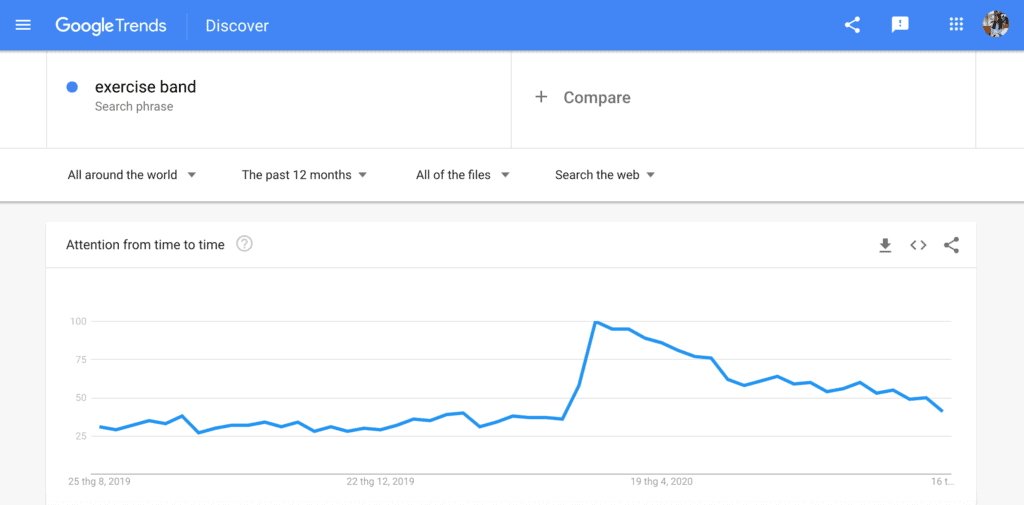 Improve an existing product: There're many chances for you to make existing products better by adding some innovative features. Take NeosSmartCam as an example. Home cameras aren't new. But smart home cameras which can sense motions or hear a loud noise to warn you is something special.
How to source the product
Like any eCommerce business, you have several ways to source the product for your single product Shopify store:
Make the product yourself: Or you can find a manufacturing partner to help you do that. With this option, you can take full control of your product and make it unique. But on the other hand, you need to take care of everything from producing the product, and designing the package to managing shipping and inventory, etc.
Wholesale: Purchase a product from another vendor and then sell it. Here you don't need to make the product yourself. But you need to be careful when choosing a wholesale partner. Your wholesale needs to be trustable and provide qualified products.
Dropshipping: It's a retail fulfillment method where a store doesn't own any inventory. When a store receives a sale, the customer orders and shipment details will be transferred to another third party, and it'll ship the orders directly to the customer. With this method, you just need to find the right product to import, create a wonderful website, and do marketing, you don't have to care about shipping or packages. But sometimes, you can't control the product quality.
If you're interested in dropshipping, but don't know where to start, read this ultimate guide to get a foundation related to this fulfillment method. Also, you can check out the most popular Shopify apps to help you choose winning products and boost conversion rates.
How to validate your product?
Even when you're very confident about your product, you can't ever know for sure that it's a winning one. So never forget to test your product before launching your store. How to do that?
Observe search trends related to your product: Online tools such as Google Keyword Planner or Google Trends will show you how many people are searching for your product. For example, you have the plan to sell shoulder brace to reduce back pain in your store. Look at the Google Trend result below, you can know that the number of people showing interest in this product is quite stable over a long period.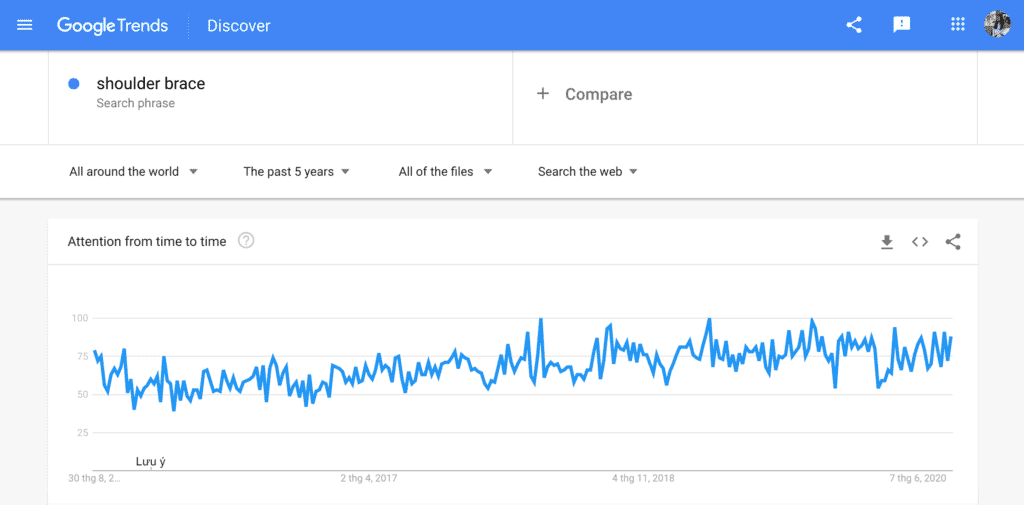 Talk to your potential customer: You can conduct some in-depth interviews with some of your potential buyers. Why do they buy or don't buy your product? What are the features they enjoy the most? How much money are they willing to pay for your product? What is the pain point that your product helps to tackle? The answers will give you a ton of insight, not only about the potential of the product but also the content direction for your website.
Run a small Google Adwords or Facebook Ads campaign: You can run ads on Google or Facebook and send traffic to your demo store. This ad campaign is to know how many people click on the ads and how many people would likely purchase the product. After that, you'll have a deeper understanding of your market and your target customers.
How to create a single product Shopify store
Let's say you have successfully found a winning product. Follow these steps to create your first store:
Step 1. Sign up for Shopify
Go to Shopify, and click Start free trial at the top right corner of the homepage. Then, follow the instruction to sign up for an account.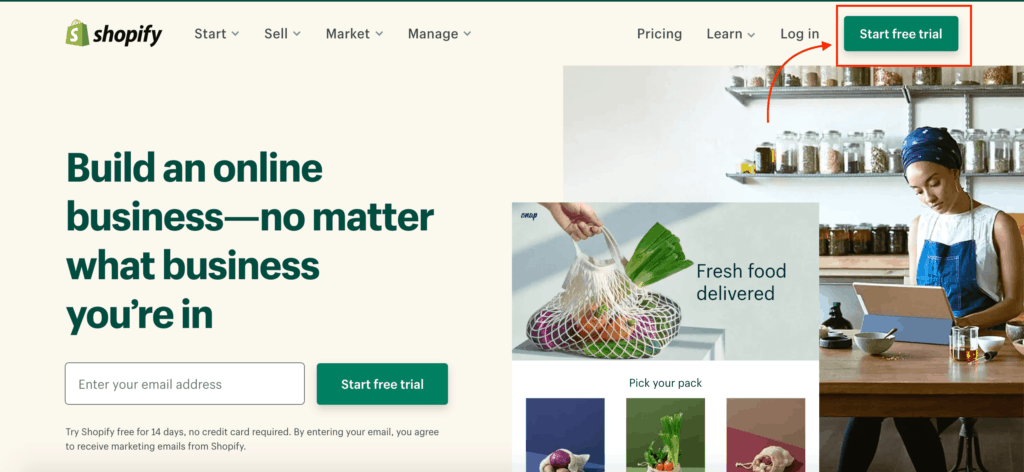 Step 2. Add your product
Once you finish signing up for an account, go to the Shopify dashboard (i.e. https://storename.myshopify.com/admin). Here's where you can add your product:
If you make the product on your own, click on the "Add Product" button. Then you can fill in your product details, such as title, description, image, price, shipping information, variant, etc.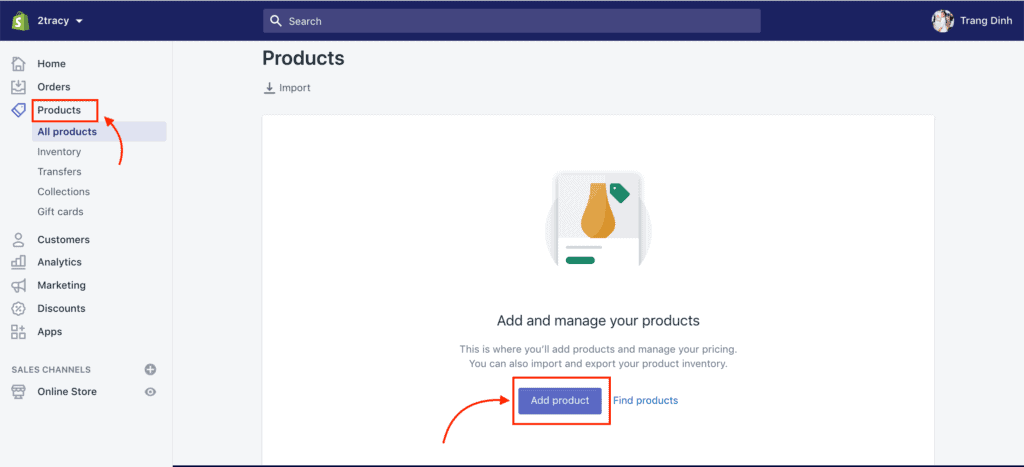 If you're a dropshipper and you are using some product sourcing and fulfillment apps such as Oberlo or Spocket, you can import the product directly from these apps, and the product information will be automatically uploaded to your store.
For step-by-step instructions on adding your product, check out this tutorial.
Step 3. Pick a theme
The Shopify Theme Store is where you can find tons of beautiful themes. Before installing any theme, make sure that this theme provides all the features and sections you need. With one-product stores, it's recommended to use themes like EcomSolid with the minimalist style and have enough space to show your product photos and videos.
Recommended reading: 7 Best Shopify Themes for Single-Product Stores
Step 4. Customize key pages for your store
After installing a theme, you can go to the theme editor dashboard to customize your pages.
Home page: This's the most important page for your single product store website. You should present all the necessary information visitors need to know about your product here. What's your product? What features does it have? What problems does it solve? What's the price? You need to answer all of these questions concisely on the homepage. Your most beautiful product's photos and videos should be featured here to grab visitors' attention.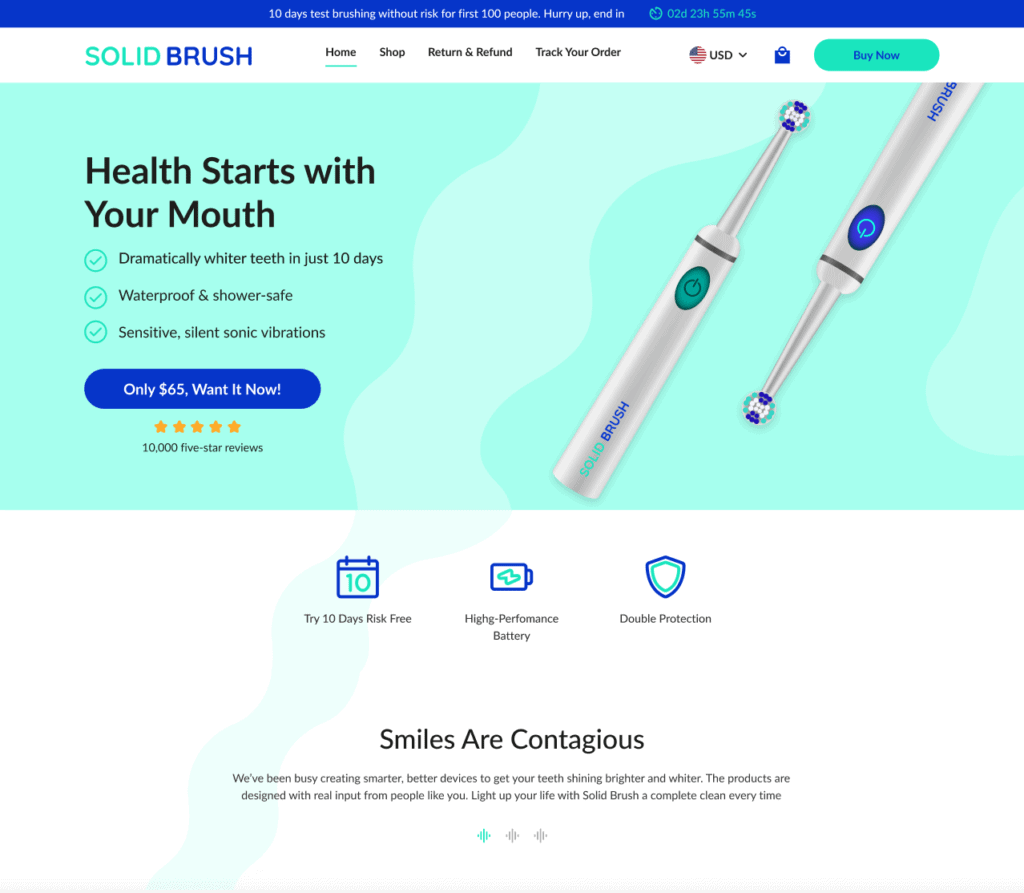 Product page: As most of the product information has been shown on the homepage, the product page is where you highlight key features again and provide more detailed information such as variants, shipping methods, warranty policy, etc. Under the product description section, you can show some product bundles or the upgraded version of your product (if you have one) to maximize your revenue.
Cart page: With a single product store website, your cart page just needs to be simple and has basic functions such as showing the orders, changing quantities, returning to the product page, etc. And as the main goal of this page is to move customers to the checkout page, so don't forget to add a strong "Checkout" CTA button. 
Checkout page: Your customers use the checkout page to enter their payment and shipping information. So keep it as simple as you can, don't distract your customers. Shopify already provides templates for this page, you just need to add your logo, change the colors or fonts to make it match your brand.
Having these pages done, you're almost ready to run your website.
Learn more:
Shopify payments vs. Paypal: What are the key differences?
Step 5. Complete the general settings
Before launching your store, you need to complete some general setting which are:
Choose your shipping method
Complete your tax settings
Set up your payment gateway
Buy and add a custom domain
To do these, you need to come back to your Shopify dashboard (i.e. https://storename.myshopify.com/admin) and go to Settings:
Step 6: Launch your store
Before officially launching your store, you can ask some of your friends or family to test the website to find out any bugs. After that, tell the world that you're opening a single product store.
Final thought
With all the work we've gone through so far, we hope that you have a strong foundation to start your journey. To be successful in running a single product store, you need much more than that. But don't worry, give it a try, and you'll learn all of them from your own experience.

The World's Most Powerful Shopify Page Builder
Bring your dream eCommerce store to life with the most
powerful drag-and-drop page builder.