Do you know 90% of new eCommerce stores fail in their first four months? Every day, online merchants face tons of problems that might shut their stores off.
In this article, we'll discuss 5 mistakes that most one product store owners make when setting up their stores. Avoiding these Shopify common mistakes is critical for your success.
Mistake #1: A product with too high or too low demand
Choosing the right product is the key to any store's success, especially with a single product store.
The most profitable industries will always have a lot of players. So if you choose a high-competitive market, you'll need to deal with many competitors. To survive and thrive, you should narrow down the market to find a potential niche. For instance, fashion is a crowded market. But the outfits for pregnant moms' niche are much narrower but still potential.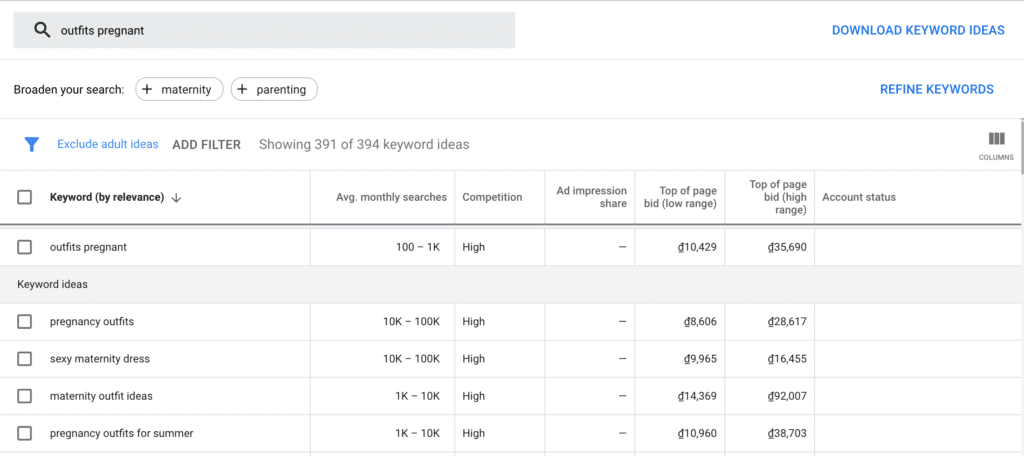 In contrast, if the market is too narrow, there won't be enough customers. You can still serve a small group of your ideal customers, but not enough to generate the income you seek.
How to do it right:
Ideally, choose a product that shouldn't be easily found in local stores or other online stores. Also, there should be enough demand for this product.
To validate your product demand, you can do product tests. For example:
Test your idea: Online tools like Google Keyword Planner or Google Trends will show you how many people are searching for the product. For example, look at the Google Trend result below, you can see that the back brace has a higher demand than the neck brace in the past 12 months.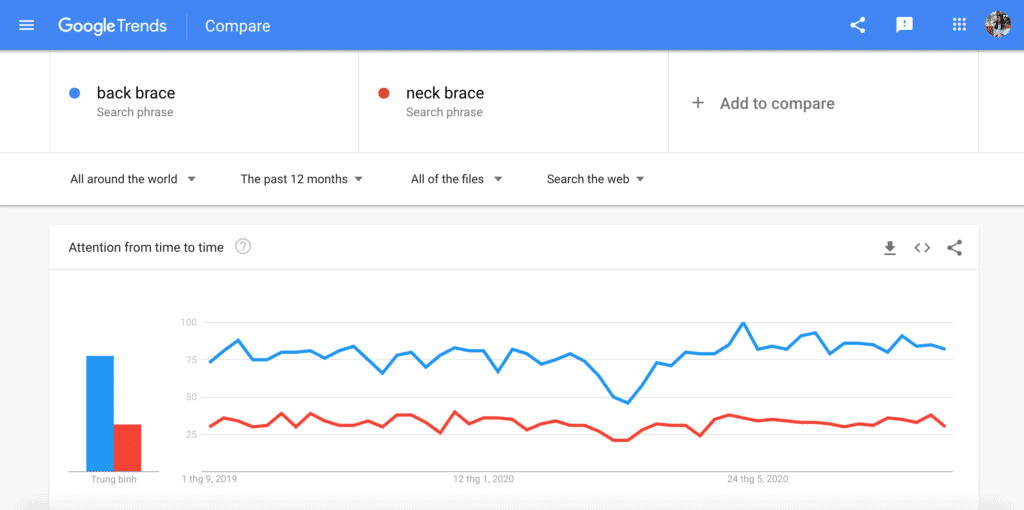 You can also prepare a concise description of your product and talk directly to other people. You can start with your friends or family. But ideally, you should have some conversations with your target customers. Assuming your product is ready, ask if they're willing to buy it or not.
Test your prototype: A prototype is an early sample of your product. Let a small group of people try it and ask for their feedback. Do your customers find your product useful? Do they have any trouble using it? What problem does it help them to solve? Are they willing to recommend it to others? These questions are important for you to make your product better.
Test your finished product: This's when you bring your product to the real market for a short period. You can run Google Ads or Facebook Ads traffic to your store. The number of people clicking on your ads will show you how the product is performing in the real market. This stage not only helps you to improve your product but also your marketing strategy.
Mistake #2: Choose the wrong theme
As we observed, many one product store owners choose to use a multipurpose theme for their store. But there are many differences between a general store and a single product store. Let's look at 2 examples below.
The first one is Sibling Gadget — a general store that sells almost anything you need for your house.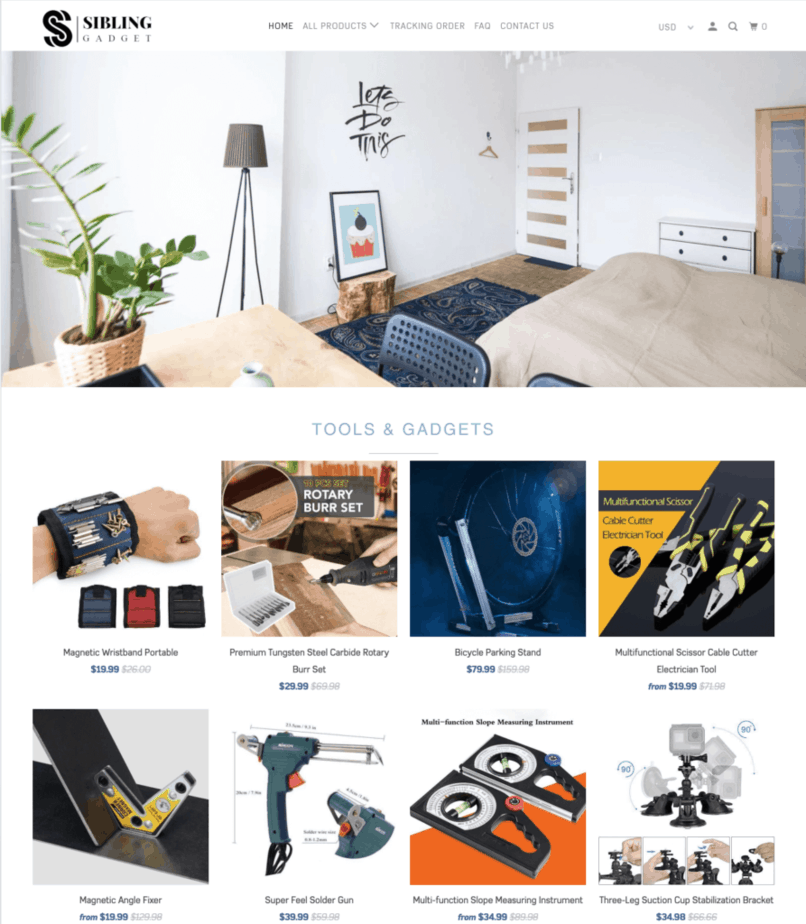 The World's Most Powerful Shopify Page Builder
Bring your dream eCommerce store to life with the most
powerful drag-and-drop page builder.
The second example is Snooz — a single product store selling a sound machine that helps people fall asleep and stay asleep.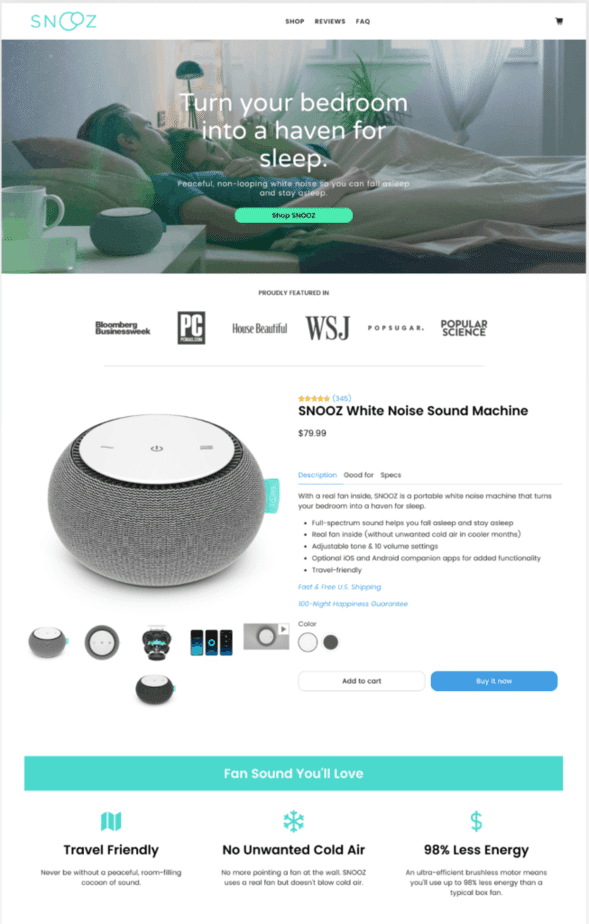 As you can see, the general store's homepage aims at showing as many products as possible while every element on the single product store's homepage is focused on highlighting only one product. This is the main reason why you shouldn't use the multipurpose themes for your one product store. If you still do so, your store might have several UX mistakes such as: 
Too many sections on the home page
Too many unnecessary pages
Slow loading speed
Too small or too big logo
Not optimized for mobile design
How to do it right
A well-designed theme for a single product store will help you solve every listed problem. Here are some criteria for a good theme for your single product store:
Have a wide range of elements to highlight your product, such as the hero image, product video, etc.
Give you the freedom to make your website unique by customizing your pages' layout.
Automatically optimize your website for mobile users
Recommended Reading: 7 best themes for single product stores.
Mistake #3: Poor product description & images
Do you want to buy a product with very little information or with low-quality product photos? Poor copywriting and poor product images can make your store unreliable.
Product description
When the product description is detailed and helpful, your customers will have more trust to make buying decisions. Moreover, to help Internet users find the most suitable stores, the search algorithms tend to evaluate the originality, readability, and relevance of a website's content. Therefore, accurate and comprehensive product copywriting will boost the search engine ranking for your product.
When writing content for your one product store, here are a few common mistakes to avoid:
Not provide enough specific information about the product
Focus too much on features but not benefits customer will receive
Forget to highlight key information
Let's take MyHarness's product description as a good example.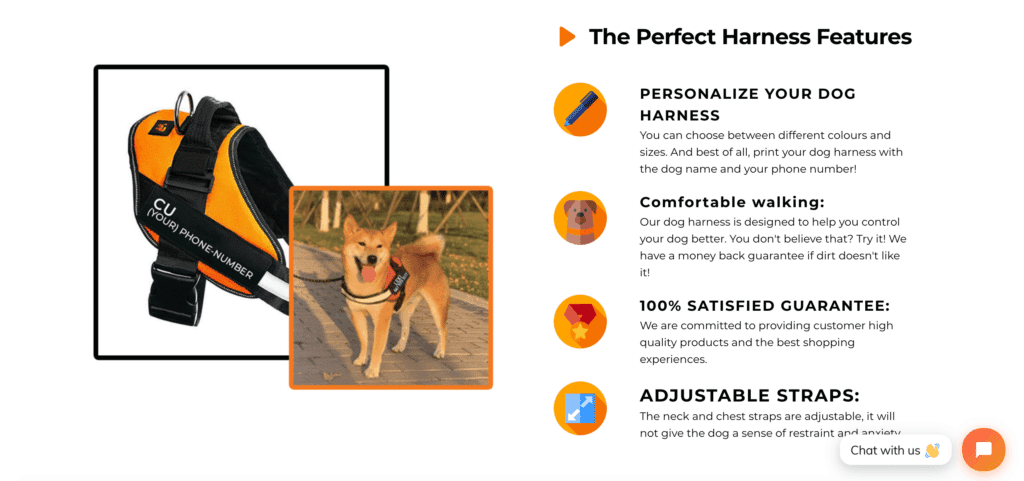 Instead of describing their product as excellent, they point out 4 specific selling points. This concise copywriting makes it easy for customers to understand the product benefits such as "print your dog harness with the dog name and your phone number", "control your dog better". These 4 key points are also emphasized in bold font.
Also, always try to be creative with seductive descriptions. For instance, this's how Seattle Cider describe how their product is made:
Product images
Different from brick-and-mortar stores, online buyers will immediately make a judgment based on the look of your store. Having good-quality product photos is a good way to make a good impression.
Below you'll find the essential requirements of high-quality product images:
Size: You must have some high-resolution images. They should be any size up to 2048 by 2048 pixels following the recommended Shopify image sizes.
Zoom functionality: Make sure your potential customers can zoom in on the item to see all the details.
Background: Having a clean, plain background is recommended.
Angles: Try to show multiple angles of your product. It could help your shoppers visualize product details.
Color: Show the correct product color in the images. By doing this, you can reduce the return rate as your customers know exactly what they'll get.
You can take your product photos by yourself. Otherwise, you can outsource this job to a professional image production agency.
Learn more: Shopify Product Images: A 10-minute Guide for Beginners
Palmpress did a good job of taking the product photo with a high resolution, clean background, no blurring, and showing the product in action.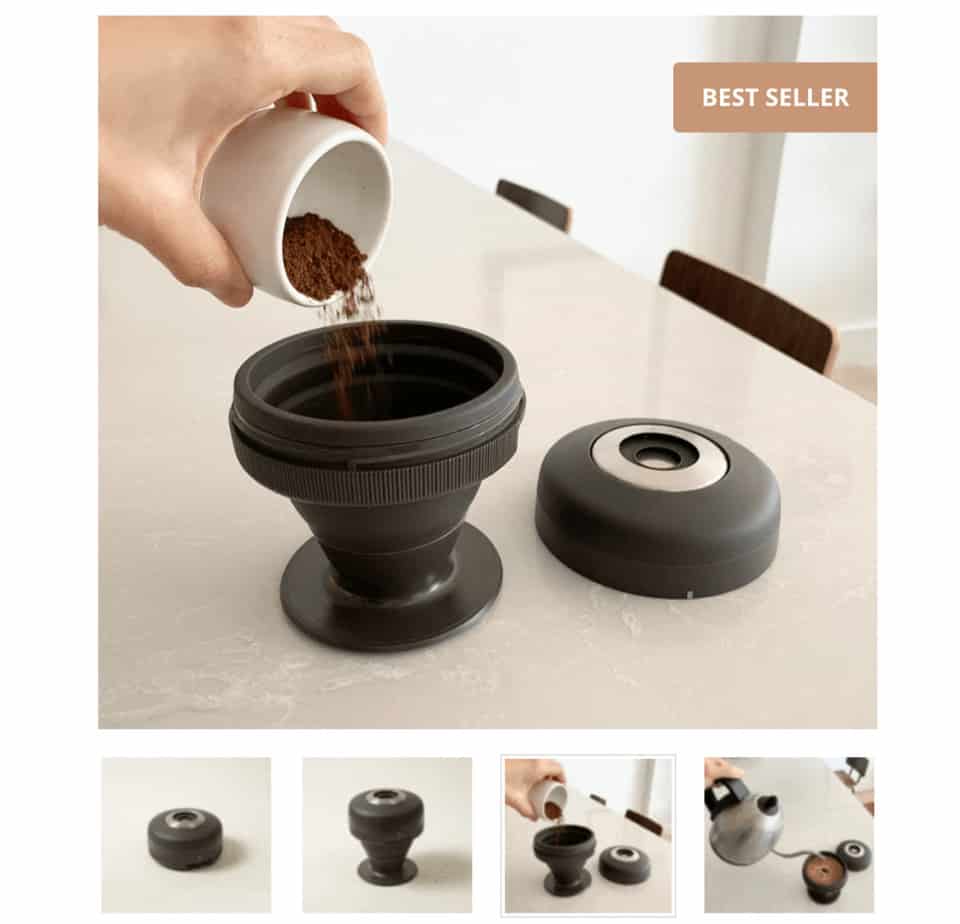 Mistake #4: Long checkout process
Research has shown that 87% of online shoppers will abandon carts if the checkout process is lengthy or complicated. Therefore, if you want to optimize your single product website store, keep the checkout process as simple as possible.
How to do it right:
Add a progress bar: Your visitors will feel more in control if they can see how much of the checkout process is left.

Offer social log in: This is an easy alternative way to register and help customers deal with forgotten password problems.
Try one-page checkout: A one-page checkout page contains all elements of a standard checkout process like cart items, customer details, and shipping addresses, on a single page. It makes the checkout process simpler and faster.
Mistake #5: Don't upsell items
Research has shown that the probability of selling to a new customer is 5-20% while the probability of selling to an existing one is 60-70%. Therefore, don't miss the opportunity to upsell your product. This's the technique where you convince the customers to purchase upgrades or to get a more expensive version of the chosen item.
How to do it right:
Here are 2 suggestions for you to upsell your product:
Premium features: Offer a premium version of your product with several special features that can't be found in the standard version, and of course, at a higher price. For example, if you sell toothbrushes, you could upsell toothbrushes sterilizer for people with cavities.
Bulk discounts: Add bundle products to encourage customers to buy more than one item. The more products they buy, the higher discounts they will receive.
You can also offer some gifts if they buy the product in bulk:
Your turn
Now it's time for you to review your single product store. If you are making these 5 Shopify common mistakes, just follow through with our instructions on how to fix them and we believe your store's performance will improve in no time.

The World's Most Powerful Shopify Page Builder
Bring your dream eCommerce store to life with the most
powerful drag-and-drop page builder.