Have you ever asked yourself what causes a brand to sell in this digital day and age? It is by no means a surprise that variety tends to catch us off guard. However, we have a gold tip for you: not vast, but specific. If you have a good strategy, selling one thing will get you faster to greater volumes than selling many things. And a
one product Shopify store
does absolutely that.
Make one thing great, get one thing right
with our full guide: How to
launch & grow a one product store
starting with just $100 per month. Most of the tools even come with a free trial, which means more time for you to learn to fully utilize it! We have Paul Graham stating & shaping the mentality perfectly in his writing,
"How to Get Startup Ideas"
:
"You can either build something a large number of people want a small amount or something a small number of people want a large amount. Choose the latter. Not all ideas of that type are good startup ideas, but nearly all good startup ideas are of that type." 
What exactly is a one product Shopify store?
A one product Shopify store is an eCommerce website that has its single focus on one main product. To be short, it sells only one thing. As a matter of fact, sellers may question themselves if a one-and-only product will bring about the desired sales. Yet, the answer is definitely yes! Here are the reasons why:
Great focus. High conversion rate – There's the star of the show, your one product! When it comes to variety, too many choices can cause customers to feel uncertain & dissatisfied. With a single product, you build expertise – selling the best one product that is of high quality & value. This creates trustworthiness & attracts customers to your store.
Effective product testing – Merchants often have to test lots of different products to find the one that sells. A one product store will allow you to test multiple products at the same time – until you get your winner!
Better management & optimization – Expect less workload with any startup project management tools & have a total marketing budget allocation to promote your single product business. You can now invest more time, effort, and money to make your one product page awesome!
Brand potential – Once customers fall in love with your unique product, they become loyal & will remember your brand. Thus enhancing brand awareness (logo prints, or designing branded packaging) is a must to make your business stand out further.
>>> More info at
Everything You Need to Know About Single Product Shopify Stores: the Why and the How
Let's take a look at Moleskine (we love them!). The brand has set itself apart from being just "an unwritten book". By fitting to the taste of a niche audience, Moleskine has become the manifestation of a lifestyle. One that is creative, cultured, and constantly on the go. We say it straight: Moleskine has just nailed the journal market. Why? Its recognizable and wide available line of products won the competition. Now, everything notebook is simply Moleskine.
The Moleskine website offers a single product line but with various options.
Like Moleskine, you can make a great business out of a single product choice. First up, let's get to know how much money this business is gonna cost out of your pocket.
The cost in launching and growing a one product store on Shopify
Before jumping into building a website, you should know the standard prices and factors that affect it. Remember, there's no one-size-fits-all to success.
Store size – The more pages, the higher cost. Note that the size of a one-product store is different from a general or niche store. You might need fewer pages when it comes to the ultimate number here. Home, product, cart, checkout, and policy pages are normally good for you to go.
Development & design method – When asking "How much does it cost to build an online website?", its development & design method often decide how the price may vary. It can either cost you nearly nothing (if you can do the job yourself) or a lot (if you hire a freelancer or an agency). Considering what suits your website needs best is the key here.
Your requirement – In order to sell, your eCommerce website needs functionalities. If you've just started up, features that come with the Shopify subscription should be enough to manage store analytics and orders. Yet later when the business scales, you might need to count addons or customization in as an extra cost.
We've gone through the factors. Now, we should examine aspects you have to invest your budget on, the method you can use to implement, & how much it will cost. In general, to successfully launch & grow a one product store, you have to spend your resources on the following:
Product & source selection – Determine which is the winning product that will make your business & find an appropriate product source for it.
Store setup – Launch your digital store with all the necessities it needs.
Logistics – Take care of your one product store's inventory & shipping method.
Operations – Contemplate customer service as your key game-changer in winning sales.
Marketing – Breathe your business into life & boost sales by including marketing costs.
Select your one product
Execute product research
How do you choose a winning product? One first, you must have your target audience identified. Then, find out what product will satisfy their needs – we mean their SPECIFIC needs. Get to know your target audiences (via social media, Facebook groups, Pinterest, and so on). Analyze
how well these products are selling
on big marketplaces such as Amazon, and Esty. Look for items or products they are noticing or taking an interest in. Continue from there. We have a product criteria checklist for you:
Do you see yourself using the product?
Is the product unique enough?
Does the product satisfy a specific need or solve a problem for your target audience? Does it align with their ideals?
Can you build a whole total brand around this single product?
Can you sell this product internationally?
Is it a physical or a digital product such as a computer software
Is the product able to go viral if promoted or put on social media?
How are you going to scale this product?
Learn more:
15 Best Products to Sell on Shopify in 2023
Find the product source
Product sourcing will allow you to save money while testing out as many products as you need to (until you find your winner!). There are plenty of ways to get your product in stock: From partnering with a dropshipping provider to finding manufacturers or wholesalers. Keep the search throughout and decide which source is the best for your business.
Dropshipping apps
$0 – $129 (monthly)
Best Shopify Dropshipping Apps To Try In 2021 according to Mobile App Daily.
Dropshipping
is an order retail method in which you don't have to keep your products in stock. To be more detailed, inventory or shipping is counted off the list as a third-party supplier will sell you the product and then send it directly to the customer. Shopify has various dropshipping apps. The best part of it is you don't have to take care of inventory – or ship orders to customers yourself. Choose a partner and they will do the logistics duty for you. This way, you get to focus only on selling and scaling the business. Oberlo, Eprolo, Printify, or Sprocket are all some of the greats on the list. Normally, these apps provide you with some functionalities such as importing products to your Shopify store, editing the product listings, placing orders individually or in bulk.
Private agents or Suppliers
Contacting a private agent or a supplier means you're working directly with a third party to provide the product for you. You have several choices in terms of bulking up your stock & getting support in production and supply:
Brands, local businesses, or even artisans
Market places such as Alibaba or Amazon
Wholesales – SaleHoo, Wholesale Central
In this case, you will need to pay a commission for products sold to these vendors. However, if you can commit to a quantity, you can get the wholesale price.
Learn more:
11 Best Shopify Wholesale Apps to Boost Sales and Simplify Your Operations
Remember to choose a method that is fit for the one product business you are going to launch & grow. Every coin has its 2 sides. Dropshipping apps can cover all aspects with an added fee or subscription. Meanwhile, Private agents or Suppliers can provide you with significant support in production & supply but will also require you to handle more details on your own.
Set up your one product Shopify store
After deciding what you want to sell & where to get these products from, it's time to build your digital store.
Get your Shopify account
Free trial, $29 – $299 (monthly)
Shopify is the most popular eCommerce platform to launch & grow a one product store. Begin the business journey with the
14-day free trial to test whether it fits your needs.
After the trial, you can opt for Shopify's Basic Plan at $29 a month. The plan comes with all the basics you need to successfully launch a one product store. This includes sales channels, inventory, loyalty programs, shipping & payments, and 24/7 support. Furthermore, the platform allows you to sell in 133 currencies & 20 languages. Later when you have run the business for quite some time, you may prefer to update your Shopify account to Advanced or Plus. It all depends on how your single product store is growing & extending.
Look for a one product theme
Pick a Theme
$0 – $597 (one-time payment) or $0-$59.99 (monthly)
An eCommerce theme will bring forth the desired design for your online store. In other words, a part of how your buyers perceive, feel, and interact with your eCommerce store depends on its theme. There are many
Shopify themes
out there for you to choose from: some with pre-designed structure & style, some you can custom. However, it's important that you pick a theme that is the best fit for your one product. Check out some examples below to see how a theme can introduce customers to your store's feel & look:

The World's Most Powerful Shopify Page Builder
Bring your dream eCommerce store to life with the most
powerful drag-and-drop page builder.
The cost of a theme
There are a lot of themes with different prices in the market you can use. Remember to view the demo & select the best one. Consider these options:
Shopify Theme Store ($0 – $310 one-time payment) with 100+ free & premium professionally designed, high-speed eCommerce website templates.
Shopify App Store ($0 – $39 monthly) EcomSolid Theme & Page Builder – the only theme that has a built-in page builder.
Theme marketplaces ($16 – $139 one-time payment) such as Themeforest.net or Templatemonster.
Other providers: Out of the Sandbox ($180 – $485 one-time payment), Debutify ($0 – $117.5 monthly), Shoptimized ($167 – $597 one-time payment), Booster theme ($399 one-time payment)
We highly suggest you purchase monthly subscription themes to save initial cost & make sure your theme is always updated. Also, keep in check that your chosen theme must be compatible with the latest Shopify platform – Online Store 2.0. >>> Read more about
7 Best Single Product Shopify Themes For 2021 (FREE & Paid)
.
Customize your one product store
Overview
After choosing the go-to theme, it's time to customize it the way you want. For a one product store, the most important pages are the
Homepage
and the
Product Page
. These pages have to focus deeply on the pain points of the customer & how your product will solve them. Make sure your store has all the essentials:
Brand identity – Portray a sense of brand via the logo, brand name, catchy slogan/tagline, website typography & color palette.
Social proof – Encourage people to buy by providing user-generated reviews, testimonials, and social shares.
Product benefits – Be informative & make the most of what customers will get buying your product.
Product guarantees – Bring more satisfaction & certainty to customers' purchases.
Return & warranty – Build trust & customer loyalty, protect your brand's reputation with a policy page.
Bundle options – Offer shoppers attractive product packages with discounts & limited numbers.
Our advice: focus on your Home & Product pages and make minor changes on other pages that the Theme comes with. There are 3 ways to go about it:
Option 1: Outsource
Solve the 3 bigs of your single product store (Development, Design, and Content) by hiring an agency or a freelancer to do it for you. Take into account the pros and cons of this method:
Pros: Professional, customized, and high-quality service.
Cons: Costly & time-consuming. In order to save time & money, be very clear and specific about the request to the agency or freelancer your hire.
Freelancer: About $1050 – $1300 (one-time payment)
Usually, it will cost you around $400 to design. The price of content will fluctuate between $250 and $500 based on your requirements. And for coding, $400 should do it for you.
Agency: About $3800 – $8000 (one-time payment)
On the whole, the fees are going to be higher if you hire an agency. We estimate $1000 for design, $1800 – $6000 for content, and another $1000 for coding to get it on your website.
Option 2: DIY – Do it yourself!
It will cost you exactly $0 if you can do the content, graphics & coding yourself. The rule is simple: arrange your page sections, then add your headings, images, buttons & lists. The method has its boon and bane too:
Pros: Fast, save time & money.
Cons: You will need certain knowledge about design & tech. But don't worry! Most of the Shopify apps come with customer support (in which our EcomSolid team is one of the best!)
Option 3: Mix between DYI & Outsourcing
This option shall let you be free to adapt it based on your skills & needs. Find out what works best for you & your one product store business from both of the above options. All things considered, for a startup, it should be safe to go with a beginner-friendly theme and option 3.
Optimize for conversion
Your whole world turns around only one item when it comes to a one product store. Hence, maximizing the order value generated by that one product is a must. As to achieve this, it's crucial that you acquaint your store with powerful Addons. Besides, make use of these upsell tactics to increase your average order value (AOV) as much as possible:
Volume & Bulk Discounts
Quantity Breaks
Buy X Get Y
Neck Hammock is a typical
case study
that shows how they upsell their products effectively: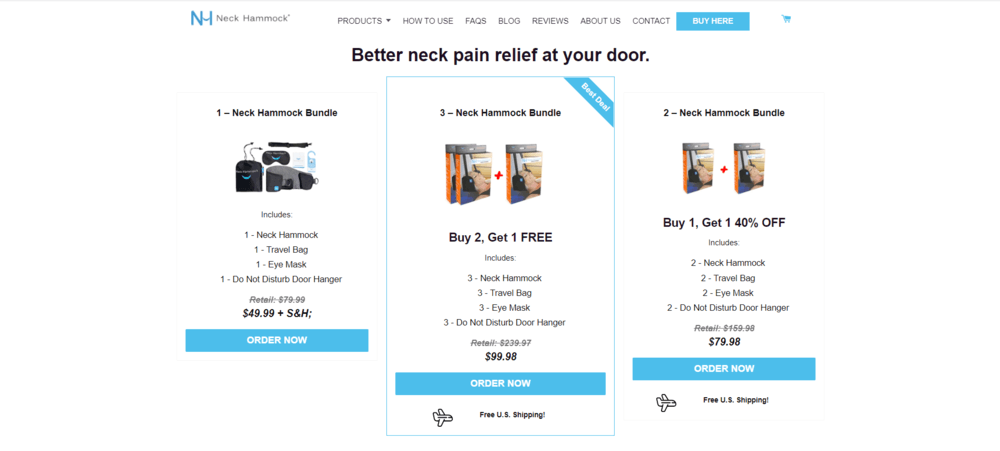 Neck Hammock uses selling options to bundle multiple neck hammocks together as an alternative offer.
You can use Theme Addons or other Shopify Apps to get all the store essentials that we have mentioned above like branding, social proof, product details, and
bundle options
. We've prepared a list of free & paid Shopify apps you can choose to
boost conversion rate
:
Free
In Cart Upsell & Cross-Sell ($0 – $59.99 monthly)
ReConvert Upsell & Cross-Sell ($0 – $29.99 monthly)
Bulk Discounts Now ($0 – $29.95 monthly)
Quantity Breaks & Discounts ($0 – $28.95 monthly)
Frequently Bought Together ($0 – $9.99 monthly)
Paid
SALES ROCKET ($9.99 – $17.99 monthly)
Volume & Discounted Pricing ($7.99 – $31.99 monthly)
Ultimate Special Offers ($9 monthly)
Vitals: 40+ Marketing Apps ($29.99 monthly)
Wholesale Pricing Discount ($19.99 – $44.99 monthly)
Bottom line: What is the optimal budget?
Cost summary table
It doesn't take much to launch a one product store. However, growing & maintaining your sales is what requires both time and money. Here is a summary of the cost to launch your single product store – broken down to per month and year for a better overview:
Expense
Providers
Cost per month
Cost per year
Product source
Dropshipping App or Agent
$0 – $129
$0 – $1548
Shopify subscription
Shopify
$29 – $299
$348 – $ 3588
Theme
Shopify or Marketplace
$0 – $59.99 (subscription) ($0 – $597 one-time payment)
$0 – $719.88
Customization
DIY or Agency or Freelancer
$0 – $8000
$0 – $8000
Addons
Shopify App Store
$0 – $ 99.9
$0 – $1198.8
TOTAL RANGE
$29 – $8587.89
$348 – $15054.68
Our recommendation
To launch & grow a one product store at the minimum optimized budget, we suggest the following plan:
Expense
Provider
Cost per month
Cost per year
Note
Product Source
Dropshipping app
$29.9
$358.8
Oberlo Dropshipping app is $29.9 and will cover your one product store's logistics.
Shopify platform
Shopify
$29
$348
Free 14-day trial, then the Shopify Basic Plan at $29.
Theme
EcomSolid
$19
$228
Free 20-day trial, then EcomSolid Growth plan that comes with one product store templates, built-in addons, and a page builder.
Customization
DIY & Outsource*
$0
$0
Addons
Shopify App Store
$37.95
$455.4
Use Ultimate Special Offers ($9 monthly) & Quantity Breaks & Discounts ($0 – $28.95 monthly)
OPTIMAL PRICE
$115.85
 $1390.2
*Note:
If you outsource any work, it should be counted as a one-time cost. But remember:
"An optimal price doesn't mean you limit all your budget to run the business."
(Chris Koh, Founder of EcomSolid) >>> Check out
6 Steps to Create a Great Single Product Store in Less Than 15 Minutes
.
Consider other costs
Above is the optimal price to build up your single product website from scratch. Nonetheless, saving the initial budget means having more resources to scale it up in the long run. Invest in other costs such as marketing & customer service – this is your key to a fortunate business!
Operations a.k.a Customer Service
Superoffice
states that "
86% of buyers are willing to pay more for a great customer experience.
" It is nothing new at this point, that customers' satisfaction rings the goal for every business. This is especially true for eCommerce. Since there's no face-to-face communication or physical contact at all. Make customer service your game-changer by personalizing it based on buyers' needs throughout their whole customer journey. You can support customers yourself at first to save cost. However, later, when the business grows –  it's better to look for a helping hand!
Marketing
There are many ways to promote your business via marketing. Use social media platforms such as Facebook, Instagram, or Pinterest to reach your target audience. Try to generate original content to connect & gauge potential customers' attention. Paid advertising &
influencer marketing
also count to grow and build brand trust & awareness. Aside from the above, increase sales by combining display ads with
email marketing
. You can even
build specific landing pages
to boost conversions with Shopify page builders such as GemPages, PageFly, Shogun, or right inside the
EcomSolid
theme. The price of these apps ranges from $0 to $99 monthly. >>> Check this
Beginner's Guide
to get your hands on some ideas to promote your one product online store.
Conclusion
Managing an optimum budget is never easy for any business, especially a startup. It gets even more challenging if you intend to run a one product store. The target is clear: launch your site quickly, yet at an optimal budget, and test your selected product as fast & effective as possible. Our tailored guide on how to
launch & grow a one product store starting with just $100 per month
will surely help set you for the aim. Wait no longer. It's high time you took the first step and built up your dream business! P/s: Already have a product? Start setting up your one product store with our unrivaled
EcomSolid Theme & Page Builder
. Simply pick a theme template, fine-tune the details, and you're ready for launch!

The World's Most Powerful Shopify Page Builder
Bring your dream eCommerce store to life with the most
powerful drag-and-drop page builder.